Enhancing grains for healthier lives
FFI, Cargill champion fortification of cereal grain-based staple foods
April 22, 2016
Did you know that one-third of our world's people – across all income levels – suffer from what can potentially be a disabling or life-threatening form of vitamin and mineral deficiency?
In fact, iron deficiency is the most prevalent nutritional disorder in the world, and is one of the leading causes of anemia. Iron deficiency anemia affects 115 million children, 16 million pregnant women, and nearly a quarter of a million non-pregnant women of child-bearing age. It also contributes to the death of 60,000 young women each year during pregnancy and childbirth. To compound the problem, it affects brain development in children, causing irrevocable damage. Another example is low blood folate levels in women of child-bearing age, which result in 300,000 neural tube birth defects, such as spina bifida, each year.
There is hope for changing these shocking numbers. Up to 70 percent of these devastating birth defects can be prevented by the simple addition of folic acid to wheat flour, corn flour and rice.
The Food Fortification Initiative
For the past 10 years, Cargill has supported the Food Fortification Initiative, an international partnership working to improve health by advocating for fortification in industrial grain mills. To date, the company has contributed more than $1.2 million to help FFI advocate and champion fortification legislation for all major cereal grain-based staple foods.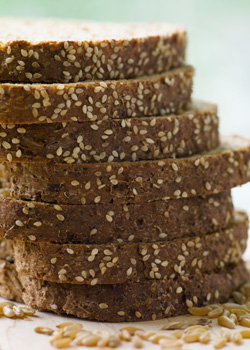 For the past 10 years, Cargill has supported the Food Fortification Initiative, an international partnership working to improve health by advocating for fortification in industrial grain mills. FFI taps into Cargill's knowledge around flour milling and cereal grain trades and connects with multiple businesses within the organization. Cargill also lends its business expertise by serving on the FFI Executive Management Team, which functions as an advisory board of directors and provides strategic direction to the global work. Jule Taylor, Cargill vice president of corporate plant operations, is the current representative on that team.
"Getting micronutrients into staple foods products, like wheat and corn flour and rice, is core to better nutrition. Our work with FFI provides a direct correlation between nutrition and Cargill's vision to be the global leader in nourishing people, especially since it can have such a direct and immediate impact on nutrition around the world," said Taylor. "At Cargill, we're committed to closing the gap between the food security and nutrition deficits that exist around the world."
Public, private and civil society partnerships
According to FFI Director Scott Montgomery, public, private and civil society partnerships are essential to properly implementing a fortification program.
"It's the millers who physically do the fortification, so we want the industry and private sector to be involved at the onset of discussions to bring technical knowledge to the program," said Montgomery. "We have multiple examples across the globe where this collaborative effort has proven effective, and we have examples where some stakeholder may take an autonomous approach and programs have failed. FFI works to share tools and expertise across other organizations so individual groups don't have to replicate them. For example, we have an extensive training resource tool kit for quality assurance and quality control for the mills, internal monitoring processes, external monitoring for government officials, as well as helping with commercial monitoring training."
Taylor points out that in order for more of these kinds of collaborations to exist, there must be clear, tangible demonstrations of success. "In FFI's case, we try to show the benefits for everyone – funding, technical expertise, leadership, and direct linkages to food security and nutrition," she said.
Working to remove barriers
While good progress is being made, barriers to the adoption of fortification still exist.
"Vietnam, for example, just passed mandatory fortification but excluded folic acid," said Montgomery. "And this isn't just a developing world issue, as you only have to look at the continued resistance in Western Europe. Here in the U.S., the Food and Drug Administration only in April 2016 allowed corn masa flour to be fortified. This will enable a much broader category of products to be covered."
While fortification doesn't actually change any of the properties of food, consumer perceptions and preferences can also be barriers, said Montgomery. "We can fortify and not create any change to the product or consumer behavior. That's why FFI is so focused on mandatory fortification and we continue to build both local and global connections and networks to bring the knowledge to all contexts."
Looking ahead
FFI has spent the past 10 years developing global strategies, mapping supply chains and developing a very systematic approach to not only the way it manages its work, but to how it targets countries and regions.
"The success story is great, but we have a long way to go," said Montgomery. "Today, 84 countries have mandatory wheat flour fortification. This, plus some voluntary fortification, accounts for about 30 percent of the world's industrial milled flour. We need to accelerate the progress."
Rice fortification is a new frontier. In many parts of the world, rice is the predominant staple cereal grain consumed. "The technology now exists to fortify rice," said Montgomery. "Although this is at the infant stages, we're developing strategies to take rice fortification to scale and reach billions of people who consume rice daily."
Cargill's role
Cargill's Taylor thinks the company can really play a role in helping to accelerate the adoption of fortification around the world.
"In 2008 in India, for example, we voluntarily began fortifying our top-selling edible oil brand across the country with vitamins A and D," she said. "Cargill's diverse portfolio of fortified edible oils now reaches 30 million Indian consumers per month."
In addition to its work in India, Cargill's salt business works with the Notre Dame Haiti Program on a sustainable salt-fortification venture in Haiti. In addition to providing funding, Cargill shipped about 1,500 tons of salt from its facility on the Dutch Caribbean island of Bonaire, which was blended with locally produced Haitian salt, processed, fortified and packaged for consumption in Haitian households.
"Cargill's financial support of FFI over the years has been crucial – and equally important is leveraging Cargill's knowledge to support us as we enter a country or region," said Montgomery. "A big part of what we do is identify a point in the cereal grain supply chain where we can add the vitamins and minerals in a sustainable, cost-effective way. Cargill is an expert on cereal grain trade flows, processing and distribution. The support they've given us when we dissect the supply chains in a country has been extremely valuable. These are areas we can build on together."