(Digital) Eyes on the road: Technology is saving Cargill drivers' lives in Colombia
Read Time: 2 minutes
September 14, 2021
About 385 kilometers separate the Villagorgona plant and the Pasto Distribution Center in Colombia. It was along this lonesome stretch of highway that a Cargill driver closed his eyes for just a few seconds in the wee hours of June 16th, 2020. It was enough: He lost control of the vehicle and crashed onto the side of the road.
Thankfully, he was only going around 38 km per hour. No one was hurt. But for Cargill Protein Latin America's (CPLA) team in Colombia, it was a wake-up call. Something had to be done.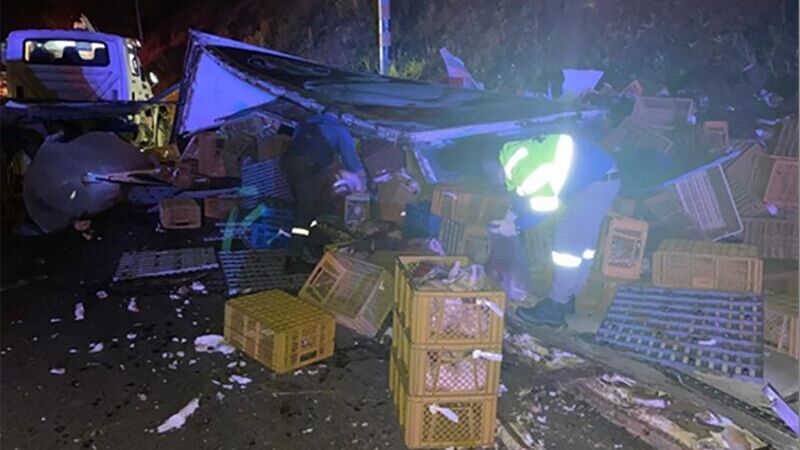 "Our operation is very robust, and our drivers travel enormous distances with huge loads, says Donaldo Suazo, supply chain manager for CPLA. "There are inherent risks on the road. So, we asked ourselves, how can we counter those risks?"
Donaldo and his team found a solution in technology.
Innovate for safety
Microsleeps sneak up on you: For a moment, your brain log off and you automatically close your eyes. Most drivers don't even realize when they suffer a microsleep, but when you're on the road as much as our Cargill drivers, those brief moments can turn into disaster.
Between 2019 and 2020, Cargill Colombia registered 30 road accidents; 17 of those were caused by microsleeps.
"We decided to try sleep cameras and Mobile Eyes in part of our fleet to provide assistance for our drivers," Donaldo recalls.
Sleep cameras monitor a driver from inside the cockpit. They can identify his or her facial expressions, such as closing their eyes for more than two seconds or involuntary nodding — typical of a microsleep trance. The camera then emits an alarm to alert the driver.
Mobile Eyes, meanwhile, consists of two parts working together: one is a sensor placed on the outside of the vehicle that can detect dangers ahead, pedestrians close by, upcoming changes in speed limits, and veering from the lane. Those sensors are connected to a second alarm inside the cockpit that will beep to get the driver's attention.
"We're close to installing a third device, which is a separate Mobile Eye that will detect dangers on the sides and back of the vehicle," adds Donaldo.

A worthwhile investment
The team first installed the Mobile Eye devices about six months ago. For a fleet as large as Colombia's, the total investment amounts to about $58,000 — a number dwarfed by the losses from the 17 sleep-related accidents between 2019 and 2020, estimated at $111,000.
And for Donaldo and his team, the financial cost of the new devices is secondary. Something much more important is at stake.
"What's most important here is that we're doing our best to avoid any and all tragedies for our drivers," he says. "We don't want property damages, but we can handle those. But we will never put our teammates in danger if we can do something about it."