Food security for all generations in Europe
September 20, 2016
The numbers are staggering: over 800 million people around the world go without sufficient food every day. It's why Cargill employees are working hard to expand access to food, improve nutrition and pursue partnerships to end hunger – for everyone.
What is lesser known is that food poverty is a daily reality for many people later in life. There is little awareness of the struggle that elderly residents in our communities face in terms of accessing food on low incomes and pensions, while coping with maintaining their nutrition levels. Older people face not only food insecurity and nutritional challenges, but sometimes also high levels of social exclusion.
With the Brookings Institution think tank estimating that the median age in Europe will rise to 52.3 years old by 2050 (compared to 35.4 years old in the United States), the aging of Europe is quickly becoming one of the region's most pressing issues.
Cargill employees are stepping up to the challenge by partnering with local organizations to help elderly residents not only meet their food and nutrition needs, but also access inclusive, welcoming environments to live their lives in dignity. Here are a few examples.
Hereford, UK – food hampers for the holidays
For the past nine years, employees at Cargill's European poultry business in Hereford, UK have been supporting Age UK, a charity dedicated to helping everyone make the most of later life. Every year, employees collect, pack and deliver food hampers to elderly residents in the Herefordshire community to ensure that they too can enjoy a Christmas meal. Over these nine years, employee volunteers have collected more than 27,000 items in donations including biscuits, tea, soup, tinned vegetables, fruit, meat, fish, jam, chocolate and custards.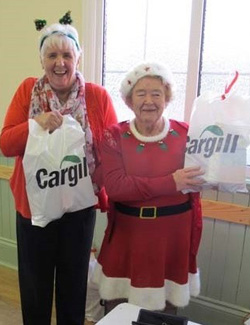 Two members of the Age UK Stretton Sugwas Lunch Club receive their Christmas hampers. "Every year our employees get excited about helping distribute the Christmas hampers to Age UK members," said Laurel Oliver, who chairs the Cargill Cares Council, a volunteer group, in Hereford. "We've even hosted variety shows showcasing the skills and talents of Cargill employees to provide some entertainment and support social inclusion while Age UK members enjoy their food hampers."
To date, more than 2,250 Christmas food hampers have been delivered to members of Age UK at their local meetings held in village halls and day centers in Hereford.
Westfield, Scotland, UK – a special salmon lunch
In an effort to give back to their community, Cargill Aqua Nutrition employees in Westfield, Scotland, UK donated two boxes of Loch Duart salmon to a local care home so that residents could have an extra special Sunday lunch. Loch Duart salmon has a claim to fame – it has been served to the Royal Family and even at the BAFTAs (the British equivalent of the Academy Awards)!
"Our residents were overjoyed by the generous donation from Cargill Aqua Nutrition Westfield of such quality salmon for our Sunday Lunch," said Marion, the manager of the local care home.
Reggie Finlayson, a Cargill employee who took part in the activities said, "This was a good opportunity for us all to give back to the local community, especially those in need. It was great for us to work as part of a team to help the vulnerable."
Cargill Aqua Nutrition Westfield also donated a pallet of food and provided financial relief to the local food bank, which supports many elderly residents in the Westfield area.
Rouen, France – a sweet surprise
In France, Cargill Cocoa & Chocolate site in Rouen partnered with the local mayor of Le Grand-Quevilly to distribute 180 packets of chocolates – weighing over 50kg – to residents and employees of nursing homes.
For the past six years, Cargill has supported the distribution of sachets of chocolates to each of the seniors in the Les Jardins de Matisse nursing home to help them celebrate the New Year.
Didier Parard, plant and site manager for the Rouen facility said, "Chocolate has this power to make people smile. Doing this donation is for us a way to express and demonstrate that we are part of the same community. Moreover, last year we welcomed a group of residents on a plant tour. They were very happy to know what happens in the factory next door to their residence!"
These examples demonstrate the passion of Cargill's employees in helping all members of its communities access a good meal in a welcoming environment – including vital support to elderly residents so they can live a life with dignity.