Growing tomorrow's leaders
August 06, 2014
If you had to explain your country's food system to strangers from four different continents, could you do it?
That was the challenge laid out for five groups of university students, who traveled from Brazil, Russia, India, China and the U.S. to Minneapolis for a weeklong seminar as part of the Cargill Global Scholars program.
Now entering their second year in the program, the 51 students spent the week meeting with Cargill leaders, building relationships with their counterparts from around the world, and taking part in service activities. On Thursday morning, each delegation delivered a case study that they'd spent months preparing, which gave an in-depth look at food safety in their homeland: both the accomplishments and the challenges that remain.
For the Brazil team, preparing the case study was equally an opportunity to learn more about how their country feeds itself and also a chance to get to know each other, since the 10 students are scattered all across Brazil at different schools.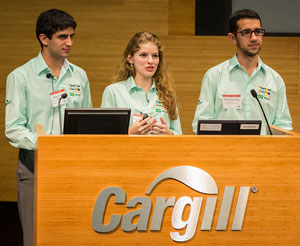 From left: Felippe, Anna and Renato at the Minneapolis event delivering their food safety presentation. "Apart from the technical component, it was developing our relationships—seeing what we could do and how we could do it," said Felippe Caso, who attends the Federal University of São Carlos.
Renato Salomão Guimarães, from Universidade de São Paulo in São Carlos, added, "Having the opportunity of working on a team for me was fantastic. I am not studying food, so I could learn a lot."
Developing leadership skills for the future
The Cargill Global Scholars program launched last year with the intent of providing financial assistance to promising young minds as they pursue their studies. The students also receive mentoring from Cargill leaders and participate in a variety of enrichment activities. Cargill committed approximately $6 million to fund the five-year program, which will eventually reach approximately 200 future leaders training to work in a variety of professions.
While last year's inaugural group traveled to Minneapolis, a new cohort of scholars was being announced in each of the five countries (Brazil, Russia, India, China and the U.S.) between July and September.
"It's very exciting to see this next group of high-potential students come into our program and help us build on the success of the first year," said Pat Bowe, Cargill corporate vice president and executive sponsor of the program. "All of us at Cargill who work with the scholars have been deeply impressed with their talent and drive."
In India, the new scholars met at the end of July for development sessions on leadership and preparing for professional success. They also volunteered to serve meals at a shelter for destitute boys.
"As a Cargill Global Scholar, I'm thrilled to be part of a program that promises to help make more friends across continents, thereby presenting me with a global perspective that is so important in today's world," said Vrindaa Somjit, who is studying at India's National Institute of Technology, Trichy.
Experiences to take home
Back in Minneapolis, the students from the inaugural group were having fun with their food safety presentations. But don't think that means their case studies were lightweight.
The delegations did an in-depth analysis of their countries' food safety systems, including interviews with experts and surveys of consumers. They examined the regulatory bodies and international trade agreements that govern these systems, as well as recent problems that have cropped up in the news, to provide a holistic view of the supply chains in question.
They also fielded tough questions from Cargill experts who were on hand for the presentations, like how they would reconcile conflicting priorities and overcome localized challenges, as well as what solutions they would recommend to leaders back home.
And of course, there were other hurdles.
"There are people from many different countries, so language was an obstacle," said Anna Paula Silva, a member of the Brazil team who attends Universidade de São Paulo in Piracicaba. "But we could get closer to them and learn a lot about their countries and their cultures, practicing our language skills along the way, overcoming our common difficulties in the best possible way."
The teams had some fun bridging these gaps. The Russians started their presentation with personal introductions and greetings in the native tongues of their new friends, much to the delight of everyone in the room.
Now, they will take these learnings and relationships back with them as they continue in their courses of study.
"It's been an incredible experience getting to know everyone," said Felippe. "None of us have had an experience like this."