How can Europe reduce youth unemployment?
Young Cargill employees brainstorm at European Parliament
May 27, 2015
Through Cargill's participation in the Alliance for Youth, several employees in Europe took part in a workshop at the European Parliament which aimed at gathering feedback and recommendations from young people towards governments, educational institutes and the private sector regarding what they think are the actions needed to reduce youth unemployment in Europe. The workshop included representatives from the member companies of the alliance, European youth groups and members of Parliament; representatives were present from countries all over Europe to contribute to the recommendations.
Cargill was represented by three employees who recently joined the company, either through an apprenticeship, traineeship or mentorship program. Arancha Sanchez, EMEA recruitment lead, also joined the workshop as a facilitator. We sat down with them to hear their thoughts about the experience, here is what they had to say…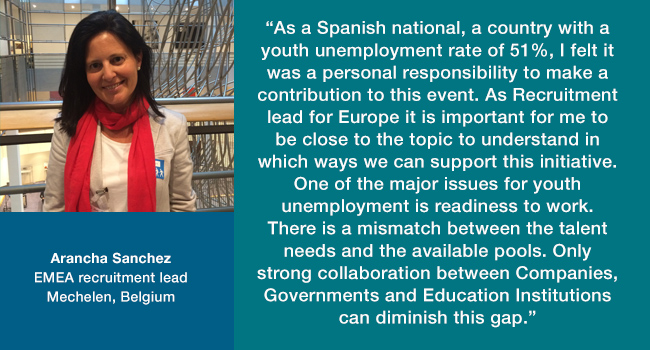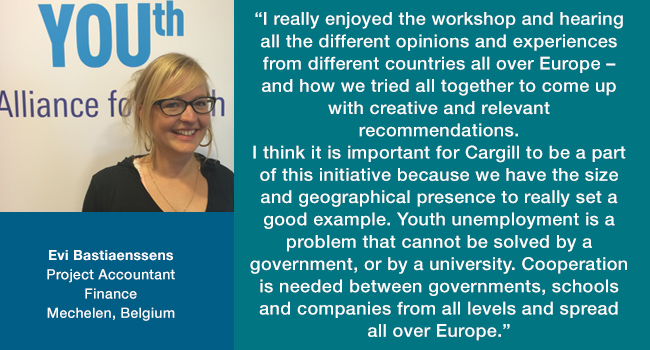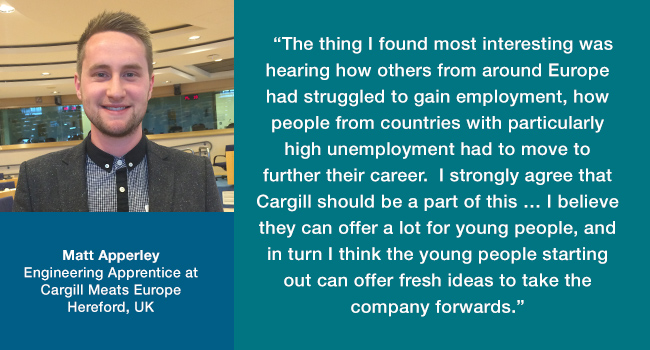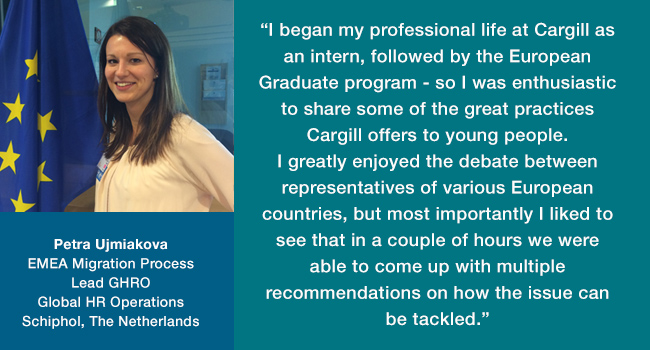 About the Alliance for Youth
Cargill is a founding member of the "Alliance for YOUth" – which is working to enhance the employability of Europe's young people in the face of 25 percent youth unemployment.
As part of the Alliance, Cargill is committed to reducing youth unemployment by offering internships, apprenticeships, and skills training to young people, while sharing its best practices from its existing programs. So far in the last 12 months, Cargill has created nearly 1,500 opportunities for young people across Europe; as employees, apprentices or trainees.
The founding partners of the Alliance for Youth include: Adecco, Axa, Cargill, CHEP, DS Smith, Ernst and Young (EY), Facebook, Firmenich, Google, Nestlé, Nielsen, Publicis Groupe, Salesforce, Twitter and White&Case