In Italy, Cargill helps feed people and animals after 2016 earthquake
By Isabel Dimitrov March 06, 2017
Last summer, a 6.2 magnitude earthquake struck Italy, killing 298 people and displacing thousands of others. With 10 locations across Italy and more than 700 employees, Cargill mobilized to provide relief and support in the earthquake's devastating aftermath.
Barbara Mariani, part of Cargill Feed & Nutrition's customer service team, has been helping coordinate the disaster relief efforts across Cargill locations and businesses in Italy.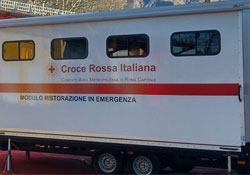 One of the Mobile Kitchen Units used by the Italian Red Cross to facilitate access to food support for communities after the 2016 earthquake in Italy. Cargill in Italy is providing a donation to help the Red Cross purchase another unit to expand its Mobile Kitchen service. "All of our employees strongly believe in how we give back to our local communities through Cargill Cares councils," she said. "We have a great deal of solidarity in Italy and it helped us come together at a time when our communities needed us."
In areas affected by the earthquake, many of Cargill's customers also lost everything. Cargill Cares councils responded by organizing donations of feed for dairy, beef, sheep, and rabbits in collaboration with the civil protection agency, in order to ensure their customers could continue to feed their livestock.
In addition to collectively donating dozens of hours of volunteer support, employees also led fundraising efforts, collecting almost 15,000 euros. Italian Cargill management was so inspired that they doubled the donation. Together with a corporate contribution, Cargill will donate more than 40,000 euros to the Italian Red Cross to further support disaster relief efforts.
These funds will enable the Italian Red Cross to purchase another Mobile Kitchen Unit – a simple but innovative way of making sure displaced populations living in shelters can be better reached by food support. The need is critical: there are still thousands of people living in shelters who can neither cook in a kitchen at home nor access basic food supplies. The Red Cross Mobile Kitchen Service will allow thousands of beneficiaries to be reached by food support and have the facilities to cook their own meals.
For a company whose purpose is to nourish the world, Cargill employees in Italy couldn't be more proud to support the Mobile Kitchen Service of the Red Cross.
"At a moment of significant duress following the earthquake, our employees felt that helping local farmers feed their animals and supporting food security for our impacted communities was a key way for us as Cargill to contribute," said Guillermo Cardona, managing director for Cargill Feed & Nutrition Italy.
Cardona emphasized that Cargill has a longstanding commitment to helping its communities in times of need.
"This is not the first time that our employees have supported populations affected by natural disasters: the fundraising for the 2010 Haiti earthquake, and for the 2009 and 2012 Central Italy earthquakes are just some examples of how powerful the solidarity, spirit and generosity of Cargill employees can be," Cardona said.