Insights Driven Animal Production: A Q&A With Dave Cook
The rise of computers and digitalization in the '80s led to access to more insights that producers could utilize on their farms.

Tools that are either worn or placed in animal facility enable producers to collect more data and make more informed decisions.

The future of insights might lead to individual animal monitoring that will predict specific nutrient needs per animal.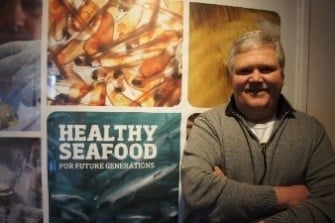 A Q&A With Dave Cook On Insights Driven Animal Production
Dave Cook, Ph.D. and Global R&D Director for Cargill's aqua nutrition business, has served in a variety of animal nutrition research and development roles for nearly 30 years, across multiple species including poultry, swine, cattle and aquaculture.
Animal production shifted to insights-driven in the '80s. What drove the shift?
It's a combination of tools and techniques developing, early days of digitalization, desktop computing just arriving, portable computers becoming more affordable. As the mobility and speed of computing evolved, so did the ability to mine data and leverage algorithms.
Look at the example of early dairy and amino acid nutrition. The key was realizing that each producer had different goals and motivators, and every animal performs differently. Technology enabled us to be able to measure each cow's daily production and customize diet. It was one of the first times we saw mathematical modeling embraced.
Did farmers embrace the idea of insights-driven? Was it quick or slow to catch on?
It depended on the industry – back then, it was predominantly dairy, beef and swine. Dairy caught on quickly, and then based on insights there, it carried over to the beef side. Variations in homegrown forage were motivation to do more customization.
Swine was followed shortly thereafter. Early adopters were looking to do something different. Salmon producers were early adopters on the aqua side and are seeing growing application of digitalization in other areas like shrimp production.
How did this approach grow in the last forty years? What caused the shifts or changes in how we feed and grow animals?
One example to look at was the development of new growth promoters in pigs and dairy cattle. The industry had spent twenty years refining amino acid requirements for pigs, but with growth modifiers, we needed to stop and redo the amino acid requirements all over again.
So, new ways of looking at amino acid requirements emerged in the late '80s. We worked to find the ideal amino acid profiles, which facilitated computerizing the amino acid requirements.
At Cargill, the first mechanistic swine model was in 1992, and you could watch the pig grow digitally as computing power available at the time required minutes to do the calculations for each phase of growth. This model was a means to provide custom solutions to producers and do it in a very visual way. A mere eight years later, one phase of growth was instantaneous: push a button and done. With the growth of supercomputing and application of artificial intelligence; our ability to model animal performance is greatly expanded.
Where do you see insights-driven production going in the next 20 years?
I think you will see individual animal monitoring that will performance and predict specific nutrient needs per animal. We will have automated systems to deliver a custom diet per animal or, at a minimum, updated rations for a group that may be changed daily.
We also see continued growth in development and application of a variety of sensors and other predictive tools that will allow producers to make more informed decisions to optimize animal well-being and performance based on what is likely to happen (e.g. weather events, pathogen loads, stress conditions, etc.).
Whatever happens, insights-driven production is only going to increase as our ability to gather data increases.