Investing in our trading talent
August 08, 2017
The sun had not yet fully risen, and in the shadow of the Alps the air was crisp and damp. Romain Gautier and Emile Morsink teetered on the edge of a wooden plank some 15 feet above ground, using carabiners and harnesses to traverse the trees under the supervision of trained staff.
Their target was in sight: an envelope tucked among the branches of a tree just ahead. It was a clue. They moved slowly, methodically toward the package. If they were afraid of heights, it didn't show. Once the envelope was in hand, no sooner had their feet touched the ground than they were sprinting back toward base camp.
This was a far cry from their usual Tuesday morning. As traders, they would typically be glued to their computer monitors, watching market moves and taking positions. Today they joined 28 of their peers from across Cargill for an experience that, while different from their day jobs, should ultimately help make them better traders.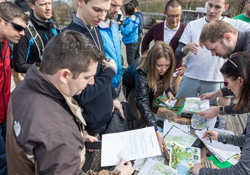 Cargill traders, risk managers and analysts from around the world gathered in Evian, France, for an experience aimed at sharpening their teamwork and problem-solving skills. It was part of a program called Trading Edge, created by Cargill's Learning & Development department in partnership with leaders from our trading-focused businesses. The intensive, three-day training program brought together traders, risk managers and analysts from every enterprise and region in Cargill.
The program is designed for trading professionals with six to10 years of experience and high potential who are nominated by their business leaders.
"We've had a lot of success with our other development programs designed for traders who are earlier in their careers," said Angie Ballinger, portfolio manager for Learning & Development. "This had to be different. We had to push the envelope and really challenge these participants."
Evian, France, was selected as the location for the inaugural program. Located just outside of Cargill's trading hub of Geneva, the charming French village offered a change of scenery for Geneva-based participants and an appealing, central destination for those coming from the Americas and Asia.
Several months before meeting in-person, participants completed online coursework, read case studies and received one-on-one coaching from a career development expert. By the time they all got together in Evian, they were ready for what many expected would be an enriching but in some ways typical training program. They were in for a few surprises.
Into the woods
When the group arrived at the nature lodge on Tuesday morning, they were told to dress for being outdoors and not much else.
"I'm thinking major orienteering here," said Tom Hoffman, a trader with Cargill Agricultural Supply Chain South America. He had noticed the maps, compasses and two-way radios laid out. "I haven't done this since high school."
He was right. The group was given clues to find envelopes that were hidden in the terrain surrounding them, and over the course of the next couple hours, learned important lessons about teamwork, collaboration and problem-solving.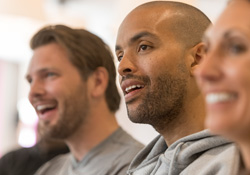 The Trading Edge course was designed to be more than a talent development program. It also gave participants an opportunity to network and provide input on the future of trading at Cargill. The learning didn't stop there. Over the next two days, Cargill brought in a range of external speakers, from experts on the psychology of trading to technology partners. The group even got a surprise visit from Brad Katsuyama, who was at the center of Michel Lewis' popular book Flash Boys.
On the last day of the program, participants met with senior leaders to share their input on the future of trading at Cargill.
"We wanted to make Trading Edge more than a talent development program," said Josh Peterson, who designed the curriculum before leaving Learning & Development to join our Global Trading Analytics group. "It was also a chance for our traders, risk managers and analysts to help shape the future."
Many commented that they appreciated the display of commitment they saw from Cargill.
"The way this course was set up shows dedication from the company," said Reyndert van der Veen, a trader with Cargill's World Trading Group.
It goes both ways. As Cargill senior vice president and leader of our Agricultural Supply Chain enterprise, G.J. van den Akker, said: "We're investing in our traders and we're counting on them."