Korean beef in the international spotlight
February 07, 2018
As tens of thousands of people descend on Pyeongchang, South Korea this week, Dong Sung Kim hopes they'll remember more than just the games. He's betting they will leave with fond memories of hanwoo beef.
Dong Sung Kim manages Daegwallyeong Hanwoo Town, a restaurant near the event site, which is already seeing worldwide attention as an official supporter of the games. His signature item is beef from hanwoo cattle, a Korean breed and the region's specialty product.
"We know visitors are here for the sports, but we want to take the opportunity to show off what else we have to offer," Dong Sung Kim said. "We want to represent our region worldwide, but make Korea proud, too."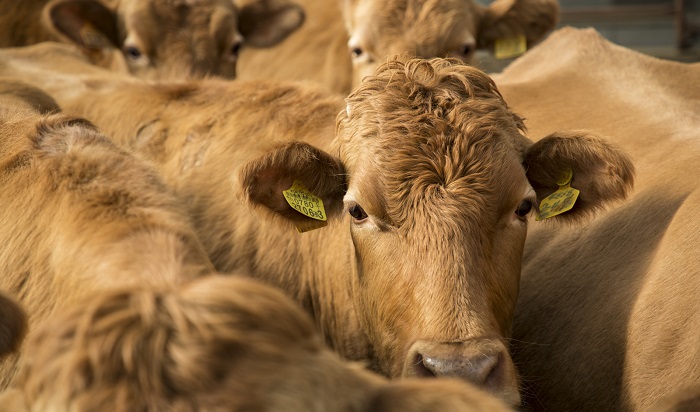 Hanwoo cattle are the pride of Pyeongchang. They grow on Cargill feed.
Pyeongchang, a town of about 43,000 residents, is in the Gangwon Province just 80 miles from Seoul in the Taebaek Mountains. It's one of the country's least developed provinces, but has seen a flood of construction and investment in preparation for the big event.
Cargill has been helping improve and elevate the quality of hanwoo beef long before it was in the international spotlight. At Cargill's Technology Application Center in Pyeongchang, one of the primary research subjects is the hanwoo cattle. The center is part of Seoul National University's campus.
"Our main goal here is eco-friendly and sustainable technology for the agriculture sector," said Sang Kee Kang, associate professor at the university. "Schools are very theoretical, and companies are more practical. We wanted to combine our strengths to help farmers."
Researchers are focused on improving the taste and marbling of the beef through studies of different combinations of feed. Consumers are very particular about their beef, preferring a more fine fat marbling.
"Good feed drastically improves the end product, so by working with the researchers, we can bring data back to the farmers to improve their business," said Cargill's Jason Jeong-Hoon Kim, ruminant technology application manager at the center.
Farmer-focused research
Cargill's research farm on the campus currently has 140 hanwoo cattle. The team is also studying ways to make farms more efficient, as most farmers own limited space but want to increase their output.
Su Nam Ahn is one of the farmers that is benefiting from the research. As the owner of a 170-head farm he sees a big opportunity with the connections between the university and Cargill.
When he started farming with just 10 cows, he chose to focus on the hanwoo breed because of the distinct taste of the beef and potential for growth.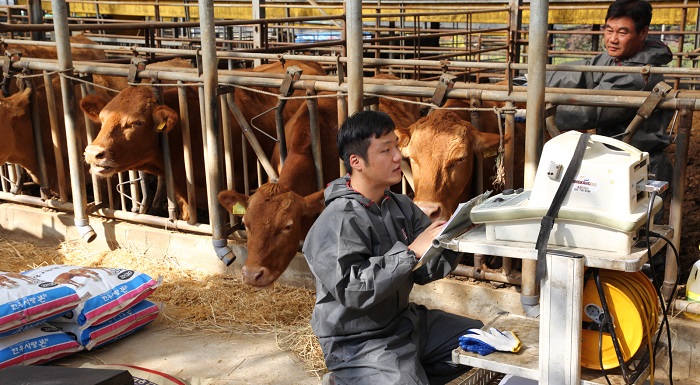 Cattle farmer Su Nam Ahn uses and ultrasound machine on a hanwoo cow to check its fat marbling.
"Many of the foreign breeds have already been improved so much worldwide," he said. "I saw an opportunity to take on the hanwoo breed and make it better."
He noticed an immediate improvement when he switched to Cargill's Purina® feed. He saw better reproduction and growth rates, but most importantly the meat quality improved. It affirmed his commitment to Purina feed, which he also sells as an independent dealer.
In South Korea, dealers like Ahn sell Cargill products under the Purina* and Nutrena® brands at their shops throughout the countryside. Cargill works closely with them on sales training, marketing programs and solutions for their farm customers.
Ahn's been selling his meat through a 70-farmer cooperative, which decided to brand their product in 1992. Cargill's marketing services helped the group develop the brand, and the co-op opened the Daegwallyeong Hanwoo restaurant and meat counter in 2008.
Cultivating a story
Restaurant Manager Kim said he's looking forward to telling the region's story through hanwoo beef at his restaurant.
"This is one of the best examples of our marketing work at Cargill," said Marketing Director Soyeon Kim. "We help farmers and restaurants cultivate their story so consumers have a connection to their meal. When our customers succeed and grow, so does Cargill."
Restaurant patrons visit the meat counter first, picking out their cuts of meat before sitting down next door at the traditional Korean BBQ grilling tables. There's a more upscale sit-down restaurant on the second floor. The restaurant's revenue this year hit $8 million and Kim expects at least a 50 percent increase in visitors during the big event.
Kim was born and raised in Pyeonchang, and said this will be an opportunity to show the world how rural Korea is flourishing, thanks to hanwoo beef and the growing skiing industry.
"I think the international attention can only benefit our community," he said. "I hope Korea invests more in our area and finds pride in what we've created here. It's an honor to be part of it."
*Outside the United States, Cargill licenses the Purina brand from Nestle Purina Petcare Co.