On the scent - Superstar ethanol "nose" found at Barby, Germany, plant inauguration
July 26, 2016
Imagine the surprise when celebrations in Germany to inaugurate the $70 million Cargill ethanol plant in Barby unearthed a new expert for the company's sensory panel. Not someone who has been trained or is even in the industry…but a local guest and rookie!
The event was attended by partners, customers and local figures from the community who were invited to participate in a sensory panel test to put five different ethanol grades in the correct order. It was local Mayor Jens Strube who quickly put them in the correct order – on his first attempt! The site manager, Klaus Rinne, immediately invited him to join the Barby sensory team.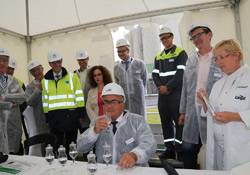 Mayor Jens Strube participating in sensory panel test. The event can't be described in a better way than with the simple words of Mayor Strube himself, who said: "This was a good day!" We'll toast to that.
What do you think it takes to have the right nose for ethanol testing? It isn't as easy as you might think. We spoke to our Sensory Expert, Florence Ramon from Cargill's European research and development centre in Vilvoorde, Belgium, to learn more.
How does the testing/sensory process for ethanol work?
In our Cargill plants, each batch of potable ethanol is evaluated by a specially selected sensory panel to meet the high expectations and quality grading for our customers.
These panels consist of a group of "noses" recruited based on their sensory abilities. They are trained to describe and quantify the typical flavors and off-flavors in potable ethanol. The sensory results are then used to classify each new production batch.
What skills do you need to have to test or grade ethanol?
A sensitive nose, with a low detection threshold for typical ethanol off-flavors.
A good memory, to be able to learn and recognize all flavors.
Mindfulness when smelling, as you can't do a correct evaluation if you're not fully focused on your nose.
Is it something you can learn?
First, you need the appropriate skills above and then you have to learn and gain experience on flavor description and scoring.
How do you know if you have the "right nose?"
People who have the "right nose" are usually very sensitive to odor in their day-to-day lives. They pay special attention to odor and flavor in their environment and they have a good memory. These people tend to smell a bouquet of flowers, not just look at them. They may also be a wine or whisky amateur.