One event, 100 never-before-seen products: What Cargill unveiled at the China International Import Expo
November 24, 2021
Beauty products. Alternative protein. Immune support. Shipping. They're all categories Cargill is transforming — but they're rarely seen together.
Unless that is, you're at the 4th annual China International Import Expo (CIIE). The Nov. 5-10 event, one of the world's largest trade shows, invited exhibitors to unveil advances that will serve customers today and in the future.
For our customers, that means innovations that will help people prosper by promoting health, nutrition, well-being and sustainability — discoveries built on Cargill's half-century history in China.
"The CIIE is a bridge that connects China with the rest of the world, and that's exactly what Cargill has been doing for the past 50 years," says Jerry Liu, president of Cargill in China. "Inspired by the exciting new opportunities that the CIIE has unlocked for us, we will embrace the next 50 years with even greater hope and ambition as we continue to grow together with our partners and customers in China."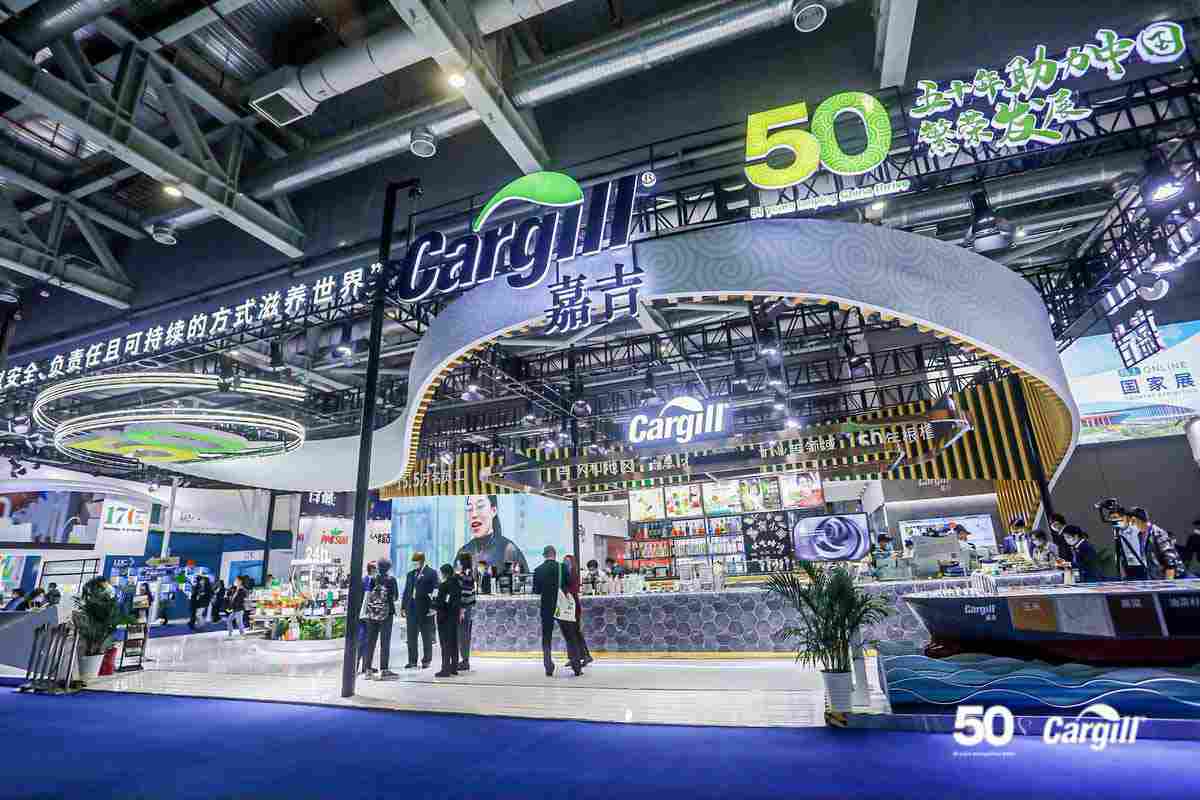 Cargill China's past and a boundless future intersected as visitors experienced both a visual historical tour and a range of recent innovations.
A Panamax cargo ship showcased the eco-friendly ocean transportation offerings Cargill is bringing to China's ports and the global maritime sector. Over 100 products portrayed how we're meeting consumer expectations around health and well-being, including alternative protein, oil and sweetener options. Here's a taste: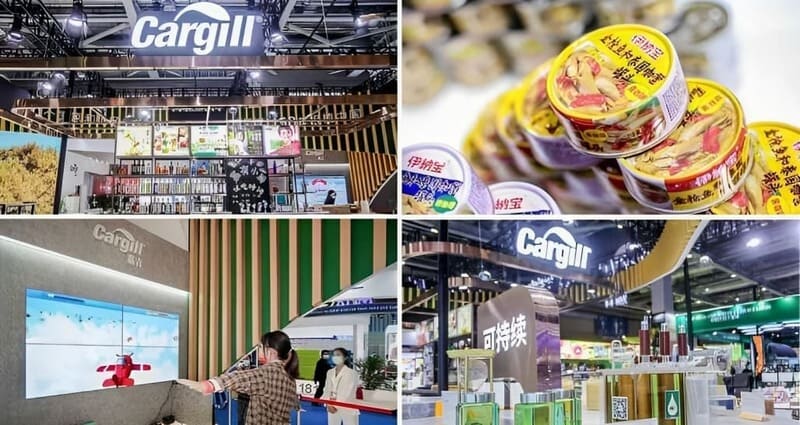 Plant-Based Protein: Cargill PlantEver™ plant-based fish sticks and fried pork-flavored strips feature DHA, dietary fiber and zero trans fatty acids, bringing great taste and a sustainable alternative protein option to consumers.
Edible Oils: Cargill SOCFAT® QingZha light frying oil is based on a unique golden formula that not only gives food a brighter color, fresher taste and crunchier texture, but also provides a high amount of unsaturated fatty acids that can help with weight management. It's packaged in eco-friendly materials for easy, more sustainable storage.
Human Health and Immunity: EpiCor®, Cargill's patented postbiotic ingredient, has been widely used in human and pet foods to promote immunity. At CIIE 2021, Cargill launched Cargill Proliv™ Functional Snack, offering EpiCor® and Lecigran PS50 in gummy and tablet forms to support Chinese consumers' desire for gut health and immunity support.
Pet Health and Immunity: Cargill PetMaster® Immune Enhancement Functional Pet Food combines Cargill's functional ingredient SAC (EpiCor® for pets) with premium fish and poultry proteins imported from global markets to help protect pets' intestinal health and optimize their native immunity.
Sweeteners: Cargill Truvia® Stevia-based Sugar Substitute is a zero-sugar, light-calorie and gluten-free natural sugar substitute sweetener extracted from stevia leaves. It enhances the taste and flavor of foods and beverages, in line with the consumer trend of low sugar and no sugar.
Beauty Products: Carrageenan is extracted from red seaweed sustainably and is composed of natural glucan and sulfate radicals. Carrageenan can provide thickening and styling capabilities in personal care products. It's 100% naturally sourced, with EU ECOCERT and COSMOS certification.
"CIIE celebrates the culture of innovation that pulses through China," says Marcel Smits, who leads Cargill's Asia Pacific region. "Our innovation focus is not just what China needs today but how we can play a part in its sustainable future."

Cargill announces $7.8 million toward rural revitalization in China
Cargill announced at CIIE it will invest up to $7.8 million in corporate responsibility, sustainable development and farmer prosperity initiatives over the next five years to contribute to rural revitalization in China. In line with Cargill's mission to nourish the world in a safe, responsible, and sustainable way, the first projects to be funded cover the protection of water resources and farmer training.
"Today, we feel proud as well as humbled. Together with customers, partners, governments and organizations across China, we have celebrated successes and weathered challenging times," says Cargill's CEO Dave MacLennan. "Looking at the next 50 years, Cargill will remain committed to partnering with China as the county builds sustainable agriculture, rejuvenates rural places and achieves its goals in carbon neutrality."
The announcement coincides with Cargill's protein business in China and the China Environmental Protection Foundation (the "Foundation") officially launching the strategic partnership, "Cargill-China Environmental Protection Foundation 'Streams Action' Project."
Building on their seven years of working together, Cargill will donate $345,000 to improve the quality of water resources around its farms in Chuzhou in eastern Anhui Province and support sustainable development through the recycling of water resources.
This year marks the 10th anniversary of Cargill's protein business in China. As one of Cargill's significant new partnerships on sustainable development, this project will be adding to our company's commitment to supporting China's prosperity and development.
"Through the project, Cargill and the Foundation will tap into the project experiences from both sides, meet the multi-dimensional demands for resources from agricultural production, domestic living, and natural reservation, and collectively explore a comprehensive eco-agriculture model suitable for local needs, in a hope to provide meaningful references to other areas," said Jackson Chan, who leads Cargill's protein business in China.