Prospering with pigs
A new training program helps women hog farmers in China grow their businesses
December 11, 2018
Luo Zhirong was eager.
"Whether it's about raising pigs, how to expand a pig farm, how to raise them well—everything about pigs or related to pigs—I want to learn all that knowledge," she said.
Her goal is simple: Learn more so she can grow her income.
"I now have just 20-some sows; it's not that much and doesn't meet my expectations. I definitely want to grow, maybe up to 100 sows," she said, breaking into a wide grin that spilled into laughter. "That would be much better!"
Luo joined about 100 hog farmers in May—mostly women—for the inaugural training session that kicked off a partnership between Cargill and the China Women's Development Foundation. The goal of the partnership is to "promote sustainable farm development for rural women and families so they may shed poverty and gain prosperity," according to Wang Yinxiang, vice chair of the foundation.
In Chongqing, a major hog producing region, husbands often must find work in faraway cities, leaving many rural women to manage farms on their own. The training program is targeting small to mid-sized farms, each with around 30 sows, and includes seven training sessions for about 300 farmers in its first year.
Through hands-on experience at demonstration farms, participants will learn about feed and farm management, animal husbandry, bio-security measures, sustainability practices and food safety.
"We believe that better nutrition leads to better lives," said Clemens Tan, managing director of Cargill's compound feed business in China. "By giving farmers more knowledge and training to improve their farm management, they can increase their profit and improve their living standard."
An industry in flux
More than 3.5 million Chinese farmers already have participated in formal and informal training sessions that Cargill teams have conducted since the company entered the country some 40 years ago.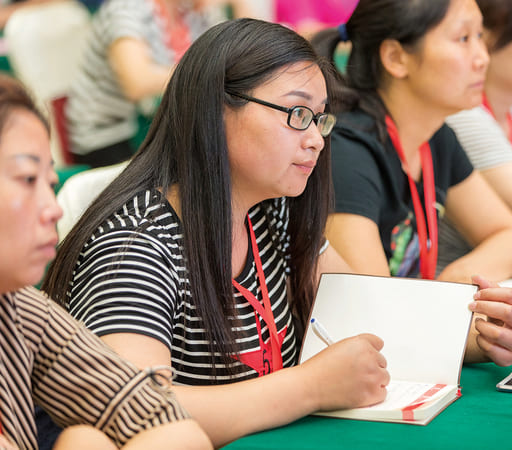 Hog farmers listen intently at the inaugural training session in Chongqing, a major hog producing region in China. This session in May kicked off a partnership between Cargill and the China Women's Development Foundation to improve the livelihoods of rural women and their families. "It's been a lot of smallholder farms, community by community," said John Fering, managing director of Cargill's pre-mix feed business in China. He acknowledged the importance of providing training and support for prospective and current customers, but said it's not just about gaining business. "We believe it's our obligation to the communities we serve."
While technical assistance and training are common practices for Cargill in China, the company is doubling down on these services to help address tough market conditions largely brought on by new environmental regulations and growing vertical integration of a modernizing hog industry.
Regulations have forced the dismantling of many hog farms that are too close to waterways or villages, while technological advances in production are edging out smaller producers who can't keep up, said Ma Xianguo, a species lead for the compound feed business, as he visits a customer outside Chongqing.
"We've lost a lot of small hog producers," he said. "A very big part of our effort is to build up our capability to better serve our customers during this large market shift and change in the industry."
Learning from others
A few hours away on the other side of Chongqing, Chen Liangyu was pleased to see that workers had delivered the new grates and pens for an expanded hog house under construction.
With 400 sows already, Chen is seen as a role model for other women farmers. But hers was a hard journey paved with heavy losses in the early years.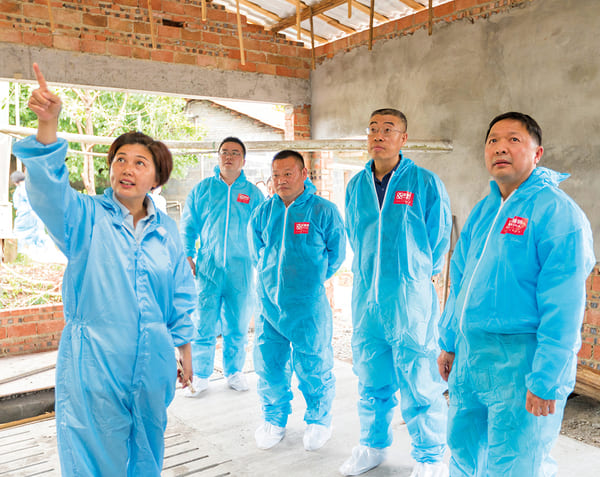 Chen Liangyu shows Cargill visitors her new hog house under construction that will enable her to grow her farm to 1,200 sows next year. To her right are members of Cargill's compound feed business in China: Liu Cong, He Hai, Ma Xianguo and Clemens Tan.
"In 2008, no one knew how to raise hogs. We lacked knowledge. Breeding, nutrition, environment—all these issues were alien to us. We didn't have any real understanding about how to raise pigs well," she recalled on the tree-lined walkway on her farm.
In 2013-14, when hog prices were at their lowest, Chen said she lost more than 4 million yuan.
After that, she said she paid more attention to the scientific production of hogs and sought out advice from other farmers with more experience. She tightened feeding practices to reduce waste and developed a feed concoction for newly weaned piglets.
From others she learned to focus on details, like checking the quality of feed upon each delivery and sending water out for testing. Now she and her hogs get their water from the same source.
"When I train workers, I tell them that if you want to raise pigs well, you must raise them as if they're children. Why? If you don't treat them like your children, they won't flourish because you'd have no love for them," Chen said.
She's planning to grow her farm to 1,200 sows next year. As a speaker and attendee at the kick-off of the new training program in Chongqing, she emphasized the importance of ongoing education.
"If I had training back when I started, I wouldn't have experienced so much bitterness," she said. "You so need the knowledge. You so need the help in this area."