How we're protecting children in palm oil communities
Read Time: 4 minutes
December 17, 2020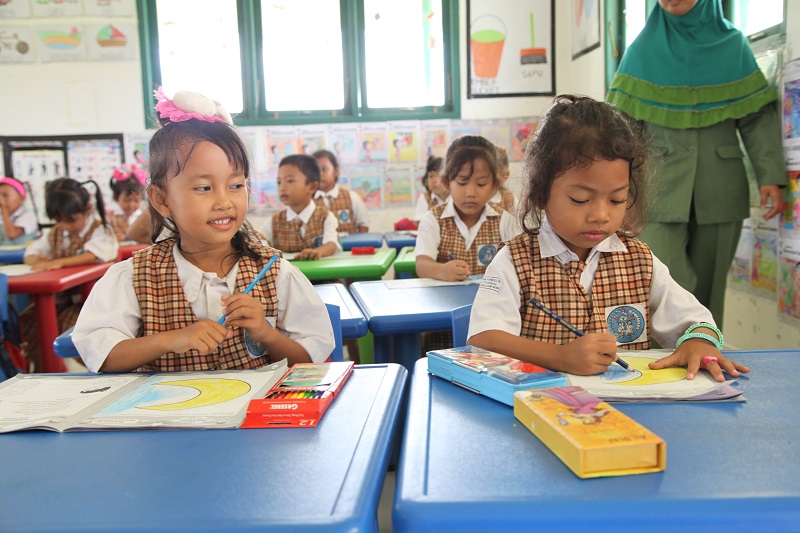 What is the role of a company in protecting children from child labor? Certainly, it means working to ensure no child works in a way that "deprives them of their childhood, their potential and their dignity, and that is harmful to their physical and/or mental development," as the International Labour Organization defines child labor.
But on Cargill-owned palm oil plantations in South Sumatra and West Kalimantan, Indonesia, it means much more.
"Keeping children safe is just the beginning," says Yunita Widiastuti, global sustainability manager for Cargill tropical palm. "Protecting children's rights on palm oil plantations is a lifelong commitment — from helping them have a healthy birth to enabling them to thrive into adulthood."
That's why Cargill partnered with the United Nations Children's Fund (UNICEF) and the Roundtable on Sustainable Palm Oil (RSPO) to develop a holistic approach to protecting children. Implemented for our 18,000 employees in Cargill's Indonesia palm operations, the Children's Rights and Business Principles (CRBP) pilot project is creating better conditions for children — as well as for women and their families.
It begins with addressing the root causes of harm. Much of the world's palm oil is grown in remote, low-income areas of Asia and Latin America. Here, communities face many threats — including child labor. UNICEF research showed limited maternity protection, low breastfeeding rates, poor maternal health and nutrition, lack of childcare and difficulty accessing education were all hurting children's health and development.
The protection pilot addresses children's rights in all life stages — from pregnancy to education and beyond.
Pregnancy: building health clinics. At our 28 clinics with 80 medical professionals, female workers can get maternal care and safely deliver their babies — free of charge. We have certified midwives on site to provide pre- and post-natal care, and we assist with obtaining birth certificates. Plantation workers are granted paid maternity, miscarriage, menstrual and accompanying wife leave.
Nursing: supporting breastfeeding. We provide female workers two hours of leave a day to breastfeed their babies for at least six months. Nursing mothers have access to dedicated facilities to breastfeed in private, which include refrigerators to store breastmilk. Any pregnant workers who spray chemicals are given alternative work until they finish breastfeeding.
Toddler years: providing free care: Children can attend one of our 22 nurseries, offering a ratio of one caretaker for every 10-15 children, from the moment they walk until elementary school. We provide milk for children up to the age of three, and work with health officials to provide a full vaccination program for all toddlers.
Primary and secondary education: constructing schools. We've built 42 schools for workers' children providing free education to more than 5,000 students and employing about 250 teachers. Children ride to and from school on a company school bus and we encourage them to bring meals from home to discourage the buying of unhealthy food or snacks. A scholarship program for high-performing children helps them access further education.
Young workers: offering apprenticeships: Our 3- to 4- month apprenticeship program offered to young people (ages 16-23) as part of their formal education provides an allowance, training and coaching by a Cargill supervisor. Trainee tasks are limited to administrative work, lab analysis and light workshop activities. We only employ workers 18 years of age and older and do ID checks to verify new hire ages.
Families: supporting hygiene and housing. Cargill has built 9,000 rent-free houses — covering 85% of employees — and provides safe drinking water to each household via a reverse osmosis system. Electricity is available for free, 18-24 hours a day at the homes, and there are 45 mosques and eight churches across our plantations.
"The CRBP program helps us understand challenges so we can continuously improve to better protect our employees and their children," says Yunita. "We're gratified that it has been recognized as a best practice by our NGO partners."
While important, programs on our owned plantations cannot be the entirety of our protections. As well as growing our own palm oil, Cargill buys from suppliers in Indonesia, Malaysia and across Latin America — where child labor continues to be a problem.
We require these suppliers to adhere to our Policy on Sustainable Palm Oil and Supplier Code of Conduct. The code is grounded in our guiding principles, which include treating people with dignity and respect, conducting business with integrity and being a responsible global citizen.
The moment we become aware of exploitative practices in our supply chain, we initiate our grievance process, which is built on RSPO standards. We also have guidance for our suppliers, developed in partnership with Proforest and the Fair Labor Association, to help growers and mills verify and identify causes of child labor, develop action plans for remediation, and prevent offenses from reoccurring.
"We will not tolerate child labor in our operations or our supply chain," Yunita says.
Identifying and addressing child labor remains a steep challenge. But we are committed to doing more. All of us in the palm supply chain — industry, government, NGOs — must work together to improve the welfare of rural communities, increase incomes and ensure people are protected.