Renewable energy: Good for business and the planet
July 13, 2016
Sunflower hulls, wood chips and animal byproducts may seem unlikely candidates for the future of energy. But these byproducts help fuel Cargill facilities around the world. And while they won't be powering your car anytime soon, we use them – and many other renewable sources of energy – to conserve resources, decrease our environmental impact and lower costs. It's good for our communities, our planet and our business. Today, renewables account for more than 14 percent of our energy portfolio and we are actively working to increase use of renewables at our locations worldwide.
Early adopter
Cargill began pioneering commercial use of renewable raw materials more than 20 years ago. We have a long track record of discovering new and innovative ways to develop renewable sources of energy – and a commitment to continuous improvement. That commitment is contributing to our goal of becoming the most trusted source of sustainable products and services.
Our progress
We currently use more than 15 different renewable energy sources at more than 100 locations around the world. In 2015 alone, use of renewable energy helped us avoid emissions of more than 1 million metric tons of carbon dioxide (CO2) – a greenhouse gas (GHG) contributing to climate change. That's the equivalent of taking about 210,000 passenger vehicles off the road, according to U.S. Environmental Protection Agency calculations.
By the end of fiscal 2015, renewable energy accounted for more than 14 percent of our energy portfolio, exceeding our goal of 12.5 percent. Now we are working to increase use of renewable energy at our facilities to 18 percent by 2020. (Learn more about our energy and natural resource goals.)
"We're very proud of what we've accomplished over the past 20 years," said Al Johnson, vice president of Environment, Health & Safety. "But we're focused on continuous improvement and are building on our success with new targets for 2020 that will help us be a more sustainable place to work."
Renewable energy at Cargill
1+ million metric tons of fossil-fuel based GHG emissions avoided

15+ renewable energy sources

100 locations using renewable energy

14% of energy from renewable sources
Locally sourced renewables
What's unique about Cargill's approach is that much of the renewable energy we use comes from our own facilities. Our business provides us access to a variety of renewable fuels, including sugarcane bagasse (the fibrous material that remains after juice extraction), palm hulls and palm oil residues, sunflower hulls, methane "biogas" from water treatment ponds, cocoa shells, cassava, straw and a host of other agricultural byproducts.
"We know this work is good for Cargill and our bottom line," said Greg Jason, assistant vice president of Environment, Health & Safety. "But what's more important is that we're setting a solid foundation within our own operations so that we can take this work further to ensure the sustainability of our value chains well into the future."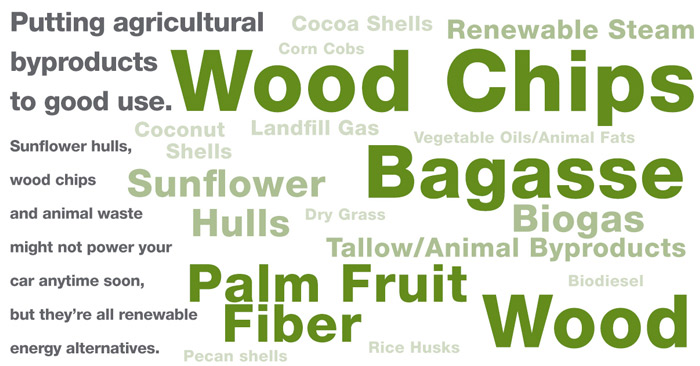 Our remote processing locations make these renewable energy sources a wise choice environmentally and fiscally, especially where the cost of other sources of energy is high. While Cargill does purchase some renewable steam and green electricity produced by less carbon-intensive sources, the majority of the renewable energy we use is sourced from our own operations. That fact sets Cargill apart from others who claim higher rates of renewable energy usage by purchasing, rather than generating, renewable energy.
Environmentally friendly energy
Cargill relies on a variety of forms of renewable energy to fuel our business, primarily biomass and biogas, though we also use sources such as solar and wind on a smaller scale. Listed below are some examples of how we are using renewable resources at an increasing number of our facilities.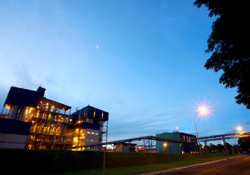 Our Uberlândia facility is partially fueled by eucalyptus trees, a renewable source of biomass. Biomass – energy created from plant materials and other organic byproducts provides the majority of the renewable energy we generate:
Brazil: Our starches and sweeteners plant in Uberlândia uses wood chips from fast-growing eucalyptus trees to power the complex's bio boiler, generating up to 75 percent of the power and 100 percent of the steam at this location. This renewable energy avoids about 245,000 metric tons of fuel oil per year and reduces GHG emissions. The Uberlândia bioboiler also burns sugarcane bagasse, another renewable energy source.
Indonesia and Malaysia: Our tropical palm business in Asia operates almost 100 percent on renewable energy generated from the palm hulls and residue left over from palm oil production.
Germany and the U.S.: Sunflower hulls are being converted into energy to fuel Cargill facilities in Salzgitter, Germany. Meanwhile, nearly half of the energy used to fuel Cargill's oilseed processing facility in West Fargo, North Dakota, comes from sunflower hulls and landfill gas.
Honduras: Our animal nutrition business replaced diesel-run boilers with a boiler fueled by sawdust from the local lumber industry. Switching from diesel fuel to sawdust has reduced carbon emissions by about 6,000 metric tons per year.
Biogas – we capture biogas for use at many of our facilities around the world. Our biogas plants that capture and use methane from wastewater treatment systems not only provide energy, they also reduce GHG emissions. Examples include:
North America: Our beef processing plants in Canada and the U.S. reclaim methane from wastewater lagoons, using the biogas to fuel the plants and displacing about 20 to 25 percent of natural gas demand at those facilities. In addition to capturing methane and preventing release of GHGs into the atmosphere, Cargill's High River beef processing facility in Alberta, Canada, also uses organic waste to generate energy. The facility's fluidized bed boiler significantly reduces landfill waste; the facility is powered by nearly 50 percent renewable fuels, eliminating thousands of metric tons of fossil fuel emissions a year.
Solar and wind – while not a significant source of renewable energy for Cargill at this time, we are exploring opportunities for using solar and wind power at our facilities. Early projects include:
Central America: In Nicaragua, expansion of our Managua meat processing facility included installation of solar panels and racks to meet 4.5 megawatt demand along with a power purchasing agreement.
Jordan: As part of an expansion project at our feed mix plant in Amman, we installed solar panels covering 2,420 square meters to generate energy that is helping to power the facility and reduce consumption from external energy sources.
Collaborating to magnify our impact
We collaborate with energy providers, industry partners, governments and other stakeholders to increase the use of renewable energy best practices and improve the sustainability of our operations, our supply chain and our communities. For example, in Korea, we funded a biogas plant on Jeju Island that converts methane from hog manure into energy in collaboration with Jeju National University.
Renewable sources of energy will continue to be a key component in Cargill's ongoing commitment to produce more with greater efficiency, reduce greenhouse gas emissions and address the effects of climate change.