Running for Rollers
July 09, 2014
Imagine carrying all of the water you used in your shower this morning to your house from the closest body of water – how would you do it? The average shower in the U.S. uses about 25 to 50 gallons of water, assuming about a 10 minute shower. Carrying that load every morning would be exhausting, and even then you wouldn't have any water left for the rest of your day.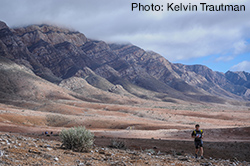 Cargill employee Brendon DeBoer running in The Richtersveld, a desert in northwestern South Africa. This difficulty is reality in many parts of Africa, where the Hippo Roller has helped many communities gain improved access to water. This innovative product is comprised of a round drum attached to a steel handle and stores about 24 gallons of water which can then be either pushed or pulled back to the destination. It is an exceptionally efficient way to ease the transportation of water in rural Africa.
In June 2014, Cargill employee Brendon DeBoer ran in a 4 day marathon in The Richtersveld, a desert in northwestern South Africa. The marathon entailed running through a rough and dry terrain of both desert and mountains. DeBoer, who works for Cargill's grain and oilseed supply chain business and is based in Cairo, Egypt, collected donations from his local community. With Cargill's donation-matching support, he raised enough money to fund the purchase of 50 hippo rollers, which he donated to rural farming communities in Zimbabwe. This donation will help ease the burden of water collecting for women and children in the area.