Pampered Paws
As South Korea's pet industry booms, Cargill is focused on reaching high-end consumers
October 10, 2018
Dogs rule at Molly's Pet Shop and Café in Seoul, South Korea. During a recent visit, a tornado of small dogs in overalls, bow ties and dresses engage in a raucous chase, rounding the benches and jumping over their owners before racing along the fence border.
When the play date is over, the pampered pets go home stocked up on luxury goods. In addition to several aisles of kibble, visitors can peruse a selection of strollers, costumes, bedazzled collars and blow dryers.
As consumers are buying more goods online, South Korea's largest supermarket chain E-Mart wanted to create a niche in the growing pet industry. By combining the social elements of a dog park and café with high-end pet food and merchandise, E-Mart is betting consumers will continue to buy pet food in person.
E-Mart runs 35 Molly's Pet Stores in South Korea. Seven of them also include a café, with E-Mart planning to add two locations yearly. Some locations even include a dog day care, adoptable pets and photo booths.
"Molly's isn't just a place to buy pet food," said Brian Sungkeun Kim, E-Mart pet food buyer. "We've created a place that provides pets and their owners a community gathering place to enjoy."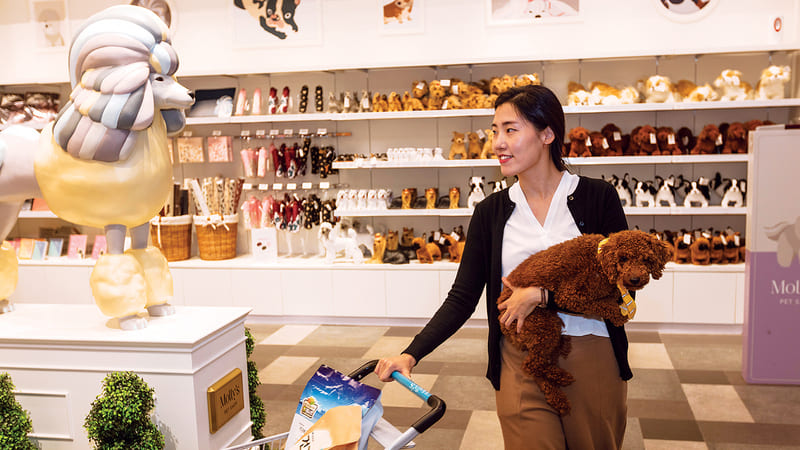 A growing industry
Industry experts say the pet economy boom in South Korea—about 10 million pet owners nationwide—can be attributed to changing demographics in the country. Today's birthrate is about half that of 1981, and single households make up 27 percent of the country's population. That's up 14 percent over 20 years.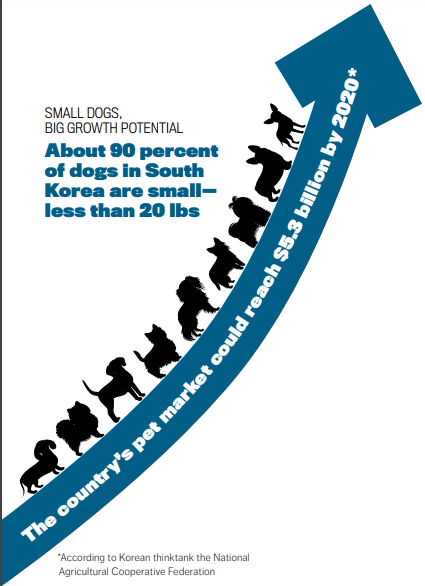 For many, adding a furry companion is a natural fit for their lifestyle, and consumers want to pamper their pets with accessories and high-quality food. Korean pet owners spend an average of $120 monthly per pet.
In South Korea, Cargill produces and sells pet food under the Nutrena® brand. The company has been in South Korea's pet food industry since 2007. Most of the food is produced with imported grains and locally grown meat at the Pyeongtaek plant outside Seoul.
Pyeongtaek is Cargill's largest feed mill in the world and primarily produces livestock feed. Julia Bo-Yeon Choi, Cargill pet marketing manager, says there's room for growth in the market.
The National Agricultural Cooperative Federation, a Korean thinktank, has estimated South Korea's pet market could reach $5.3 billion by 2020.
But Cargill is also up against a consumer preference for imported pet brands. The local market share has grown over time, now at around 40 percent, but it will take time to move more consumers to locally made food.
"Koreans have always had an interest in U.S. brands and have traditionally seen local food as bad for their pets," Choi said. "We're showing them local food can be as good as—or better—than imported choices."
Kim said he is a proud Korean and wants to help shift consumer preference to local brands like Nutrena. That's why he's built the relationship with Cargill, and includes 100 Cargill products in his store.
Dragon Yong-Soon Park, Cargill Feed & Nutrition managing director for South Korea, said the brand's Healthpedia line of food is creating a niche in the market with functional choices that address specific issues, like dental problems, joint pain and skin conditions.
"Consumers are looking to feed their pets high-quality food that is customized for their needs," Park said. "Molly's was a perfect customer to partner with as we grow our solutions-based brand with this key demographic."
Reaching the right market
The Molly's store concept was created to attract and meet the needs of a very specific demographic: Women in their 30s who live in apartments. About 90 percent of the country's dogs are small—less than 20 pounds—and Seoul has limited outdoor spaces suitable for dogs to interact.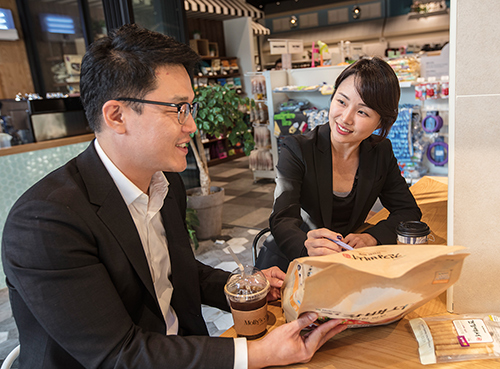 Brian Sungkeun Kim, E-Mart pet food buyer, and Cargill pet marketing manager Julia Bo-Yeon Choi work closely on pet food specials, in-store exclusive releases and unique packaging to help attract customers. The café environment provides pooches a fenced-in space to burn off energy while giving their humans a place to socialize.
"This is a place where guests choose to spend part of their day relaxing with friends," Kim said. "Our brand loyalty is tied to those memories."
Molly's demographic fits well with Cargill's long-term pet food strategy, too. As people devote more money and energy into their pet's wellbeing, the animals are more likely to live longer and face age related health problems that the Nutrena Healthpedia line can address.
"Functional pet foods help improve the quality of life of their loved ones," Choi said. "We're here to give our customers solutions that match their pets' needs."