Strengthening economic growth and sustainable development in Vietnam
March 01, 2016
For more than 20 years, Cargill has been investing in Vietnam and strengthening its agricultural economy through sustainable development, farmer training and education. At an award ceremony in Washington, D.C. today, that ongoing investment was recognized by the U.S. Department of State, which honored Cargill with a 2015 Award for Corporate Excellence in the human and labor rights category.
"Cargill is committed to helping our customers, farmers, employees and their wider communities thrive," said Cargill's Chairman and CEO Dave MacLennan. "We're proud to be investing in Vietnam's rural economy and advancing our global commitment to building a more sustainable, food-secure future."
The company was among the first to enter Vietnam after the U.S. normalized relations in 1995. Since that time, Cargill has made significant investments to strengthen the country's agricultural economy.
"Cargill is proud to be partnering with government, non-governmental organizations and rural communities across Vietnam," said Jorge Becerra, Vietnam country representative. "The real winners, of course, are the local farmers and communities that Cargill in Vietnam works with every day."
As part of a global commitment to improving farmer livelihoods, Cargill Vietnam has trained more than 12,000 farmers in sustainable agriculture practices and more than one million farmers on animal husbandry.
Through Cargill Cares, an employee-led volunteering initiative, employees volunteer their time and skills to supervise school building projects from approval to completion. Cargill has committed to investing in a total of 100 schools in Vietnam by 2020 to reinforce its commitment to education and economic development. To date, Cargill has built and delivered 76 schools across rural communities, benefitting more than 13,000 children per year.
U.S. Ambassador to Vietnam Ted Osius said, "We are proud to be partnering with companies like Cargill who are investing in Vietnam. Cargill is not only training local farmers, they are also strengthening the country's long-term economic outlook by investing in education. They are a great example of how U.S. investment builds stronger relationships between countries."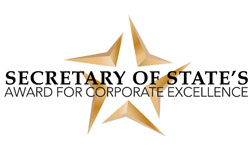 The U.S. Department of State honored Cargill with a 2015 Award for Corporate Excellence in the human and labor rights category. This is the second time Cargill has received this award. In 2008, Cargill received the Award for Corporate Excellence for its programs and activities to promote rural development in China.
To watch the recording of the award ceremony, click here and search for "2015 ACE."