Sustainability with style
Nature-derived ingredients drive innovations in personal care
July 09, 2015
Personal care is really….well, personal.
From soap and shampoo in the shower to the lotions, cosmetics and hair products we apply before facing the day, our personal care items, like the bathroom mirror, reflect us and our individual preferences. For many people, those preferences include using products made with sustainable ingredients.
"As market trends show, consumers are increasingly looking for products free from synthetic ingredients, which can be replaced by gentler, food-safe alternatives obtained from nature-derived raw materials like corn, soy, palm and seaweed," said Cargill's Andy Girdharry, who handles business development for the personal care market.
At the annual In-Cosmetics® show (the biggest global trade show in the world dedicated to ingredients for cosmetics), held this spring in Barcelona, Spain, visitors to Cargill's booth had the opportunity to experience a variety of products made from the company's portfolio of sustainable ingredients.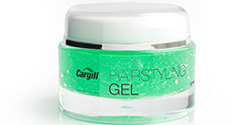 This hair styling gel is a unique example of how sustainability and performance can go hand in hand. "One of our highlights this year was a product called Satiagel VPC 512, which is a nature-derived hair styling and texturing agent," said Girdharry. "It's interesting because it is a carrageenan extracted from seaweed that gives viscosity, or thickness, to hair care and male grooming products."
Another featured product was Actigum VSX 20, a unique combination of bio-fermented scleroglucan and xanthan gum. This skin-friendly product delivers smoothness, delicate shine and lightness to creams and helps produce translucent gels with a silky, brilliant texture. Across the board, it provides good moisturizing benefits.
"There's a perfect match between what consumers are asking for and what we offer – a statement to the fact that we listen closely to the market and our customers," said Girdharry. "Sustainability is in the fibers of everything we do."