Sustainable fashion – it's all in the jeans
There's a "recipe" for every make and model of on-trend denim
September 28, 2016
Photos by Mark Luinenburg
At Kaltex, Mexico's largest textile mill and a customer of Cargill's cotton business, going to "the laundry" isn't about cleaning clothes.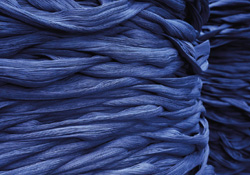 At the Kaltex denim mill in San Juan del Rio, Mexico, indigo-dyed and dried yarn is amassed into 400-thick-thread, 17,500-meter-long ropes that are circularly stacked six meters high, in preparation for strengthening and weaving. Jadel Lam, Kaltex's management director of Research & Development and a chemical engineer by training, oversees the vast facility, which focuses on denim finishing: the aging, abrasion, coating, coloring, damage, detailing, distress, engraving, fades, frays, grinding, polishing, pummeling, rips, sanding, shading and tinting that create today's on-trend looks.
For every make and model of jeans, there's a "recipe," a step-by-step guide to the manual, mechanical and chemical processes that create the finished look. If a customer's design calls for whiskers — those whitened horizontal wrinkles across the top of the thigh or behind the knee — then Lam's team figures out how to achieve the desired effect and replicate it thousands of times over. A big part of Lam's job is finding ways to get better performance with fewer chemicals and less energy and water.
The laundry houses a wealth of equipment. Industrial-sized washing machines, capable of handling 100 to 150 pairs of jeans at a time, use various combinations of water and chemicals and, increasingly, environmentally friendly technologies, to create different shades of denim. From there, the jeans may head to the laser finishing area, where laser designers translate customers' concepts to design files uploaded to laser systems. The laser burns away the indigo dye to produce various degrees of wear, novel patterns or slimming effects, with precision and consistency.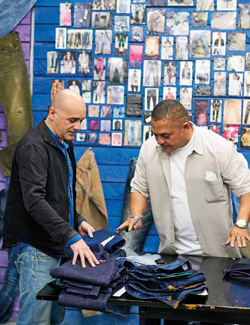 Contrary to its name, the "laundry" isn't about cleaning clothes. Lam's team focuses on fashion design and fabric finishing. Kaltex also employs a trained crew of finishers who achieve similar effects by hand, using sanders, grinders and other equipment. "We train them like chefs, like artists," says Lam. After jeans are conventionally or laser finished, they are pressed, inspected for defects, packed and shipped.
At the outset, most customers bring their desired styles to Kaltex, but the company also maintains a design team that creates seasonal "look books" and proposes concepts and collections to customers. Even as Lam's job takes him from fashion to finishing, his training as a chemical engineer is critical. He's constantly on the hunt for innovations and technologies that improve performance and protect the environment. "Finding more sustainable ways of doing things keeps me awake and alive," says Lam. "I see everything as an opportunity."
Related content: Sustainability in style