Sustainable Sports
February 10, 2015
In the summer of 2013, attendance at Major League Baseball games in the United States and Canada surpassed the 74 million mark. In the fall and winter, another 41 million or so attended professional football, basketball, and hockey games.
Unfortunately, providing food and drink for these millions of sports fans creates enough foodservice waste annually to fill several sports stadiums. Foodservice activities at a typical Major League Baseball game produce well over 1,000 tons of waste in a single season. Until recently, only a very small percentage of that waste was recycled or composted. However, that is changing thanks in part to Cargill's bio-plastics joint venture, NatureWorks, LLC.
NatureWorks is the world's largest producer of polylactic acid polymer, or PLA. Marketed under the brand name Ingeo®, this low-carbon-footprint resin is derived from agricultural feed stocks such as corn. It can be used to replace petroleum-based plastics in a variety of applications. For the foodservice segment, it can be used in disposable plates and utensils. Because products made from Ingeo can be 100 percent compostable, it solves a big roadblock confronting many sports teams and sports venues.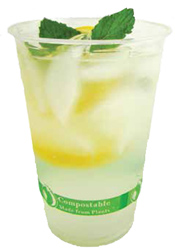 Ingeo® resin is derived from agricultural feed stocks such as corn. Because products made from Ingeo can be 100 percent compostable, it solves a big roadblock confronting many sports teams and sports venues. Since food waste contaminated with plastic can't be composted, sports teams and venues were stuck with a mixed waste stream of food scraps and non-compostable plastics that were typically landfilled. Then manufacturers of disposable foodservice ware and packaging began using Ingeo resin in some of their products instead of petroleum-based plastics. The major road-block to stadium composting was gone.
A team effort
In order for stadium composting to work, four parties must work together. First, NatureWorks provides its Ingeo resin to manufacturers that produce compostable foodservice ware. The manufacturers supply foodservice distributors, who in turn supply the venues. It's up to the venues to manage the collection bins, sorting and removal of the mixed food waste. Finally, industrial composters provide an outlet for the mixed organics waste stream.
"Some venues buy back the compost to use as mulch on their fields or green spaces," said Steve Davies, public affairs and communications director for NatureWorks.
When Robert Nutting became the principal owner of the Pittsburgh Pirates Major League Baseball team in 2007, he launched an initiative called "Let's Go Bucs. Let's Go Green." The objective was to improve the sustainability of his organization's operations at PNC Park – everything from water and energy usage to waste handling.
"At the time, the only things we were recycling were cooking oil and cardboard," said Sissy Burkhart, cleaning operations manager at PNC Park.
Burkhart and her crew began by capturing and separating other recyclables, such as cans, plastic bottles and paper. When they added compostable service ware in 2010 and partnered with AgRecycle, a Pittsburgh-based composter, they were able to quickly boost their food waste diversion numbers.
"We're great fans of NatureWorks because compostable products made with Ingeo are truly compostable," said Carla Castagnero, president of AgRecycle. "There are some products out there that claim to be compostable, but really aren't."
Castagnero oversees two full-service composting sites that each handle about 60,000 tons of mixed compostable materials per year – including the compostable streams generated by the Pirates. Although the Pirates are not yet saving money directly from their sustainability initiatives, they have made remarkable progress.
"In 2013, we diverted 71.4 percent of our food and service ware waste from the landfill stream, composting more than 1,000 tons of waste," said Burkhart. "We're doing more composting, and it really feels good to be doing our part in saving the planet."
Making sustainability profitable
The Green Sports Alliance – a non-profit organization dedicated to helping "enhance the environmental performance of sports teams, venues, and leagues" – has helped spread the word and engage even more teams and venues in sustainability.
"Over the past several years, we've seen a number of sports teams with modest recycling and composting rates around 10 percent dramatically increase rates to 80 percent and more," said Scott Jenkins, chairman of the Alliance. "And they're saving significant money doing it."
On the subject of cost, NatureWorks has had to make an effort to dispel the notion that "sustainable" always means "more expensive." Historically, products made with Ingeo resin-based plastic were often initially priced at a premium compared to their petroleum-based counterparts. Some teams balked at paying higher upfront costs.
"We had to motivate teams to look at the total cost of using Ingeo resin-based plastic versus petroleum-based plastics," said Doug Kunnemann, NatureWorks' global segment leader for foodservice. "When they do that, they often find they can save money."
Kunnemann said that is because composting often costs significantly less than the tipping fees charged for landfilling. He noted that the Portland Trail Blazers are an example of making sustainability profitable, reducing not only waste disposal costs, but also foodservice ware purchasing costs by making large-volume purchases.
"As more sports teams and venues have joined in the sustainability movement, the demand for compostable products has escalated, creating new opportunities for manufacturers to optimize production costs," he said.
The increased demand has even allowed some manufacturers to move to dedicated production lines for Ingeo foodservice ware.
Starting with sports
Many sustainability challenges still remain and extend beyond the walls of sports stadiums. According to the Green Restaurant Association, in 2010, the U.S. foodservice industry purchased 39 billion pieces of disposable cutlery, 113 billion disposable cups and 29 billion disposable plates. Only one percent of those products were recycled. The rest made their way either to landfills or incinerators. Ingeo resin-based products could open the door to massive sustainability improvements in the foodservice industry—and sporting events are a great place to start. "If you want to change popular culture, and get people on board with recycling and using more compostable products, sports is the way to go," said Davies. "It's much more effective than so-called 'green messaging.'"
"We all love sports," added the Alliance's Jenkins. "When you hear that your favorite baseball team or your favorite basketball player thinks that things like energy conservation and composting are cool, it makes a difference. We're hoping to leverage the power of sports to inspire folks around the world to adopt modern environmental strategies."
That's a goal everyone can cheer for.