Tackling deforestation with data, Cargill maps its cocoa supply chain
December 11, 2017
With the world's appetite for chocolate showing no sign of slowing down, questions about the sector's sustainability continue to crop up. In an effort to stop and reverse forest loss, Cargill and World Resources Institute (WRI) launched a new partnership last year to map the company's global sourcing footprint and mitigate risks.
Combining satellite imagery, big data and expert analysis, WRI and Cargill have mapped 2.3 million hectares of its cocoa supply chain in the last 12 months across Brazil, Cameroon, Côte d'Ivoire, Ghana and Indonesia.
"Good measurement is the first step to enable more targeted and effective risk management and long-term solutions across the cocoa supply chain," said WRI research analyst Caroline Winchester. "As the program progresses, we'll be able to monitor how effective these efforts are in protecting forests."
Using the Global Forest Watch forest monitoring system, the analysis showed that 6 percent of total estimated sourcing area had tree cover loss between 2008 and 2014, and 5 percent of the protected areas within the estimated sourcing area had tree cover loss.
The study also identified Côte d'Ivoire, Cameroon and Indonesia as the most at-risk countries for cocoa-related deforestation. Cargill will continue mapping its supply chain and updating its risk assessments, so it can mitigate deforestation going forward. New findings will be published in 2018.
Framework for action
The satellite mapping project is happening against the backdrop of the cocoa sector's growing recognition that deforestation not only threatens the planet and the environment, but is also bad for business.
In March 2017, Cargill became one of the first signatories to the Cocoa & Forests Initiative (CFI), the coalition between cocoa sector players and advocacy groups that laid the groundwork for the announcement at COP23, the U.N. climate conference that took place in Bonn, Germany in November. The Ivorian and Ghanaian governments and many of the cocoa companies that do business there announced a new framework to tackle forest loss in Côte d'Ivoire and Ghana, the world's two largest cocoa-producing countries.
Under the new framework, the countries and companies have committed to protecting forests and restoring degraded land. To that end, they'll work together to build sustainable, traceable supply chains under the motto "more cocoa from less land."
"The journey will not be simple, but we will make progress more quickly by working together," said Harold Poelma, who leads Cargill's cocoa and chocolate business. "Cargill is committed to driving sustainability in our supply chain while partnering with industry and government to find sector-wide solutions."
Over the next few years the parties plan to produce up-to-date maps detailing land-use and socio-economic data on cocoa farmers. The maps will be publicly disclosed. Cargill says it's ahead of the curve with its own satellite monitoring project and is keen to share the knowledge gained.
"We want transparency in our own supply chain, but we also want to drive sector-wide transformation," said Taco Terheijden, director of sustainability for Cargill Cocoa & Chocolate. "To deliver on this commitment to zero-deforestation in cocoa supply chains, we have to improve our standards of measurement, and we think the work we've been doing with WRI can serve as an example. That's why we'll keep disclosing our actions and findings going forward."
Farmers first
While mapping and identifying deforested areas is one thing, remedying the damage is quite another. At COP23, the framework's signatories agreed to formulate no-deforestation action plans for Côte d'Ivoire and Ghana by the end of 2018. In its recently published Cocoa Promise report, Cargill presented its own plan for the future of cocoa.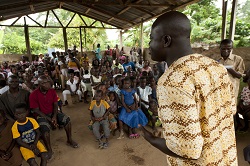 With training, farmers become more productive, which enables them to use the land more efficiently. At the heart of that plan is the Cargill Cocoa Promise, the sustainability commitment the company made in 2012, with a heavy focus on developing farmer cooperatives and raising local communities' standards of living.
"Increasing production on existing farmland is key to alleviating the need for more land and the pressure on forests," Terheijden said. "From experience, we know that, with the right support, farmers can boost their yields significantly. Using conventional approaches, like applying fertilizer and pest control, yields can increase to up to 1,000 kilograms per hectare and incomes can be increased by 50 percent or more. Farmers who are certified sustainable receive premiums that can add another 10-20 percent to their incomes."
Meanwhile, Cargill has begun working to reforest degraded areas, another requirement of the framework launched in Bonn. In Côte d'Ivoire, the company has started a pilot project with 30 farmer cooperatives, aiming produce more than 90,000 shade trees in the first year.
"When you combine all these efforts, you start seeing the bigger picture of how we are working to stop deforestation in our supply chain," Terheijden said.