The power of trade agreements
How multilateral trade agreements like NAFTA benefit business.
September 29, 2017
Each year, Cargill's Global Customs group helps coordinate roughly 250,000 cross-border movements of goods for the company.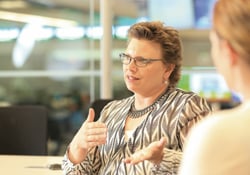 Kate Weiner manages the North American team within the Global Customs group at Cargill. Kate Weiner manages the North American team within the Global Customs group, which collectively interacts with a multitude of government agencies for about 60 countries representing more than 5,000 ports. Those countries have differing agreements with one another, and relationships can change with the latest election. Nations following the rules they've agreed upon is necessary for companies to conduct international business.
"Because there are so many trade agreements out there, it gets complicated," Weiner said. "But many countries have come a long way since the 1990s in terms of consistent behavior and honoring agreements."
As nations have integrated into the global trading system, their customs agencies have matured, too. Whereas countries new to trade have very inconsistent enforcement of their own policies port to port, this performance tends to improve with time.
Meanwhile, the type of trade is always evolving. Sectors within any given country grow or shrink, and the production of goods moves to different places. And in addition to goods, the global economy now features significant cross-border flows of capital, services and e-commerce. Cargill conducts many types of hedging and extensions of credit across borders. Because trade agreements in force today may have been negotiated decades ago, these areas of activity may not always be well outlined, or covered at all. This is why Weiner feels it's a good thing to periodically review agreements, to adjust them to current realities and make improvements.
For instance, the North American Free Trade Agreement, or NAFTA, has been hugely beneficial for agriculture. The agreement has enabled the annual flow of agricultural goods from the U.S. to Mexico and Canada to grow from $9 billion when it was signed to more than $38 billion today. Meanwhile, Canada and Mexico are the two largest exporters of agricultural goods to the U.S., according to the U.S. Department of Agriculture.
"If NAFTA were to pull apart, it would have a huge impact on flows within North America," said G.J. van den Akker, who leads Cargill's Agricultural Supply Chain enterprise.
But the agreement could work better than it does today. And as agreements like NAFTA are revisited, a better solution according to Weiner is larger, more inclusive regional or global deals. They are harder to get done because of the higher number of participants, but they create greater harmony among nations in terms of standards, so companies like Cargill aren't forced to deal with different sets of rules and requirements in every country-to-country trade pairing.
The Trans Pacific Partnership (TPP) – the 12-nation pact from which the U.S. recently walked away after years of negotiation – would have been just such an opportunity. The 11 other countries continue to pursue the agreement, potentially forming a deal that could exclude the U.S.
"The U.S. is about to get left behind because of TPP," Weiner said. "If the U.S. or any country just had bilateral agreements with everyone else, it would be a nightmare for business. As a government trade representative before I joined Cargill, I know these big agreements are really tough. You're never going to win everything. That's negotiating. But it's better than the alternative."