What happens when 27 farmers from 19 countries get together in one place? 'Collectively, we can raise our voice'
April 21, 2020
Mary Boote Roth knows that if you put a few farmers in a room, "it won't be very long before they start a conversation."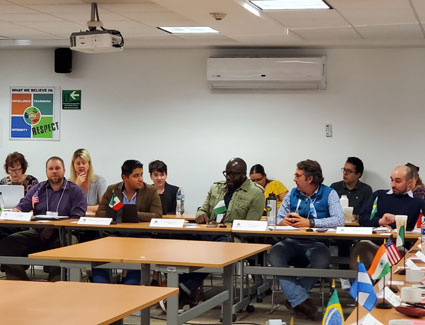 The CEO of the Global Farmer Network (GFN) had more than a few in the room in January, bringing 27 farmers from 19 different countries together in Mexico City for the inaugural Roundtable & Farmer Leadership Training course. GFN is a nonprofit that brings farmers together to find solutions to critical issues, such as sustainability, trade and technology. The program's goals were to find common ground on shared challenges, to learn how to engage with stakeholders, including the media, and to ensure their voice is part of how agriculture can provide solutions to global and local dilemmas. Cargill provided funding to enable the program to take place, which was hosted at the International Maize and Wheat Improvement Center (CIMMYT).
While the farmers who assembled may look from the outside like very different people, "they find what they have in common very quickly," Boote said, from similar challenges like extreme weather to shared values of dignity and empowerment for everyone.
"We're here to share stories, to encourage and learn from each other," she said "We want farmers to become international ambassadors for agriculture."
Here are a few of the things they covered:
Their world is complicated, and changing quickly
Ask farmers what their biggest challenges are and the answers come fast: thin margins, climate change, trade, public policies, consumer preferences. From crises driven by weather to systemic issues like young people moving out of rural areas, it's not an easy time to be a farmer.
"The game has changed quite a bit" said Javier Callejas, a poultry farmer in Nicaragua. "So you have to adapt very quickly. And you have to be very creative to make it to the other side."
Javier said coming together with other farmers reminded him that he's not facing these issues alone.
"You see common themes that happen all across the farming community," he said. "Understanding how some of them have dealt with those issues helped me understand what I could do on my side to tackle some of these things as we go forward."
They care about the planet
Farmers are "the original environmentalists," said Megz Reynolds, who farms lentils, wheat, barley, flax and sunflowers in Canada. Their work and livelihoods depend on a healthy planet.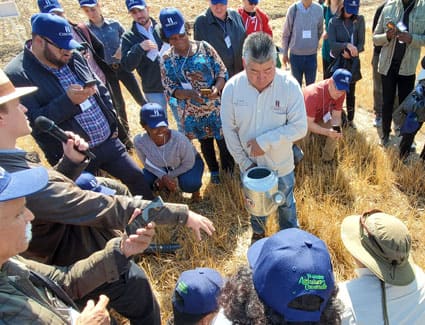 "We need a healthy environment, we need healthy soil, we need healthy weather systems in order to be able to do what we do," she said. "So we're not out there trying to negatively affect the environment, negatively affect anything, or create more emissions. We're working with the best tools that we can for our operations so that we can create a better future for our environment."
Gina Guttierez, a dairy farmer in Mexico, agreed.
"Sustainability is very important for farming today. We like think of ourselves as stewards of the earth," she said. "So we take care of the land. We take care of water and use it responsibly, because it's not only what our cows drink or what us humans drink, but also the water that we're putting into our crops."
They want to be part of the conversation
"I think a very important step is for us to share our stories, to share what we're doing on the farm, why we're doing what we're doing," Reynolds said.
She came to farming after a career in the film industry, and realized she had her own misconceptions about things like pesticides and GMOs.
"I realized I needed to get involved in that conversation in a way that I would never (?) have understood before I came to the farm," she said.
That's even more important when the conversations revolve around policies and decisions that affect farmers.
"It's important to get farmer voices in this in the settings where decisions are being made," said Onyaole Patience Koku, a farmer from Nigeria. "A lot of the time you find that people are making decisions for farmers without actually understanding the issues. Wherever it is in the world, you need to understand what the person's challenges are in order to meet them."
Gaytri Devi, a farmer who grows rice, wheat, barley and other crops in India, said coming together amplifies farmers' voices — and help them connect with people who might understand the work they do.
"Collectively, we can raise our voice," she said. "People can see what's on their plate. We can tell them where it comes from."

Partnering with the Global Farmer Network
Farmers are the core of the agricultural industry. This is a shared view that's fueled the long-running partnership between Cargill and the Global Farmer Network—an organization dedicated to bringing together like-minded farmers from all over the world.
Like Cargill, GFN supports open trade and farmer's freedom to make decisions about and for their own farms so they can increase productivity and profitability in a sustainable way.
Farmers have been critical partners for Cargill since our foundation in 1865, both for our business success and our sustainability journey. Cargill is committed to working with farmers to adopt and scale sustainable and innovative agricultural practices by providing access to tools and training that build the long-term economic viability of their farming businesses, and support the next generation of farmers.
We're proud to collaborate with GFN and help farmers succeed in a competitive, resilient and sustainable way.