What's it like to be a Cargill intern? 5 of our summer staffers dish.
Read Time: 5 minutes
August 04, 2021
Want to know what's possible when you're an intern at Cargill? You can start by reading this story! It's written by me, Savannah Dames, Cargill's editorial intern for the summer.
But don't just take my word for it. There are over 400 of us in over 100 North American cities this summer — each with our own story.
So why did we choose Cargill? Some of us may have seen the company listed on WayUp's Top 100 Internship Programs for 2020. But there are other reasons too. As the U.S. celebrated National Intern Day, we asked five interns and co-ops to tell us why they're here, what they're doing, and what it's like to intern or co-op at Cargill.
A role with a purpose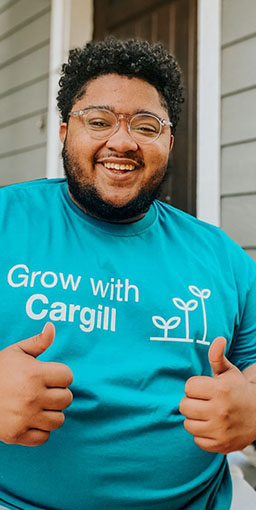 William Gaspard Jr. is Cargill's global corporate responsibility intern. He's based in Baton Rouge, Louisiana — a long way from the company's Minneapolis HQ. Still, he's impressed supervisor Lindsey Kaufmann with his character and work ethic.
"William is helping us reach a wider demographic of students," she explains. "They're learning about Cargill's mission and work through community engagement and growing their interest in the company."
Since he started in May, William has focused on Cargill's philanthropy efforts by connecting with organizations and partners and creating and designing a global database. One day he might be crafting infographics and fact sheets, the next he could be leading Cargill's National FFA (Future Farmers of America) booth design and concept or working with Cargill Global Scholars.
The global nature of Cargill's corporate social responsibility (CSR) work was a draw. But not the only one. He was also attracted by our purpose.
"Cargill is a global ag company that doesn't just focus on individual growth, but industrial growth — it's not about how we can simply be the best, but it's about how we can make our world thrive and nourish our world," he says.
'The opportunities are endless'
Dara Sodipo's job is to refurbish, organize and improve the supply room that safely stores her plant's chemicals.
"There's always work to do, and that's something I really like and enjoy," says the chemical & renewable energy engineer intern. From contacting contractors and sending job request forms, to working with the systems, applications & products (SAP), Dara is mastering project management — and making an impression at the same time.
'Through her willingness to help others, she has made it possible for the Newnan Engineering Team to maintain all project deadlines for a budget of over $7 million,' says Amy Reed, Dara's plant supervisor.
When asked, 'Why Cargill?' Dara says she knew this was a somewhere she could make an impact.
'I did get other offers, but I was really interested in Cargill because it seemed like a company that makes a difference, and the opportunities were endless and so broad.'

Keeping his colleagues safe
Growing up on a ranch, Kurt Poisal knew he wanted a future in the cattle industry.
Now Kurt is putting his passion into practice as the environmental health & safety intern at Cargill's Fort Morgan, Colorado plant. Kurt helps keep his colleagues safe. He updates, verifies and digitizes the plant's confined space log — making sure all hazards are accounted for.
Coming into his internship, Kurt wondered: is Cargill as safe as it claims?
After having spent weeks at the plant, Kurt can answer a resounding, "yes."
"One of the things I've been really impressed with is how Cargill not only says safety is their priority, but they also make it their priority. They don't just talk the talk; they walk the walk,' he says. "I've got a lot of respect for all the safety people here."

A way to thrive
Jimmy Jones had long planned to pursue a career in agriculture. But those plans were kick-started when he landed an internship at Cargill.
"I feel blessed to have an opportunity to expand my knowledge in beef agriculture on a corporate level," he says.
Jimmy is a student at Alcorn State University, a historically Black land-grant university in Mississippi. It's one of eight universities and associations funded through Cargill's $6 million THRIVE program, which offers
higher education opportunities for underrepresented students.
"There are so many aspects of agriculture that are looking for students like me to be future professionals," Jimmy shares. "I believe this experience is preparing me to apply for some of the best jobs in the field."
Co-ops: in for the duration
If an internship lets you try lots of projects, explains Mae Peterson, a co-op lets you see them through.
Mae started her engineer co-op in Charlotte, North Carolina in January. She's still here and feels the time on the job has made all the difference.
"When I first came to Charlotte, I felt like a fish out of water," Mae says, 'but over the past couple months, I've really grown in confidence."
Mae's work performing lock out permits and other field activities "has enabled project engineers and operations managers to spend more time pushing their initiatives forward" says Mae's supervisor, Laura Emery.
Now Mae has initiatives of her own. Mae spent the first two months learning the ins-and-outs of her plant. Then she trained, shadowed and worked with her supervisor to pitch her own ideas. Now she's getting ready to wrap them up, while people at her plant will reap the benefits long-term.
~~~~
As for me, I was lucky to get a little taste of everything. Between writing about our culture, growth and innovations, I realize there isn't much Cargill doesn't do.
In my final days, as I write this story, I reflect on the lessons learned — including proper AP style and grammar rules — as well as the relationships I've built.
I am not the same writer, student or intern I was in May. I am leaving Cargill with countless mentors, new abilities and a fresh appreciation for storytelling. That's a lot more than I started with.