Worlds united - At Cargill's beef plant in High River, Alberta, workers from around the globe are strengthening the business while finding a home in Canada
By Carl Peterson December 06, 2016
Photos by David Watt
When she stepped off a plane in Canada four years ago, Genalyn Acacio wasn't sure what her new life would look like.
She had traveled from her hometown in the northern province of Ilocos Norte in the Philippines all the way to the other side of the world. She had left behind her husband, children and the rest of her family — knowing she might not see them again for years — to take a job as a meat cutter in Cargill's High River, Alberta, beef processing plant.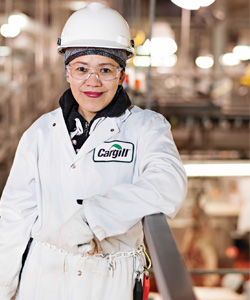 Genalyn Acacio came to Canada from the Philippines four years ago under the Temporary Foreign Worker Program, joining Cargill as a meat cutter. "It wasn't easy for me when I first came here," she said, going on to explain that she missed her family tremendously and needed to adapt to a different culture — including learning how to drive because there wasn't a bus system like back home. Nevertheless, despite the difficulties, she stuck with it, determined to build a better life for herself and her family.
"My husband supported me and my decision, even though it was very hard for him to sacrifice his job in Korea, which he had had for eight years. But he was only able to come home every two years from that job," she said. "Now, we are happy because we're together again."
Acacio came to High River under Canada's Temporary Foreign Worker Program, the government plan that enables employers to bring in additional workers for a variety of jobs, many of them seasonal. Cargill's High River plant has participated in the program since 2007, working with the Canadian government to adapt it so that employees who come — most of them from the Philippines — can get permanent residency.
Jaqfranco Quiday hails from the same region of the Philippines as Acacio. He was among the first wave of workers to arrive under the program in 2008, and although today he has brought his family to Canada, he, too, initially left them and everything familiar behind.
"I heard about Cargill from my neighbors back home. Since I have pig butchery experience and skills, I thought I would try my luck in applying to Cargill," he said. "The opportunity was great, especially considering the economic situation back in the Philippines."
A sustainable workforce
Today, among the roughly 2,000 people working at the High River beef plant, more than 50 different languages and dialects are spoken in addition to English. Faces from all over the world dot the fabrication floor, the hub of the primary processing operation that generates beef products from about a million head of cattle per year.
"There are three things you need with a beef plant. First is cattle, and we're blessed in western Canada with a large cattle supply. Second is water, and we do okay with that. Third is the workforce, and that's the most challenging and critical part," said Scott Entz, general manager at the facility for the past eight years.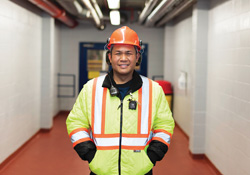 Jaqfranco Quiday has worked at the beef plant since 2008. He was among the first wave of workers to be brought in from the Philippines under the program, which aims to address a workforce shortage by recruiting skilled workers from overseas. Alberta has had a strong economy for a long time, supported by a backbone of abundant energy and other natural resources. Yet the resulting low unemployment rate has meant that large employers like the High River plant have had difficulty attracting and retaining workers, especially for jobs that are physically demanding and require a specialized skill set.
Before starting to bring in employees through the Temporary Foreign Worker Program, the plant was regularly short hundreds of people and had an annual turnover rate of about 35 to 40 percent, typical for the meat industry. This meant finding 700 to 800 new employees each year, and training them to safely do very difficult jobs. It was a daunting task, and failure could have threatened the long term viability of the plant.
To change this picture, in 2007, the High River team started working with the federal and provincial government. They knew that in order to make participation in the program worthwhile, they would need a different model – one where highly skilled workers from other markets could come in and be retained for years instead of just months.
"When you look at the acronym of 'TFWP,' we tried to take the 'T' out and turn it from temporary to permanent. That's what has made us successful," said Paul Wannet, Human Resources lead at the High River facility.
The recruiting process is extensive. Wannet and his colleagues go to the Philippines and other countries regularly to recruit workers who have experience as butchers, who are willing and able to make a life-changing move, and who have the drive to learn English and meet the other requirements of the program.
"The folks who come over here arrive with three years of butchering experience and extensive knife skills. They are very good at what they do. They're industrial athletes," Wannet said.
"And most importantly, they want to build careers in this profession," added Entz.
Entz and Wannet point out that the working relationship the plant has with the UFCW Canada has been instrumental to the program's success.
"The UFCW is part of the program from day one, as they meet these workers at the airport when the first arrive in Canada," said Wannet. "Together, we have a vested interest in the workers we hire, and we both work hard to find a pathway to permanent residence for those workers that are temporary – and to unite their families over a shorter period of time apart."
To help recruits meet the language skills that the Canadian government requires, Wannet's team has built up an English as a Second Language program in the countries of origin, given that upon arrival they have a very narrow window to earn their status as permanent residents.
"Before we bring anyone here, we try to have all their requirements met, so that when they land in Alberta they can hit the ground running and hopefully get permanent residency within six to 12 months," Wannet said.
That's not to say that once these new employees arrive, they're on their own. The business has partnered with local and provincial government agencies, non-profits and others to set up a full orientation that helps them adapt and integrate into Canadian society. Meanwhile, Cargill has continued to work with the provincial and federal governments to build an easier path to permanent residence and eventual citizenship for the foreign workers, as well as to expedite the process for bringing their families to join them in Canada.
The change in the past nine years has been dramatic. The employee turnover rate at High River has been cut in half to below 18 percent — a rare phenomenon in the meat industry. This translates to hundreds fewer employees who need to be hired and trained every year. It also helps reduce the number of injuries on the job, since newer employees are more likely to get hurt as they learn.
About 92 percent of the workers who have come to High River through the program have attained permanent residency in Canada. The vast majority have chosen to continue working for Cargill after doing so, even though it's not required.
The program's success has given Cargill confidence to keep investing in the facility. Knowing there's a sustainable workforce to run High River led Cargill to spend more than $20 million over the last several years on large projects such as a distribution center and a waste-to-energy recovery system.
A growing community
When it comes to building the workforce at the High River plant, it's not just Cargill's interests that are at stake. The facility is the economic hub for the entire area.
A study commissioned by Cargill determined that in 2015, the plant generated about CA$2.7 billion for Alberta's economy, both directly and through related businesses. That's roughly the equivalent of the tourism industry in the Canadian Rockies, or about 80 percent of the revenue created by the oil pipeline industry in Canada.
The entire beef packing sector in western Canada may depend on the plant, which has about a 50 percent market share for that half of the country. More than 60,000 ranchers and feedlot operators look to the facility as the main source of demand for their cattle.
And then there is the impact on High River itself, a town about 35 minutes south of the major city of Calgary.
It's hard to talk about the community without mentioning the floods that devastated it in the summer of 2013. About 70 percent of the town's buildings were under four feet of water. As the recovery process began, the Cargill team — including many of the foreign workers at the plant — were there to help.
"It's a community. Everybody helps everybody," said Mayor Craig Snodgrass, speaking of the emergency response effort. "Cargill's foreign workers were affected by the flooding like everyone else, and they're also a group that helped us get through it."
Meanwhile, the Cargill plant has served as a cornerstone business for High River before, during and after the floods as the town plots its future trajectory.
Since he first came to High River as a young engineer when the plant was opening in 1989, Entz has seen a radical transformation. Back then, there were perhaps 4,000 residents in the town. Today, that has increased five-fold, making High River one of the fastest-growing communities in the country.
As tragic as the flooding was, it has triggered a number of changes in High River, many of which are aimed at further integrating foreign workers into the community. Revised housing regulations currently in the works will help workers find more affordable housing. Efforts are underway to make the town more walkable, for those who might not have access to a car. And a new vision for downtown will include spaces for those from outside Canada to celebrate their cultural heritages, with born-and-raised Albertans joining them.
"We're a different community now. You've got different cultures coming in, and I think it's fantastic. It really benefits the overall culture of High River," said Snodgrass, who is a fourth-generation resident.
The foreign worker program is not without its critics, who tend to assume that Cargill is hiring all foreigners instead of Canadians, a misperception that Entz, Wannet and Human Resources Program Manager Aileen Astudillo spend a lot of effort dispelling.
"It's not possible to fill all our jobs with Canadian workers," she said. "We have extensive recruiting and development programs, including for underrepresented groups like women, minorities and indigenous communities. Still, we need more employees."
Despite the high number of foreign workers Cargill has brought in, the majority of the jobs in the plant are still staffed by Canadians, another commonly misunderstood fact. Yet another misbelief is that in order to stay in Canada, the foreign workers must keep working for Cargill. The truth is they aren't bound to Cargill, and among those who have left over the years, many have gone on to start their own businesses in the High River area.
"At the end of the day, the program really has been a big positive for everyone, including the local community and our domestic workers," Entz said.
A future together
A lot has changed since Acacio first got off that plane in 2012. She has been able to bring over her children and husband. Today, he works alongside her at the plant. Meanwhile, now 21 and 11 years old, Acacio's children enjoy their new life in Canada, even the cold weather: "They love the snow!"
"It's pretty cool to watch someone who's worked hard for two years and done a great job be able to get their residency and reunite with their family," said Entz.
Acacio's next goal is to bring her parents over from the Philippines, too. She hasn't seen them since she left. She also hopes to become a Canadian citizen and continue working for Cargill as long as she can.
"Because of Cargill, my dream has come true," she said. Quiday said he feels similarly. Since he and his wife have already arrived in "a land of opportunities," their main goal is to get a decent education for their children and start to work toward a good retirement. He recently brought his mother-in-law over to join them. He said he doesn't regret his decision to move to the other side of the world.
"The riskiest thing in life is not taking the risk," he explained. "Even though sometimes there are challenges along the way, challenges are still an important part of our lives."