WTO: 'We need to stimulate a better conversation on trade'
A Q&A with Tatiana Prazeres, senior advisor to the Director-General of the World Trade Organization.
September 26, 2017
For those unfamiliar with the World Trade Organization, or WTO, how do you explain what it does?
The organization embodies a common set of rules for global trade. One of our main objectives is to advance trade negotiations, reforming or adopting trade rules that are in tune with today's needs. The WTO is a member-driven organization, meaning our 164 member nations are the ones who make the decisions. The WTO also serves as a forum to monitor the implementation of the existing agreements and to solve trade disputes that arise among members.
Can you provide an example?
In 2013, WTO members reached consensus on the Trade Facilitation Agreement, and one of the provisions of the agreement is that members are encouraged to implement a "single window" for trade. So instead of an exporter going to multiple government agencies for different authorizations to get its goods shipped into the country, the exporter would interact with the government through one channel, or a single window. It's very practical, but for a developing country it can be hard to implement. So the WTO helps by working with other organizations to go in and provide technical assistance to help governments figure out how to implement that provision. It's an important part of what we do, because while of course concluding an agreement is a major accomplishment, having it implemented on the ground is what makes the difference.
How does the WTO interact with the business community?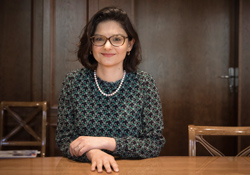 Tatiana Prazeres, senior advisor to the Director-General of the World Trade Organization. There is increasing business interest in our work and a couple years ago, the International Chamber of Commerce and the B20, which is the business arm of the G20, approached us and asked us to facilitate a dialogue where businesses would identify their priorities for the WTO. That dialogue resulted in two reports and the creation of business focus groups. Of course, members are the ones who will decide what they want, but I think they found it helpful to hear from the business community about their concerns. They were no longer discussing it in abstract, they were getting real, concrete suggestions based on actual problems and opportunities that businesses see on the ground. Business is the first to feel the need for a better trading system, and WTO members benefit from those insights.
Why do you think that trade is so often misunderstood?
It's very easy to take trade for granted. People don't realize how trade has become part of our lives and how important it is to have a stable and predictable trading system to that trade can flourish and economic activity can grow in different parts of the world. We don't realize that the services that we consume or the products that we buy are a factor of the existence of a body of rules and a global governance engine that allow that to happen. So raising awareness about trade, benefits of trade and importance of the system is extremely important. This is not to say that trade does not cause any disruption. We need to do better with that. We need to examine the cases where there are problems related to trade and look at ways to address that. But what we see today is that trade is being treated as a scapegoat. We need to help stimulate a better conversation on trade, a frank and honest one.