Yiri+ crop protection program
Helping farmers achieve higher revenues and better yields
January 01, 2016
Yiri+, our partnership with Syngenta, aims to support farmers in achieving higher revenues and better yields through improved crop protection. It was launched in Côte d'Ivoire in 2012; Yiri means 'tree' in a local Ivorian language. By 2015, 87 out of 101 farmer cooperatives in Côte d'Ivoire were involved.
We work closely with local cooperatives to implement the program; an example of a highly effective public-private partnership. And as we do not provide finance, the program's impact will last long beyond our direct involvement.
Participating farmers benefit from:
Competitive prices and flexible credit so they can afford to invest
Access to high-quality protective equipment, spraying machines, and storage facilities
Practical in-the-field training
A unique, dedicated user-friendly manual explaining how to use crop protection products and equipment, approved by government, Le Conseil du Café Cocao and the Department Protection des Vegetaux et du Contrôle de la Qualité
Great results – demonstration plots show an average 40% increase in yields
"It is amazing to see the results that the Yiri+ project has achieved since its start in 2012. Improving yields and increasing farmers income to support their families is something that all involved should be very proud of. We could not have achieved that alone."
Jan Suter, Head of Africa and Middle East, Syngenta
Year 1: 2012-13
Together with local partners we rolled out a Yiri+ pilot:
More than 750 people are trained to use crop protection sprays safely and efficiently
100 people are trained to train other farmers
400 farmer training kits are distributed
43 demonstration plots are cultivated
Year 2: 2014
Analysis of the Yiri+ pilot shows some great results:
40% average increase in yields on demonstration plots
US$380 average increase in income per hectare
US$1,150 potential increase in annual income for a farmer working three hectares
Year 3: 2015
Full roll-out of Yiri+ begins in Côte d'Ivoire and Cameroon. Our target is to reach 70,000 farmers every year through 1,800 Farmer Field Schools:
78 out of 101 farmer cooperatives in Côte d'Ivoire involved, compared with 38 in 2013
500 farmers trained as crop sprayers
More than 27,000 hectares of farm land treated
23% average yield improvement achieved by farmers through Yiri+, which has led to net income increase of US$194, ROI of 430%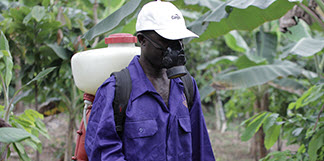 One farmer's Yiri+ story
Justin farms cocoa on 7.5 hectares in Cote d'Ivoire. Thanks to Yiri+, he has learned how to use pesticides effectively and how to store and use them safely. He has also received financial support to help him buy them.
"In 2014, I produced 5 tons, but I have already grown this much in the first four months of 2015. Other growers who see this want to join the cooperative so they can achieve similar results too."