Q&A with our Chief Sustainability Officer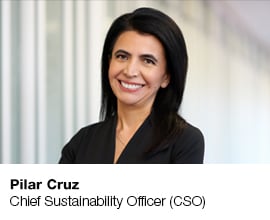 Pilar Cruz shares her insights on Cargill's sustainability strategy and how we are taking action to address climate change, protect land and water, and sustainably feed a growing population.
What are Cargill's key sustainability priorities?
As an integral connector of the global food system, Cargill has an opportunity, and responsibility, to protect the planet as we fulfill our purpose of nourishing the world safely, responsibly, and sustainably. Our sustainability strategy focuses on three strategic priorities: Climate, Land and Water, and People. Each of these priorities has a clearly defined approach to advance resilient supply chains, generate shared value for our customers, and drive positive change in our operating and sourcing communities.
To advance our priorities, we have set science-based targets and are delivering measurable progress against those commitments through scalable programs like Cargill's BeefUp™ and SeaFurther™ Sustainability. Our teams are working across supply chains to preserve critical natural resources by protecting forests, restoring degraded land, regenerating soil, and protecting and replenishing water resources.
We know agriculture plays an important role in addressing global challenges like climate change and food insecurity, but that is only possible when sustainable solutions are economically viable for the producers who work hard every day to feed the world. That's why we bring together farmers, industry, academics, NGOs, and policymakers to create a sustainable agricultural sector. That's our vision for the future, and every day, through technology and innovative programs all over the world, it's becoming reality. I'm proud of the concrete actions and meaningful investments Cargill is making to deliver impact at scale globally.
How does Cargill think about the connection between innovation and sustainability?
Sustainability is a fundamental part of the value proposition we bring to our customers. We innovate with purpose to deliver environmental, social, and economic benefits, and generate measurable results that help Cargill, our customers, and communities make progress toward our broader Environmental, Social, and Governance (ESG) goals. For example, in a move aimed at reducing greenhouse gas (GHG) emissions and promoting circular fuel solutions, Cargill recently completed its first state-of-the-art advanced biodiesel plant in Ghent, Belgium, which converts waste oils and residues into renewable fuel. This $150 million groundbreaking investment is one of the largest waste-to-biofuel facilities in Europe and Cargill's first, employing industry-leading technology to convert all types of liquid waste oils and fats, including used cooking oils, tallow, and residues from edible oil production, into advanced biodiesel.
We are also deploying regenerative agricultural practices through innovative programs around the globe. Our most recent program in North America, Cargill RegenConnect™, promotes regenerative agriculture practices and pays farmers per ton of carbon they sequester in the soil. The program focuses on farmer adoption of no till, reduced till, and cover crops, and provides them with access to the carbon marketplace. In addition to reducing GHG emissions, Cargill RegenConnect brings tangible economic benefits to our farmers, including higher yields and reduced water consumption and waste.
What does it mean to be "people-first" with Cargill's sustainability strategy?
From India to Vietnam, Cameroon to the U.K., Brazil to Canada, and many other countries in between, Cargill works every day to feed people around the world, create greater economic opportunities, and build brighter futures. True to our company values, we put people first not only in our workplace, but in our supply chain and in the communities where we do business. This means respecting human rights; advancing diversity, equity and inclusion; and improving access to safe and nutritious foods. Our commitment to put people first is reflected in many ways, large and small, through the more than $163 million we invested in communities around the world last year.
We also know that those investments can have a powerful ripple effect when we partner with other organizations across sectors and focus on engaging and empowering people with sustainable skills and solutions. For example, through the Hatching Hope Global Initiative, we have improved the nutrition and economic livelihoods of more than 14 million people to date through the production, promotion, and consumption of poultry. And in Côte d'Ivoire, where women are at the heart of cocoa-producing communities, Cargill is helping women grow as farmers and entrepreneurs by connecting them to financing and training to help families improve farm productivity and increase household income.
Feeding the world is a team effort and we have tremendous optimism for the future. Through partnerships and programs that deliver sustained positive impact, we can support the prosperity of farmers, improve community wellbeing, lessen the environmental impact of agriculture production, and create a more resilient food system for generations to come.