Changing Cocoa Communities by Empowering Women
Cargill strengthens the roles of women in the cocoa sector, cascading positive change throughout entire communities.
Why this is critical
Women are the social and economic foundation – the essential leaders – of every community. They are farmers, entrepreneurs and business owners while simultaneously shouldering the primary responsibility for children's education and family nutrition. Because of these roles, addressing the problems they face – on individual and societal levels – is an important step towards making cocoa production the fair, sustainable, empowering industry it has the potential to become.
That's why we are taking a leadership role in women's economic empowerment. In some cocoa communities, women make up more than half of the agricultural workforce. Together, we want to work with women to become income generators on their own, whether it be as a co-op manager, community leader or shop owner. According to the Food and Agriculture Organization of the United Nations (FAO), when women are given the same access to resources as men, farm yields increase by 20% to 30%. Women can be key change agents for economic, environmental and social good.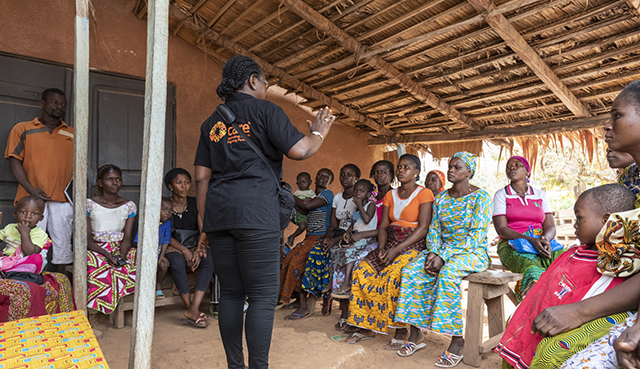 How we are helping
We work to upskill women in cocoa communities through functional and financial literacy training and entrepreneurship programs. Since women tend to reinvest 90% of their earnings back into their families, the effects of these programs reverberate through communities. As a result, we are giving women access to capital through affordable credit, establishing Village Savings and Loans Associations (VSLAs), in partnership with IDH and Advans.
In Ghana and Côte d'Ivoire, we have partnered with CARE to bring these VSLAs to life, totaling more than 200 VSLAs so far. This money can be used to invest in small business activities, education and more. Since 2013, nearly 5,000 people have benefited from access to VSLAs in Côte d'Ivoire and Ghana, a majority of whom are women.
Who is involved
To build understanding of the barriers to and the importance of empowering women, Cargill supports gender-equality training for regional agents from ANADER, Côte d'Ivoire's national agency for rural development. To date, more than 200,000 farmers took part in gender sensitization training through Farmer Field Schools and Farmer Training Days in all five of our direct origination countries.
It's all a part of our broader commitment to change how the cocoa industry functions. When women have access to better education, health and nutrition, their children learn, communities thrive and crop yields increase. Our work continues as we aim for progress, day in and day out, one life at a time.

Together we deliver vital community programs that provide access to finance, education and healthcare. Nearly 5,000 people have benefitted from access to Village Saving and Loans Associations in Côte d'Ivoire, a majority of whom were women.

More on how Cargill is empowering women in West Africa: