Sustainable Shipping
Cargill Ocean Transportation Corporate Responsibility Report 2017
Times are changing, even for one of the world's oldest and most traditional industries
Today, we find ourselves in a fast-paced, technology-driven and increasingly transparent environment, one that is full of opportunities for Cargill and our business partners.
We believe the emergence of this new era presents industry leaders with an opportunity to make shipping safer, more efficient and more sustainable. It allows us to work together in an effective and compliant way with mutual respect and inclusivity.
At Cargill, we are pleased with our performance in 2017. Most notably, we have improved the efficiency of our fleet, thereby reducing the amount of carbon dioxide (CO2) produced by 5.7 percent on a cargo-ton-mile basis. We have completed regular ethics and compliance training throughout our organization, and we have provided intercultural development training among our business leaders to prioritize diversity and inclusion.
In 2017, Cargill completed a materiality assessment specifically for its ocean transportation business. Through this assessment, we identified the core areas of our operations which have an effect on the environment, people and communities in which we operate. Cargill sought contributions from its customers, employees and management in this process.
Climate Change and Health
People, Health and Well-being
Diversity and Inclusion
Ethical Business Conduct and Compliance
Ship Recycling
Ocean Health and Biodiversity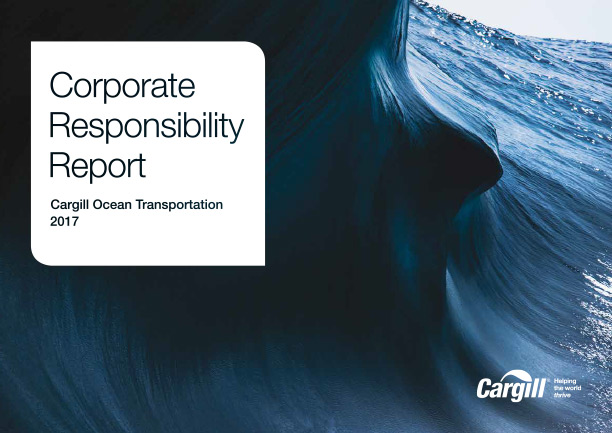 It's time for sustainable shipping to become a reality.
At Cargill, we are taking a holistic approach to sustainable development and our obligations as a responsible global citizen.
Within this, or first corporate responsibility report for ocean transportation, we report on our progress in 2017. We set out the work which will be done in the coming years as well as tangible targets by which to measure our future performance.