Our Business
About us
Cargill Ocean Transportation is a leading freight-trading organization that charterers around 650 vessels at any one time. Founded in 1956 in Geneva, we benefit from the rich heritage and expert capabilities of Cargill's global operations across the corporation.
Customer driven
Customers are at the center of every decision we make. We provide services that combine the latest digital technology with green solutions to make shipping safer and more sustainable. We continually look for ways to improve vessel efficiency to minimize our impact on the environment and reduce CO2 emissions from our customers' supply chains.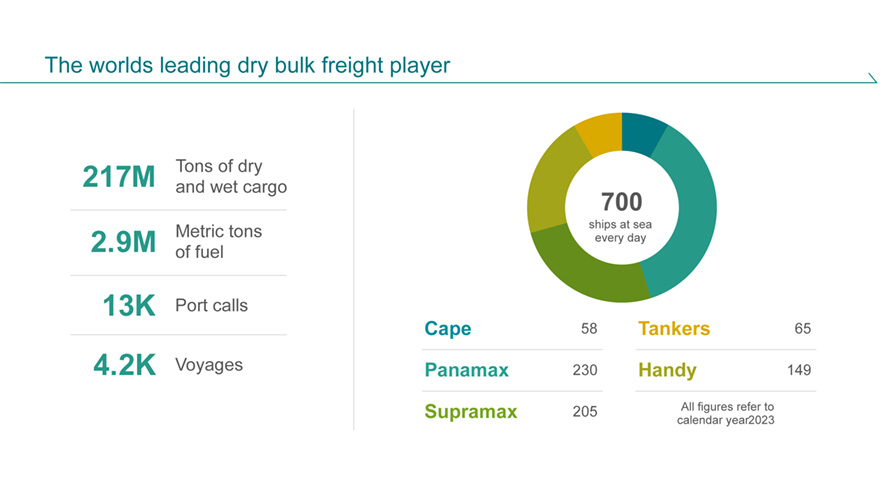 Modern, efficient and safe vessels
Our fleet is vetted using RightShip's Qi (quality index), a ship vetting tool designed to improve maritime safety and efficiency. The tool evaluates more than 50 risk factors (ship's structural integrity, the competence of owners, managers and crew, past casualties and incidents) per vessel, and provides a risk rating star at a particular date and time.
We continue to increase the number of voyages conducted by four- and five-star ships, and the majority of our chartered fleet are rated four-star or above.
By contracting better quality vessels, we improve the overall safety of our fleet. We also know from experience that higher quality vessels improve the safety of the seafarers that work on the ships we charter.
Our global commodity flows
A unique perspective
At Cargill, we trade and transport the world's commodities from areas of surplus to those of deficit. Our global, multi-sector operations enable us to maintain a unique view of international trade.
By collaborating with Cargill's businesses in the agriculture, mining and food industries, we produce valuable insights into global trade patterns. Our analytics teams build sophisticated models for short- and long-term demand forecast across various commodities, and we use these to position ourselves and our customers in the maritime sector.
Our role in the maritime industry is also considered quite unique - Cargill charters vessels to transport almost 200 million tons of dry and wet bulk cargo across the world. Operating a chartered fleet of around 670 vessels requires a certain level of size, scale and expertise.
Elsewhere, Cargill is also one of the world's largest container shippers. This completes a rounded approach to global supply chain management and risk management and a deep understanding of the maritime sector.