Our Commitment to Social Responsibility
We are passionate about contributing to the seafaring communities in which we operate and doing business in a responsible and environmentally sustainable way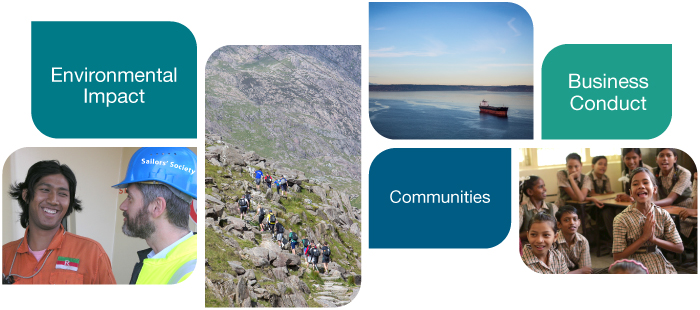 Business conduct
Our business was founded in 1865 on the belief of 'our word is our bond' and this is still fundamental to how we operate today. Our code of conduct is based on the seven Guiding Principles.
Mitigating our environmental impact
We understand that in a world of finite resources, environmental stewardship is the right thing to do for the kind of world we want to leave behind for future generations. Cargill Ocean Transportation has established partnerships and initiatives such as:
RightShip: The fleet we charter is vetted through rigorous procedures. We use RightShip's EVDI ratings, developed together with the Carbon War Room, to estimate the theoretical amount of carbon dioxide emitted per tonne nautical mile travelled, and have publicly committed to use only the more efficient vessels with ratings from "A" to "E".
Exploring new technologies: Our teams explore the usability of new tools, from the SkySails technology that uses wind power to propel a dry-bulk vessel, to various mechanisms that can improve vessel performance such as new methods of vessel cleaning and painting, as well as exploring the best use of fuel.
Sustainable Shipping: Collaboration with stakeholders in the shipping supply chain is essential to improving our industry's environmental performance. By partnering with the Sustainable Shipping Initiative (SSI) we explore ways in which shipping can be made more sustainable and how various stakeholders can achieve tangible environmental and commercial benefits. SSI recently won the Guardian Sustainable Business Award and has received significant business recognition.
Enriching our communities
NGO partnerships: We have partnered with non-profit organizations around the world to mutually address common challenges that we face. The Sailors' Society focuses on improving the livelihoods of sailors around the world by providing much-needed physical and mental support. Together with suppliers and customers, Cargill has raised over 4 million USD for the Society over the past years. The Antinea Foundation has engaged in marine ecomapping to identify biodiversity hotspots and Cargill has supported them financially with over 1 million USD.
Community impact: Whether we help equip school classrooms close to our offices in Bulgaria and India with much needed technical equipment or we raise funds for women and children's community centers in Switzerland and the US, we work on identifying core needs in the communities in which we operate and help address them through financial and volunteering aid. For example, we participate in yearly food donation at Le Care, and also raise funds through the Geneva Marathon for local charitable causes.