Cargill employees in Ivory Coast help students plant 15,000 trees
Tree-planting activity part of the Cocoa & Forests' Initiative, committed to ending deforestation and restoring forest areas
Ivory Coast (15 November 2019) – Today, Cargill employees and students of the Bonikro and Boali schools in Ivory Coast took part in planting 15,000 tree seedlings to raise awareness of the importance of land reforestation for communities.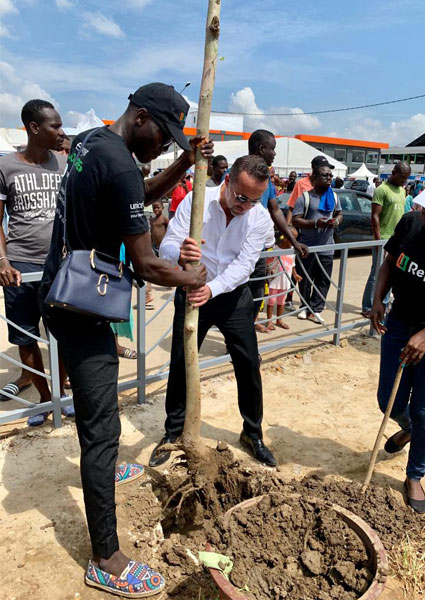 The Ivorian government's national strategy for the rehabilitation, preservation and expansion of its forests, aims to raise to the country's forest coverage rate with 20 per cent by 2045. To further the government's goals, the Ivorian Ministry of Water and Forests organizes an annual tree-planting activity, "One day, 1 million trees" on 15 November.
For this year's program, 60 Cargill employees and local students from the villages of Bonikro and Bowaly planted 7,500 seedlings in each of their communities. Both villages are located in sourcing zones of SOCODD and COOPAAHS partner cooperatives participating in the Cargill Cocoa Promise.
The planting activity is part of the "One School, 5 hectares of Forest" educational project initiated by the Ministries of Water and Forests and National Education, that encourages schools to replant five hectares of deforested areas near their schools. Local representatives of Ministère des Eaux et Forêts (MINEF) and the Ivorian Ministry of the Environment, as well as leaders of the SOCODD and COOPAAHS cooperatives were present on the day to support the students and raise awareness about the importance of forests for their communities and the environment.
In addition to the seedling planting, the event also marked Cargill's donation of a Garden Courtyard for the School of Bonikro to the Ministry of Education.
"This is a great opportunity for us to support initiatives that educate young people about the importance of forests for their communities and the environment. Together with our partners, we are looking into how we can implement and scale innovative and impactful conservation and restoration activities that allow us to improve farmer livelihoods while at the same time protecting the natural environment for generations to come", says Lionel Soulard, managing director West-Africa.
Cargill is a signatory of the Cocoa & Forests Initiative (CFI) – a public-private partnership launched in 2017 that brings together the governments of Côte d'Ivoire and Ghana as well as leading cocoa and chocolate companies committed to ending deforestation and restoring forest areas. It's company-own CFI Action Plan sets out to plant close to 1 million trees by 2022. This commitment is part of Cargill's Protect Our Planet Strategic Action Plan, which sets out concrete actions the company is taking to eliminate deforestation within its direct cocoa supply chain and reduce its overall environmental impact.
"We believe that a collective approach in which everyone has its role to play will achieve more. We recognize the value of sharing best practices, developing initiatives that complement the activities of others and working closely with expert partners on the ground who know the local context and culture better than we ever could. And it is by working together, with projects like "One day, 1 million trees", we can make this vision a reality," concludes Mr. Soulard.
Media Contact: [email protected]
---
About Cargill
Cargill helps the world's food system work for you. We connect farmers with markets, customers with ingredients and families with daily essentials—from the foods they eat to the floors they walk on. Our 160,000 team members around the world innovate with purpose, empowering our partners and communities as we work to nourish the world in a safe, responsible, sustainable way.
From feed that reduces methane emissions to waste-based renewable fuels, the possibilities are boundless. But our values remain the same. We put people first. We reach higher. We do the right thing. It's how we've met the needs of the people we call neighbors and the planet we call home for 157 years—and how we'll do so for generations to come. For more information, visit Cargill.com and our News Center.
About Cargill in the Ivory Coast
Cargill has been active in Ivory Coast since 1997 and employs 450 people in four locations: Abidjan, Daloa, Gagnoa and San Pedro. Our network of buying stations, commercial, sustainability and crop research teams work closely with cocoa farmers and communities to source locally grown beans for our state-of-the art processing operation which produces cocoa products for food and confectionery customers around the world. Additionally, we source and trade cotton from Ivory Coast and neighbouring markets in West Africa.
About Cargill's global cocoa and chocolate business
Cargill Cocoa & Chocolate provides high quality cocoa and chocolate more sustainably throughout the world and brings our customers peace of mind, integrity and excitement. With balanced efforts on security of supply, sustainability projects and sensory expertise, we create a wide range of outstanding standardized and custom-made products and services. In addition, we provide our customers with extensive market knowledge. We grow a robust, fair and transparent supply chain, from bean to bar, eager to continuously shape industry standards. To ensure a more transparent supply of quality cocoa beans, Cargill established our own sourcing and trading operations at origin in Brazil, Cameroon, Côte d'Ivoire, Ghana and Indonesia. Our Cargill Cocoa Promise underlines our commitment to enable farmers and their communities achieve better incomes and living standards. Our team of 3,600 passionate cocoa and chocolate experts work across 54 locations and are part of Cargill's 160,000 colleagues around the world For more information, visit www.cargillcocoachocolate.com.