Côte d'Ivoire cocoa farmers receive COVID-19 critical health and safety updates via Cargill digital farming tool
(Abidjan, Côte d'Ivoire) March 30, 2020 – Starting April 1, cocoa farmers in Côte d'Ivoire will receive information from Cargill's digital farming tool helping amplify government measures around safety and sanitation in support of proactively curbing the spread of the coronavirus (COVID-19). Farmers and their communities are at the heart of the industry, and this technology is a means to helping keep them safe in such an unprecedented crisis.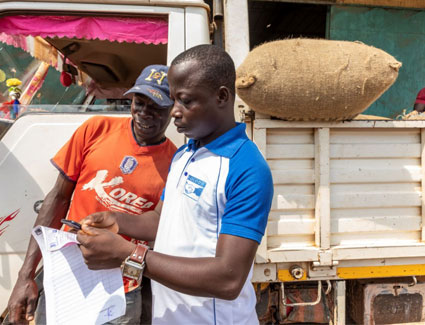 Yves Kone, Managing Director, Conseil du Café, Cacao said: "We are working together with our partners in the supply chain to put measures in place prioritizing the health and safety of cocoa farmers and their community members. We welcome Cargill's use of their traceability technology to provide additional ways to reach farmers with critical governmental information around hygiene best practices to contain the spread of COVID-19."
FarmForce, Cargill's innovative mobile application, used for GPS polygon farm mapping, cooperative management system (CMS) and traceability, will be deployed to reach over 1,200 cooperative leaders and lead farmers to raise local awareness on COVID-19, to sensitize on recommended WASH and sanitary practices and to relay the message to farmers and local communities. Through this application, Cargill will amplify government measures and the advice of national health institution needed to curb the spread of the virus.
Lionel Soulard, Cargill Managing Director West Africa said: "Farmer cooperatives and lead farmers are a crucial in helping us reach cocoa farmers in rural areas. They act as ambassadors for informing farmers about the best practices to keep themselves and the members of their communities safe during the COVID-19 pandemic."
The digital farming app was co-developed with FarmForce and deployed in 2017 to support data collection on mapping of cocoa farms and the traceability of beans, a key part of Cargill Cocoa & Chocolate's goals to increase transparency in the cocoa supply chain and consumer confidence. Using the application for this purpose paves the way to new opportunities beyond its existing parameters.
"We are incredibly grateful for the partnership with FarmForce and their collaboration to swiftly and efficiently find solutions to increase the functionality of this critical tool. We will continue to support the local governments to contribute to the safety of cocoa farmers during such an unprecedented time," Mr. Soulard added.
This is just one example of how Cargill is working with our nonprofit and NGO partners around the globe to help address food insecurity and emergency medical needs for those who are vulnerable during this pandemic. Cargill has contributed nearly $5 million to immediately support the communities in which our employees live and work. In addition to monetary donations, we are collaborating with nonprofits around the globe to donate food, ingredients and other high-need products to address the needs of local communities. Cargill's global and regional COVID-19 response is aligned with our purpose to nourish the world in a safe, responsible and sustainable way.

Media Contact: [email protected]
---
About Cargill
Cargill's 155,000 employees across 70 countries work relentlessly to achieve our purpose of nourishing the world in a safe, responsible and sustainable way. Every day, we connect farmers with markets, customers with ingredients, and people and animals with the food they need to thrive. We combine 156 years of experience with new technologies and insights to serve as a trusted partner for food, agriculture, financial and industrial customers in more than 125 countries. Side-by-side, we are building a stronger, sustainable future for agriculture. For more information, visit Cargill.com and our News Center.
About Cargill's global cocoa and chocolate business
Cargill's cocoa and chocolate business offers the food industry a wide range of both standard and customized cocoa and chocolate ingredients for use in delicious bakery, confectionery and dairy applications all over the world. The company's product range includes high quality Gerkens® cocoa powders, chocolate, coatings, fillings, cocoa liquors and cocoa butters. With years of experience in technical food expertise Cargill supports its customers in new recipes and new product development.
Cargill's processing plants in Belgium, Brazil, Canada, Côte d'Ivoire, France, Germany, Ghana, Indonesia, the Netherlands, UK and the USA are in full compliance with the highest food safety standards.
To secure a good quality and sustainable supply of cocoa beans, Cargill has its own cocoa bean sourcing operations for buying, handling and exporting of cocoa beans in Brazil, Cameroon, Côte d'Ivoire, Ghana and Indonesia. Presence in all the leading producing countries allows Cargill to oversee the supply chain from beans at origin to cocoa and chocolate products on its customers' doorsteps. In addition, extensive market research and analysis proves to be a source of valuable information to customers.
More information is available at www.cargillcocoachocolate.com/