Cargill and CARE: A decade of transforming lives in cocoa communities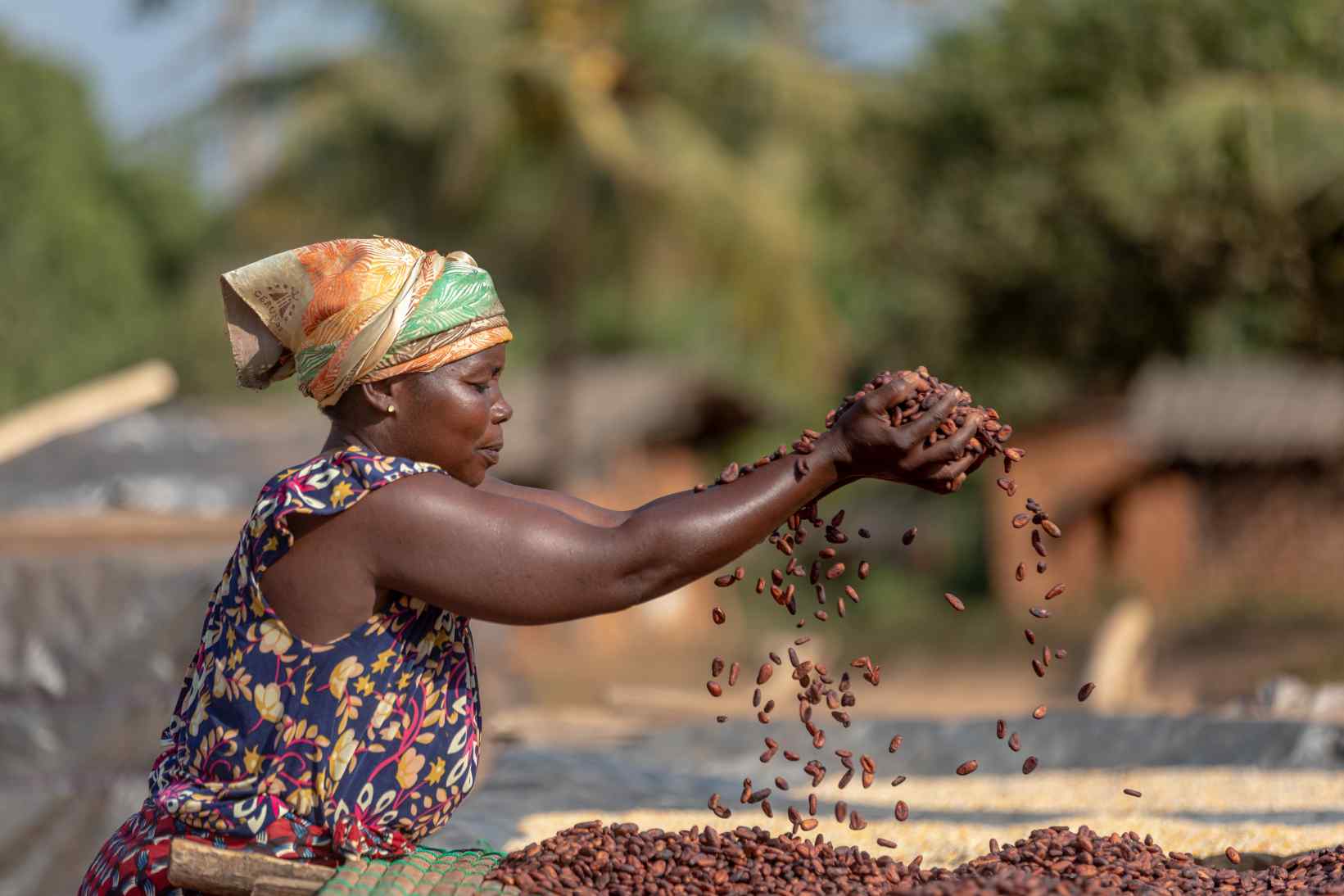 Elizabeth Ahou Yao is the mother of a cocoa-growing family in Côte d'Ivoire's Aki Kouamekro community. Until recently, the 38-year-old didn't know how to read, write or save money to help with the care and education of her four children.
Through CARE and Cargill's comprehensive and women-centered community development programming, Elizabeth was able to learn some basic literacy and financial skills. With new knowledge and skills gained through the program, she began saving money as a member of a Village Savings and Loan Association (VSLA).
With these savings, she was able to invest in her children's education and start a small business growing and selling other crops, which was a safety net for her family when drought limited a recent cocoa harvest. Now, she is even employing and training other women in the VSLA, so they, too, can find greater opportunity.
Elizabeth is one among hundreds of thousands whose lives have improved thanks to a more than decade-long partnership between Cargill and CARE in Côte d'Ivoire and Ghana. Her story and others are detailed in a new report that shares the overall impact of the partnership, which was driven by $9.2 million invested directly by Cargill and our customers.
"Our current programs place women at the heart of our interventions because we know that with the right resources, women have the power to transform entire cocoa growing communities," said Michelle Nunn, President and CEO at CARE.
Scaling up transformative impact
To combat the challenges faced by farmers like Elizabeth, CARE and Cargill collaborated over the last decade to improve agricultural production, increase household incomes, empower women, connect farmers to markets, improve nutrition and household wellbeing, and foster well-governed communities through an inclusive approach – one that is driven by and for communities.
The Cargill-CARE collaboration – which also included other partners like Cargill customers and farmer organizations – has created broad positive impact across cocoa-growing communities in West Africa.
For example:
Women in these programs in Ghana between 2016 and 2019 reported a 30% increase in participation for family financial decision-making. They also reported an 18% rise in the number of women holding community leadership positions.
In Côte d'Ivoire between 2015 and 2018, the percentage of food shocks in areas where programs operated was 16% lower than other communities, with some municipalities seeing a 65% drop in the frequency of food shocks. Family members in these areas were also 33% more likely to eat fruits and vegetables at least three times a day.
To date, Cargill and CARE have supported the establishment of 275 community action plans to encourage good governance, mobilize funds and address pressing needs, leading to infrastructure improvements for water, sanitation and schools.
The two partners' efforts also have greatly benefited cocoa farmers' productivity, livelihoods and market access, so these farmers and their families can build resilient businesses for the long term.
Through the Cargill Cocoa Promise, Cargill is working with 132,000 cocoa farmers, their families and communities to strengthen their socioeconomic resilience, and to equip them with the skills, knowledge and resources to grow cocoa in a more sustainable and profitable way. For example, to date, CARE and Cargill have established 376 VSLAs comprising 9,034 members, of which 6,853 are women, in Ghana and Côte d'Ivoire, providing access to capital to improve their cocoa farms or other activities.
"Cargill has been working in Côte d'Ivoire and Ghana for decades," said Harold Poelma, President of Cargill Cocoa & Chocolate. "In 2012, we launched the Cargill Cocoa Promise – our commitment to enable farmers and their communities to achieve better incomes and living standards. Longstanding partnerships like the one with CARE are crucial in achieving our commitments."
Media Contact: [email protected]
---
About Cargill
Cargill's 155,000 employees across 70 countries work relentlessly to achieve our purpose of nourishing the world in a safe, responsible and sustainable way. Every day, we connect farmers with markets, customers with ingredients, and people and animals with the food they need to thrive. We combine 156 years of experience with new technologies and insights to serve as a trusted partner for food, agriculture, financial and industrial customers in more than 125 countries. Side-by-side, we are building a stronger, sustainable future for agriculture. For more information, visit Cargill.com and our News Center.
About Cargill's global cocoa and chocolate business
Cargill Cocoa & Chocolate provides high quality cocoa and chocolate more sustainably throughout the world and brings our customers peace of mind, integrity and excitement. With balanced efforts on security of supply, sustainability projects and sensory expertise, we create a wide range of outstanding standardized and custom-made products and services. In addition, we provide our customers with extensive market knowledge. We grow a robust, fair and transparent supply chain, from bean to bar, eager to continuously shape industry standards. To ensure a more sustainable supply of quality cocoa beans, Cargill established our own sourcing and trading operations at origin in Brazil, Cameroon, Côte d'Ivoire, Ghana and Indonesia. Our Cargill Cocoa Promise underlines our commitment to enable farmers and their communities achieve better incomes and living standards. Our team of 3,800 passionate cocoa and chocolate experts work across 54 locations and are part of Cargill's 155,000 colleagues around the world. For more information, visit cargillcocoachocolate.com.