Cargill Wins 2023 BIG Innovation Award
WAYZATA, MN (January 11, 2023) - Cargill today announced it has been named a winner in the 2023 BIG Innovation Awards presented by the Business Intelligence Group.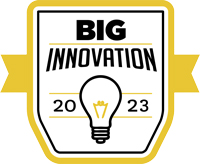 Cargill is uniquely positioned to lead the transformation of our food and agriculture system to help address many of the world's most pressing needs – from supply chain continuity to climate action and food security.
"Challenges are getting bigger and the time to solve them shorter," said Florian Schattenmann, Cargill's chief technology officer and vice president of Research & Development and Innovation. "That's why our team is constantly focused on innovative solutions and we're thrilled to receive this recognition."
The company leverages more than a century of experience to innovate solutions to big, global challenges including:
In 2021, Cargill launched Cargill RegenConnect, a marketplace that pays farmers for improved soil health, positive environmental outcomes and for each metric ton of carbon sequestered.

Cargill created a mobile, artificial intelligence-based platform, Digital Saathi, designed to improve farm management practices for farmers in India where farm productivity is as low as 35%-50% compared to global benchmarks.
Cargill has created a portfolio of Artificial Intelligence (AI) solutions to help farmers raise healthier chickens, including GalleonTM Broiler Microbiome Intelligence, which uses statistical analysis and AI to help farmers decode the gut microbiome of their flock, translating into better health outcomes.

In spring 2022, Cargill launched Chekt, a new, innovative food locker system piloted inside PPG Arena in Pittsburgh. Developed in partnership with Aramark, the system enables fans to use their phones to place an order and select their pickup location inside the stadium while signaling to concession personnel to prepare the order.
"Innovation is 'business critical' in today's society," said Maria Jimenez, chief operating officer of the Business Intelligence Group. "We are thrilled to be honoring Cargill as they are leading by example and improving the lives of so many."
Organizations from across the globe submitted their recent innovations for consideration in the BIG Innovation Awards. Nominations were then judged by a select group of business leaders and executives who volunteer their time and expertise to score submissions.
Media Contact: [email protected]
---
About Cargill
Cargill helps the world's food system work for you. We connect farmers with markets, customers with ingredients and families with daily essentials—from the foods they eat to the floors they walk on. Our 160,000-plus team members around the world innovate with purpose, empowering our partners and communities as we work to nourish the world in a safe, responsible, sustainable way.
From feed that reduces methane emissions to waste-based renewable fuels, the possibilities are boundless. But our values remain the same. We put people first. We reach higher. We do the right thing. It's how we've met the needs of the people we call neighbors and the planet we call home for 158 years—and how we'll do so for generations to come. For more information, visit Cargill.com and our News Center.
About Business Intelligence Group
The Business Intelligence Group was founded with the mission of recognizing true talent and superior performance in the business world. Unlike other industry award programs, these programs are judged by business executives having experience and knowledge. The organization's proprietary and unique scoring system selectively measures performance across multiple business domains and then rewards those companies whose achievements stand above those of their peers.