Galleon™ Broiler Microbiome Intelligence
Decode Your Flock's Microbiome
Navigate your flock to better health with Cargill's latest innovation, Galleon Broiler Microbiome Intelligence. Galleon allows producers to determine the gut microbiome health of their flock.
Why Is The Microbiome Important?
The gut microbiome is a complicated mystery to many producers. In a single bird, there are thousands of organisms in the microbiome. A healthy gut microbiome is essential for a bird's development and immunity, and plays an integral role in maintaining the health of the flock. The effects of feed, feed additives, medication, antibiotics, farm management practices, and other factors impacting the health of the bird can be assessed through analysis of the microbiome. It's important that producers understand how the choices they make impact broiler performance, health, and preharvest food safety.
---
What is the Benefit to Understanding the Poultry Microbiome?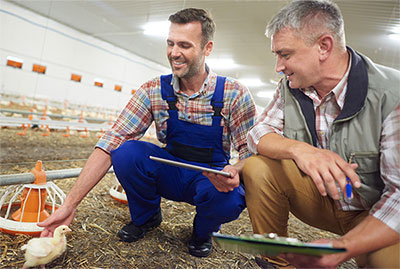 Producers are always trying to improve broiler flock performance, based simply on their experience or behaviors exhibited in their birds. Stress, nutrition, veterinary treatments, and farm management practices are just a few factors that affect their birds' microbiome. Not managing these factors effectively can diminish the health of the microbiome, limiting a flock's performance. Understanding the condition of the flock microbiome is the first step to improving the health of an operation. The challenge is that while broiler producers are knowledgeable and recognize the impact gut health on their flocks, they often attempt interventions for flock health and wellbeing based on intuition or anecdotal evidence.
With insights into the gut microbiome, producers have an opportunity to enhance their perception even more by understanding the microbiome's connection to poultry performance. This can be achieved through recommendations from experts in the industry who have experience, expertise, and access to data that can be used to provide actionable insights producers can use improve their farm management practices, and support flock health and performance.
---
Why Galleon?
One of the biggest challenges producers face lies in the complexity of being able to create a link between microbiome composition, performance, and actions that can be implemented for improvement. This is mostly due to customer unfamiliarity with the poultry microbiome. Often producers also try to understand this relationship without expert help, which can be expensive and time consuming. By truly understanding the correlation, producers can be confident in their decisions to turn the microbiome analysis insights they receive into informed action to benefit their flocks. Using statistical analysis and artificial intelligence (AI) combined with Cargill's extensive expertise, Galleon provides insights into the flock's microbiome status. Cargill's Broiler Microbiome Intelligence also provides access to: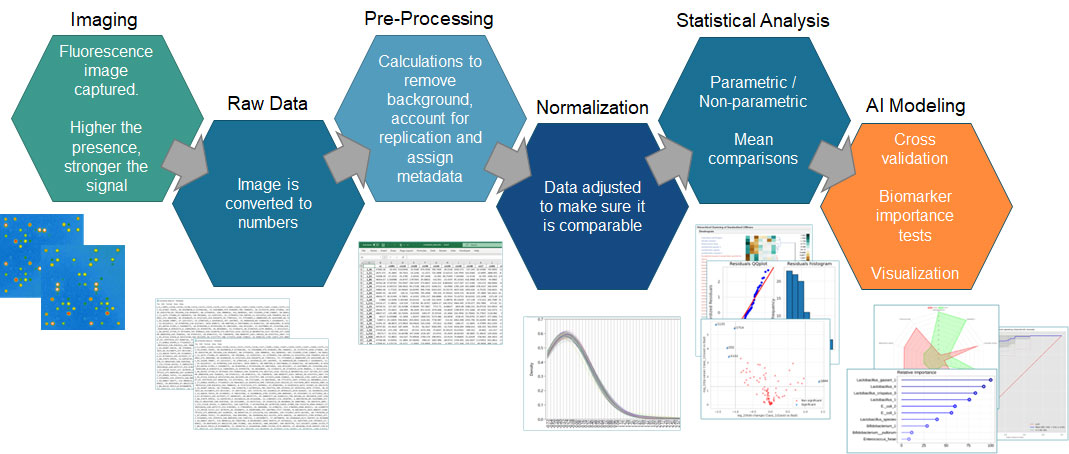 ---
Galleon Key Features - What Makes Galleon Different?
The Galleon platform is developed for routine practical use to serve our customers. So why choose us over competitors?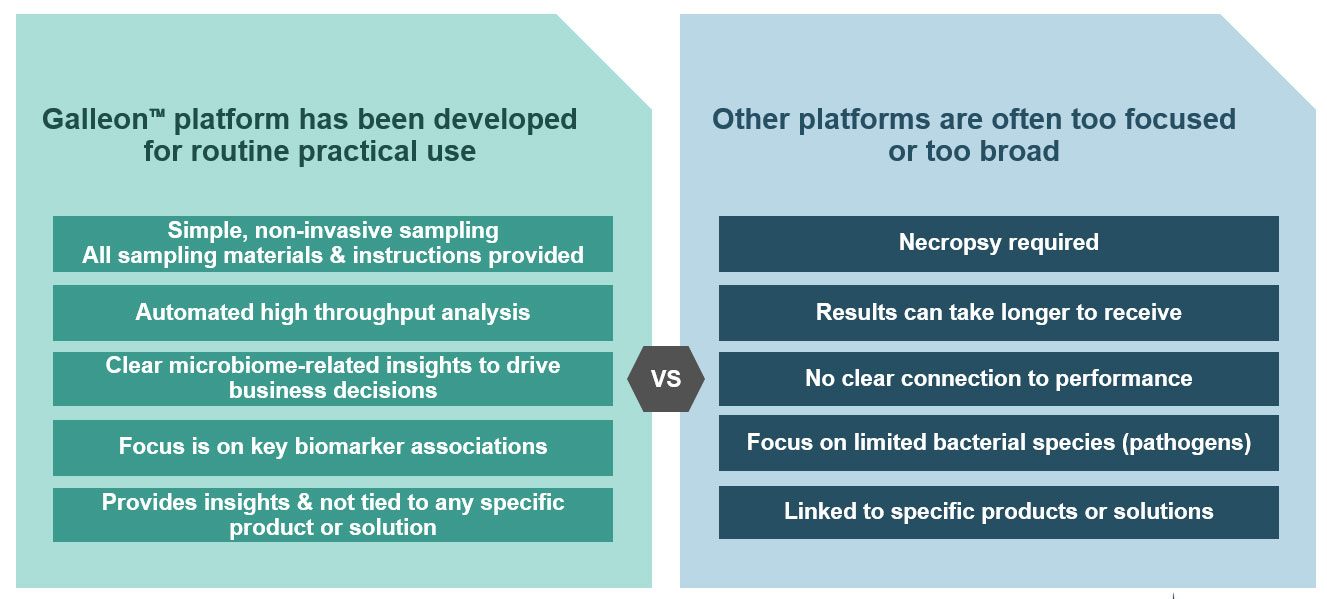 ---
What Do You Get with Galleon?
Producers receive sample collection materials, instructions, and a return box. Samples are taken using simple, non-invasive cloacal swab-sampling of live birds. Cargill experts will then analyze samples and provide the producer a report that includes a summary of their sites samples, microbiome biomarker composition, predictions, and insights that can be turned into practical application with the flocks. A Cargill technical expert will walk you through the insights and provide recommendations that can be put into use immediately.
---
Contact Us
Using statistical analysis and AI, Galleon Broiler Microbiome Analysis allows you to decode your flocks' gut microbiome, translating into better broiler performance, health, and preharvest food safety. Ready to embark on your journey? Email us or contact your local Cargill representative today.