2022 Annual Report
What Matters Most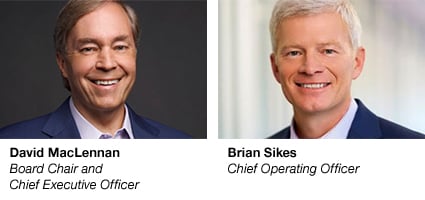 "As a company that has been in business for 157 years, Cargill is no stranger to turbulent times. Yet the extreme events of this fiscal year, including the ongoing COVID-19 pandemic, severe weather, trade disruptions, and Russia's invasion of Ukraine, have given us good reason to focus on what matters most: making sure the world has the food it needs."
Report highlights
Supporting our communities
The Cargill Cares Employee Disaster Relief Fund disbursed $14 million across 32 countries to help team members worldwide who were dealing with financial hardship due to COVID-19; and catastrophic, personal, or natural disasters including support for our employees in Ukraine as well as their colleagues in other countries who sheltered them
$40 million to support humanitarian relief efforts in Ukraine and neighboring countries
$20 million in new or expanded partnerships to improve food security and more than $11 million to programs that support farmer livelihoods
$12 million to drive racial equity in education and nutrition for children of color from low-income families in our hometown. Thanks to the Cargill Foundation, every Minneapolis high school student will receive one-on-one college and career guidance counseling through a partnership with Achieve Twin Cities
100%
The score Cargill has received on the HRC Corporate Equality Index for the last 18 years
46%
Women on our Executive Team, nearly reaching gender parity
2nd
Year in a row we achieved gender pay equity on average among professional-level employees globally1
About Cargill
We connect farmers with markets, customers with ingredients, and families with daily essentials – working across industries – from the foods you eat, to the floors you walk on.
Employees by geography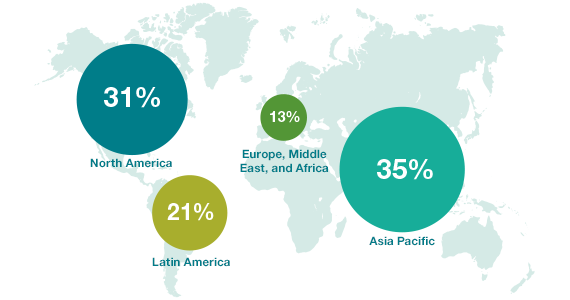 We are 155K employees Operating in 70 countries Selling to 125 countries With more than 157 years of experience
Get the full 2022 Annual Report
Download the full 2022 Annual Report for more details and information.
Visit the Report Hub
Our Reporting Hub provides information on environmental, social, and governance (ESG) topics to demonstrate progress towards our sustainability commitments.
1 After considering appropriate factors expected to influence an individual's pay such as country, job, family, pay band and tenure, men and women in professional-level roles performing the same or significantly similar work are on average paid the same. The most recent analysis included all professional-level employees, except those in trading and sales roles on commission or direct-drive incentive plans.