A letter to our stakeholders
What matters most: Making sure the world has the food it needs by building an even more sustainable, resilient food system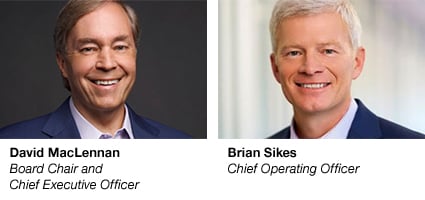 As a company that has been in business for 157 years, Cargill is no stranger to turbulent times. Yet the extreme events of this fiscal year1, including the ongoing COVID-19 pandemic, severe weather, trade disruptions and Russia's invasion of Ukraine, have given us good reason to focus on what matters most: making sure the world has the food it needs.
We believe food is a basic human right. We do everything we can to connect farmers to markets so food can move. We bring customers the ingredients they need to make meals people love. And everywhere we operate, we act as a global partner that is locally focused on building a more sustainable and resilient food system.
As we envision a brighter future, we reflect on the values that have steered us from the start: to put people first, do the right thing, and reach higher – supporting our purpose to nourish the world in a safe, responsible, and sustainable way. Amid the chaos and complexity of this year, Cargill's people made decisions, acted with agility and overcame challenges to meet customers' needs without sacrificing these values.
Customer-driven growth
We put our deep expertise, unique position connecting the global supply chain, and extensive innovative partnerships to work and help our customers grow, while doing the right thing for the people we serve and the planet we share. Thanks to our teams' diligence and agility in serving customers, we recorded $165 billion in revenues this fiscal year2, a 23% increase from a year ago. Numerous customers recognized us for our work to help them succeed in this challenging environment.
We also made substantial investments to enhance our ability to serve customers' needs in the future. This included completed or announced deals, like purchasing the performance-technologies business of U.K.-based Croda, a leading maker of bio-based products, as well as significant investments to modernize our global network of facilities. All of these investments – along with continuously upgrading our business-enabling capabilities – will help us bring more solutions to our customers while better connecting those who grow food to the markets that need it.
Caring for our global team
First and foremost, we are relentless in our drive to protect each person who works for Cargill. This year, we fell short in our efforts to send everyone home safe each day; while we brought all of our Cargill employees home safely, we lost four of our contracting partners in fatal workplace incidents. These were heartbreaking and unacceptable losses, and we know we can and must do better. That's why, across our global business, we continue to sharpen our focus on eliminating exposure to high-risk conditions. We are seeing indicators that these efforts to reduce serious injuries and fatalities (SIFs) are working. We achieved a 10% reduction in our SIF rate and a 23% reduction in the number of incidents that resulted in a serious injury or fatality.
This year, we also continued to monitor and take actions to mitigate the spread of COVID-19 in our facilities, including staying agile in offices and plants as new variants of the virus arrived.
Cargill's Employee Disaster Relief Fund disbursed $14 million across 32 countries to help team members experiencing financial hardship due to COVID-19; and catastrophic, personal, or natural disasters, including support for all of our employees in Ukraine, as well as their colleagues in other countries who sheltered them.
Diversity, equity and inclusion are crucial components of putting people first. We're proud of our strides to make Cargill and the global food system more diverse – from achieving gender pay equity among professional-level employees globally3 for the second year in a row to expanding our Black Farmer Equity Initiative.
We welcomed several new members to Cargill's Executive Team, including Ross Hamou-Jennings as Chair of Asia Pacific; Jennifer Hartsock as Chief Information & Digital Officer; Stephanie Lundquist as Chief Human Resources Officer; Jamie Miller as Chief Financial Officer and Head of Corporate Strategy; and Roger Watchorn as the leader of our agricultural supply chain enterprise. With their diverse experiences inside and outside Cargill, they will help propel our company forward with bold new ideas. With these additions, we are pleased to share that our Executive Team has now nearly reached gender parity (46% women).
Our commitment to communities and sustainable development
We believe that, collectively, all stakeholders including government, private sector, civil society, academia, and others need to work together to enable sustainable development and shared prosperity. That's why we fully support the United Nations Global Compact and its initiatives, as well as the United Nations Sustainable Development Goals. And, it's why we signed the Agricultural Commodity Companies Corporate Statement of Purpose at the UN Climate Change Conference (COP26). We've set priorities that account for the diverse environmental, social, and economic impacts of our businesses with clear, science-based goals to ensure the progress necessary to keep our people and planet thriving.
To that end, this year, Cargill contributed more than $163 million to our partners and local communities. With these funds, as well as other efforts, we seek to strengthen food security, increase access to opportunity, and support resilience and urgently needed relief in the communities where we operate.
Leading the way forward
As we look ahead, we anticipate ongoing disruptions in our industries and the world. Yet we remain optimistic that with an eye on what matters most, the Cargill team will continue to find new ways forward. Our people showed tremendous courage in one of the most difficult eras we have seen. We are incredibly grateful for all that our teams do, as well as for the continued partnership with our customers, farmers, and the communities where we work and live.

David MacLennan
Board Chair and Chief Executive Officer

Brian Sikes
Chief Operating Officer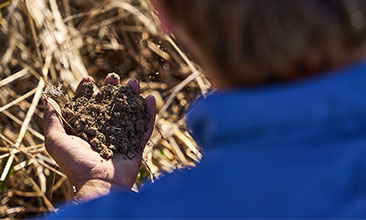 Our commitment to transparency and reporting
Cargill is committed to transparency – in our own operations and across our global supply chains. As we continue to increase our transparency, we will publish a new companywide Environmental, Social, and Governance (ESG) report in late 2022 that will cover our global impact across climate, land & water, and people, as well as additional topics of material interest to our stakeholders. In the meantime, see our ESG Scorecard for more details about our science-based goals and progress.
1 For the fiscal year beginning June 1, 2021 and ending May 31, 2022
2 All financial amounts are presented in U.S. Dollars
3 After considering appropriate factors expected to influence an individual's pay such as country, job, family, pay band and tenure, men and women in professional-level roles performing the same or significantly similar work are on average paid the same. The most recent analysis included all professional-level employees, except those in trading and sales roles on commission or direct-drive incentive plans.