Making connections
2022 Annual Report highlights
Our seat at the center of the agricultural supply chain provides us a unique opportunity to facilitate the connections that matter most – from farmers and ranchers to customers and consumers – as we strive to make the world's food system more sustainable, resilient, and accessible for all.
HELPING CUSTOMERS OVERCOME OBSTACLES
Although the past year presented many challenges, Cargill persevered to generate business-impacting results for our customers, receiving various accolades:
Burger King: North America Supplier of the Year Award & Global Sustainability Award
With supply chain challenges across the Northeastern United States, Burger King and Restaurant Services, Inc., the brand's supply chain management partner for North America, needed assurance they could meet consumer demand for the popular flame-grilled Whopper® sandwich. Cargill leveraged bold and innovative solutions to create additional capacity through a protein facility serving the U.S. and took further steps to ensure the reliability of our oils and salt supply chains, earning us the North America Supplier of the Year Award. Cargill was also honored for our best-in-class partnership with the Burger King® brand, launching a joint BeefUp Sustainability™ initiative with the National Fish and Wildlife Foundation, supporting cattle ranchers committed to addressing climate change through regenerative agriculture practices.
US Foods: Grocery Supplier of the Year Award
Despite industry-wide supply constraints, Cargill was recognized for ensuring that private label oils for US Foods were well stocked, helping the fast-growing distributor keep restaurants' and hospitals' signature items in stock.
Jollibee: Partner of Joy Bronze Award, Special Award for Innovation, and Special Award for Quality
C-Joy, a joint venture between Cargill and Jollibee Foods, was recognized by the Philippines' largest operator of fast-food restaurants for "consistent and quality supply, agility in product development, and excellence in customer service."
ALDI: Convenience Meal Product of the Year Award
In an award voted on by 40,000 consumers who shop at ALDI, Cargill earned top honors for Hawaiian Style Chicken and Thai Coconut Chicken, two meals developed for the grocery operator's convenience meals category.
Yum!: U.S. Supplier of the Year Award & Diversity and Inclusion Award
The company that operates Taco Bell, Pizza Hut, and KFC acknowledged Cargill's efforts to expand capacity, drive growth across the portfolio of brands, and improve supplier diversity for Yum!, while continuing to prioritize diversity, equity and inclusion within Cargill. This includes Cargill's $50,000 annual donation to the Taco Bell Foundation's Live Más Scholarship Program for students who are pursuing higher education, preparing for the workforce, or using their passion to ignite change in their communities and beyond.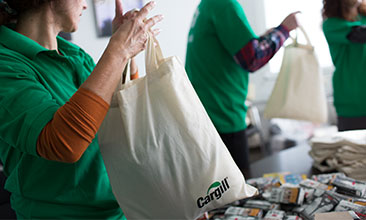 PARTNERING TO PROVIDE RELIEF IN UKRAINE
The conflict between Ukraine and Russia has been heartbreaking for the world and for Cargill. While our first priority was to ensure the safety of our employees, we also have been working to provide support to our colleagues and others in the region in need of humanitarian aid:
Supporting the Kyiv Food Bank
One of the central points for humanitarian relief efforts in Ukraine's capital is the Kyiv Food Bank, which Cargill helped launch in 2012. Cargill employees in Ukraine have provided critical logistical expertise and warehouse space – helping the food bank serve more than 3,000 people per day.
Supporting partner organizations
We have distributed an initial $40 million to support humanitarian relief efforts in Ukraine, in neighboring countries, and across Europe. This includes support for global humanitarian partners such as Save the Children, CARE, Red Cross, and the European Food Banks Federation. We also partner with local relief organizations supported by our employee-led Cargill Cares Councils. Activities include donating food and supplies to help families and pets and creating and donating welcome packs for Ukrainian refugees when they reach destinations.
Supporting chefs and farmers to feed people in need
Cargill supports World Central Kitchen who has served more than 120 million meals to people in Ukraine as well as those displaced to seven neighboring countries. Cargill also invested in World Central Kitchen's seed pilot project, which supports farmers' livelihoods and helps ensure crops are planted this season. The project helps buy sunflower and corn seeds from a Ukrainian supplier and distributes them to mid-sized farmers in most impacted areas. We have contributed $2 million to these efforts.
Supporting the World Food Programme
We have donated $10 million to World Food Program USA in support of food security efforts throughout the region and in areas of greatest need.
Aiding displaced employees
We created the Ukraine Support Hub, a global relief center based in Poland, to provide aid to employees who have evacuated to other countries, including housing, medical care, travel, immigration, employment, finances, and children's education.
EMPOWERING PEOPLE
Cargill has established a robust diversity, equity and inclusion (DEI) strategy to build inclusive teams and encourage them to unleash the power of diversity as we collectively work to nourish the world. We are specifically focused on diversifying our team globally through gender parity, and by advancing underrepresented groups regionally, with an emphasis on fighting anti-Black racism in Brazil and the United States.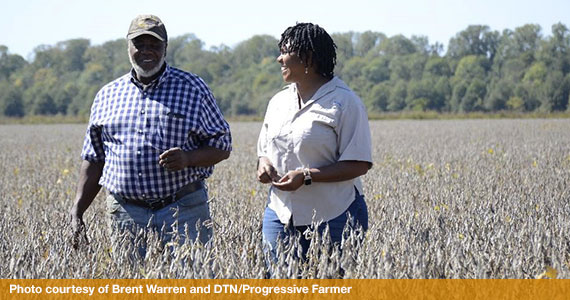 Created inclusive environments for employees
The world is diverse and to feed the future, we need to ensure we're bringing diverse perspectives to the table. That's why, through the Inclusive Facilities program, Cargill is creating environments where all background and identities feel welcomed, valued, and heard. We are ensuring the availability of safe, accessible, and convenient facilities, and access to proper uniforms for all individuals. Due to these initiatives and others, Cargill was recently recognized as the Most Inclusive and Diverse Company in Brazilian Agribusiness, given by the Ethos Institute.
Expanded Cargill's Black Farmer Equity Initiative
Through this program, we partner with producers to help build a more equitable agricultural economy by increasing the participation, profitability, and productivity of Black farmers, ranchers, and growers. Most recently, the program has forged partnerships with leading industry organizations to further those efforts.
Launched the Cargill University THRIVE Program
In the U.S., we are investing $6 million in the Cargill University THRIVE Program, which ensures more equitable access for women and underrepresented students in Science, Technology, Engineering, and Mathematics (STEM), as well as agriculture and business, at colleges and universities who are prioritizing higher education opportunities for students from underrepresented groups.
Increased economic empowerment for women cocoa-growers
Cargill supports a financial program – Village Savings and Loans Association (VSLA) — that helps advance women's economic empowerment in numerous cocoa communities. In 2021, more than 11,000 women in our cocoa sourcing countries benefited from VSLAs. We continue to scale up the VSLA model, through our recent partnerships with CARE and the Starbucks Foundation.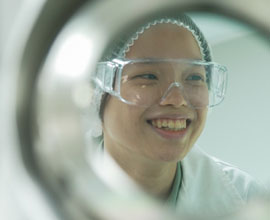 Read next:
Thinking ahead
Cargill's global team is collaborating with customers and partners to help solve challenges and seize opportunities through the creation of break-through innovations.
Get the full 2022 Annual Report
Download the full 2022 Annual Report for more details and information.