Scientific Capabilities
Our analytical and research expertise gives you everything you need to know.
World-class facilities
We've done our homework. At our 17 innovation and technology application centers worldwide, our more than 500 R&D professionals arrive every day with the goal of expanding our expertise – and your bottom line. Our teams apply specialized expertise in multiple areas – molecular biology, micro biology, immunology, bioinformics, modeling and processing – to create customized solutions for the biggest challenges you face.
For instance, we use advanced Near-Infra-Red Reflectance (NIR) technology to rapidly measure nutrients and quality parameters in ingredient supplies. We've compiled the world's largest database of NIR samples – more than 2 million across 200 ingredients. Every year, we're adding another 600,000 samples, delivering more than 10 million nutrient results. Our 30 NIR experts around the globe continuously monitor 400 NIR instruments across multiple vendor platforms. This helps ensure your animals are getting the best performance-based diets.
A new era for fish health and nutrition
We are investing heavily to deepen understanding of the nutritional needs of fish. More than 100 R&D professionals focus on aquaculture to innovate and improve offerings for our customers. These specialists have a long track record of bringing new products to market, including some of the most significant innovations in the industry under our EWOS brand. We have a database measuring performance across more than 500 million harvested salmon to help them do so.
Examples of new products include health feeds developed to support fish through stressful parts of the production cycle. Another is our COMPASS concept, created through research into nutrient absorption and growth to ensure that salmon feeds can be adapted to different needs.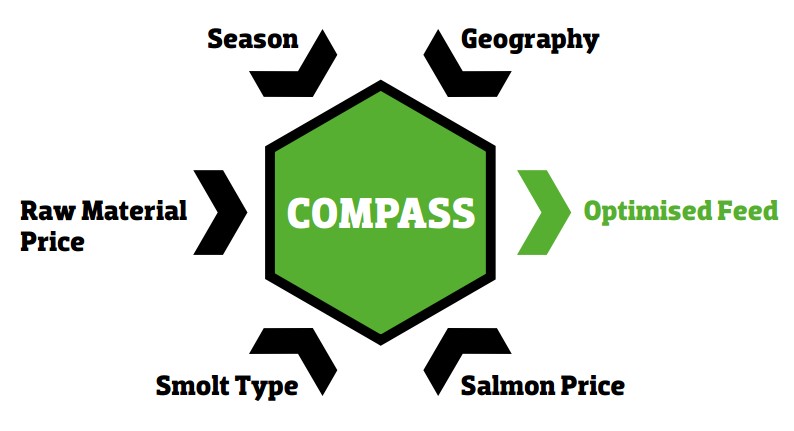 The COMPASS concept – Optimizing feed according to local conditions.
Disease and other health issues may be the largest threat to the aquaculture industry. We are dedicated to making a difference in this area through our state-of-the-art facilities that advance research and scientific understanding. Our newly opened Global Innovation Center in Chile is one of the largest fish health research campuses in the world. Its 32,000 square feet include a hatchery, nearly 100 fish tanks for experimental trials and a fully equipped laboratory to analyze results.
Trials at the center can be run in fresh water or seawater with six degrees of salinity. Unparalleled biosecurity systems allow researchers to control a host of environmental parameters. The center can support up to 18 trials a year, benefiting customers and the salmon industry overall. It's our way of helping to ensure that aquaculture has a bright future.
Global Innovation Center in Chile is one of the largest fish health research campuses in the world. At 32,000 square feet it has more than 100 fish tanks for experimental trials. Learn more.
More than 100 patents put a broad portfolio of innovative products and services at your fingertips.