Greater insights, smarter decisions
Dairy Enteligen® is a decision-making tool that combines on-farm expertise from your Cargill dairy team with multiple data sources to help uncover more insights, prioritize actions, and help you see the financial impact of decisions.
Greater insights, smarter decisions
Dairy Enteligen can safely and seamlessly integrate data from your herd management systems, including nutrition formulation to offer real-time insights. Through Dairy Enteligen, your Cargill dairy team can more effectively help you control your farm's productivity and sustain long-term profits.
The Dairy Enteligen platform consists of three unique solutions to help Cargill dairy teams around the globe deliver insight-driven recommendations.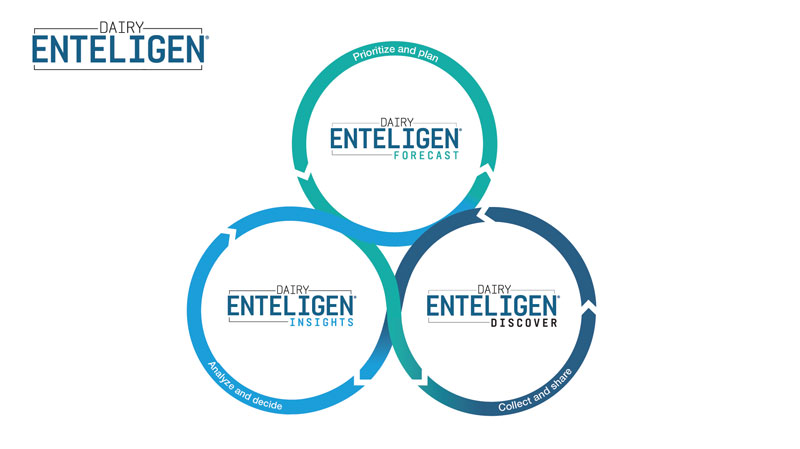 ---
Dairy Enteligen Discover
Dairy Enteligen Discover is a mobile application that pairs on-farm observations with multiple data sources to provide an overview of your herd, helping your Cargill dairy team swiftly identify opportunities.
Mobile application allows your Cargill dairy advisor to quickly identify and share meaningful trends and opportunities
Allows Cargill dairy team to conveniently review and share a snapshot of your herd's nutrition, health, comfort, and productivity
Through your Cargill dairy team, you can compare your herd's current state with previous farm walkthroughs to monitor progress
Dairy Enteligen Insights
Dairy Enteligen Insights simplifies converting data into actionable decisions. Your Cargill dairy team can continuously access and analyze herd performance, so you don't have to.
Leverage significant amounts of data that is collected today but not always analyzed
Integrates data from multiple sources, including milk meters and feed software
Access historic and current trends and benchmark against comparable herds
Dairy Enteligen Forecast
Dairy Enteligen Forecast takes the guesswork out of predicting which priorities drive the greatest financial return. Your Cargill dairy team can show you the potential economic impact of each decision.
Prioritize decisions based on economic return and time
Understand how current decisions impact long-term performance
Have confidence that the decisions made today are the right ones for your future
How Dairy Enteligen works
Through the touch of a smart tablet or a stroke of a keyboard, your Cargill dairy team works with you to track key information, including milk productivity, animal health and comfort, and feed formulation. The Dairy Enteligen platform combines information from multiple software programs into one comprehensive system, allowing your Cargill dairy team to help you make precise decisions on feed and farm management practices.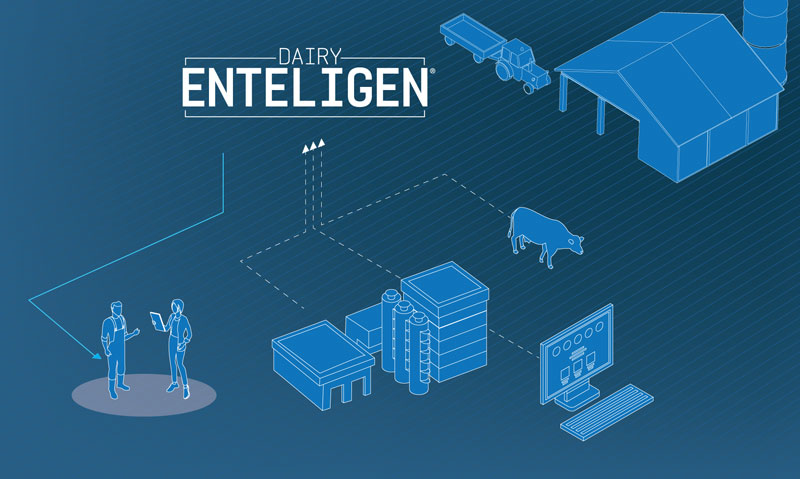 Ready to unlock the value of your herd's data? Contact us or contact your local Cargill representative today to learn more.