Dairy Enteligen®
Unleash your herd's potential
Unlock the power of your herd data with the new Dairy Enteligen™ system. Dairy Enteligen™ combines the power of real-time data inputs from your herd management systems into a decision-making dashboard.
What is Dairy Enteligen™?
Dairy Enteligen™ can integrate data from your herd management systems,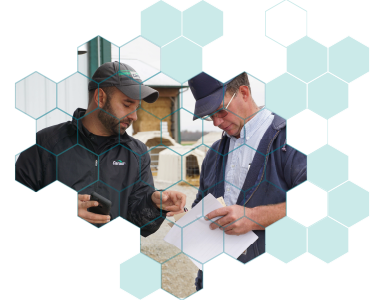 including nutrition formulation, to offer a real-time dashboard of operation insights.In an evolving consumer demands, volatility and market changes environment, Dairy Enteligen™ helps you to be in control of your farm productivity and sustain long term profits
Dairy Enteligen™ is backed by a global team of over 600 Cargill consultants and specialists who add observation and analysis to the data to deliver relevant and actionable information for decision-making.
Dairy Enteligen™ offers a distinct and complete analysis of your on-farm data, enabling farmers to be more successful by better managing daily operation, avoiding unexpected costs and optimizing long term planning.
How does Dairy Enteligen™ work?
Through the touch of a smart tablet or a computer keystroke, dairy consultants work with farmers to track key information, including milk productivity, animal health and comfort and feed formulation. The Dairy Enteligen™ data collection, management and analysis platform combines this disparate information from multiple software programs into one comprehensive system, allowing Cargill advisors and customers to make precise decisions on feed and farm management practices.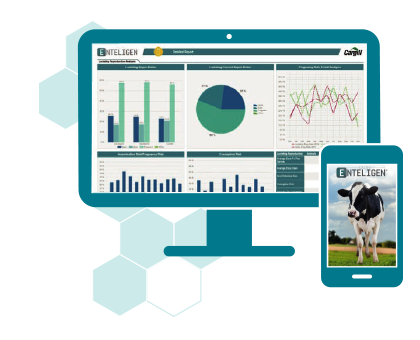 Introducing the platform
​Dairy Enteligen™ is all about the visualization. Information is processed in a simple, easy-to-read and comprehensive way to be able to analyze results with efficiency.
Why choose Dairy Enteligen™?
Integrates data from your dairy herd management systems
Fueled by insights from experienced Cargill dairy consultants
Uniquely links to Cargill Dairy Nutrition system
Distinct and complete analysis leading to better decisions:

Prevent mistakes
Set long term plans
Optimize investments in facilities and people

Long term business health and profitability
Announcing Dairy Enteligen
Read our recent press release for more information on Dairy Enteligen.