Cargill offers the most extensive range of lecithin products for all types of applications.
Cargill's branded fluid, de-oiled and fractionated lecithin products are classified in a unique quality system of four major grades, which guarantee the food safety and quality according to the requirements of the individual final application.
Lecithins for innovative textures
Lecithin was discovered in 1846 by the French chemist Maurice Gobley. He isolated an orange-colored substance from egg yolk and called it lecithin after the Greek name for egg-yolk ("lekithos").
The industrial production of lecithin started in the 1920s when the Bollmann extraction process enabled large quantities of lecithin to be obtained from soybeans instead of eggs. This paved the way for the production of various lecithins of different plant origins for a wide variety of uses.
Cargill started to work with lecithin more than 70 years ago. A wealth of specialized experience gives Cargill a thorough knowledge of the characteristic properties of lecithin's components, individual application requirements of a broad spectrum of industries and a wide range of available processes and technologies.
| Type of lecithin | Brand names |
| --- | --- |
| Standard fluid lecithin | Topcithin™, Leciprime™, Lecisoy™ |
| Tailored fluid lecithin | Emulfluid™ , Metarin™ |
| Standard de-oiled lecithin | Emulpur™, Lecigran™, Epikuron™, Lecimulthin™ |
| Tailored de-oiled lecithin | Emultop™, Metarin™ |
| Fractionated lecithin | Epikuron™, Emulfluid™ |
| Specialties | Ovothin™ |
Applications and Nutritional Properties
Thanks to its technological and nutritional properties, lecithin has a well-established place in the food industry today.
Lecithin provides the invisible finishing touch that is reflected in the quality and excellence of so many foods, including the smoothness of chocolate, the fine texture of bread and the spreading properties of margarine. But the food industry is only one of many application areas for lecithin. It also is used in nutritional supplements, pharmaceuticals, and in animal feeds, cosmetics and the biotechnology industry.
Applications
Traditionally the key food applications for lecithin have been:
Chocolate and confectionery
Margarine and spreads
Bakery
Beverage (powdered/instant)
With the development of more specialized and tailored qualities through various technologies the use of lecithin is growing in food segments such as:
Convenience foods
Processed meats
Ice cream
Nutritional Properties
The nutritional properties of lecithin also have begun to attract attention in the last decade. In the human body, lecithin is involved in fat emulsification in the intestine, optimizing fat absorption. Lecithin is a good source of choline, which plays an essential role in supporting the nervous system, the liver and other metabolic functions.
Certification System
As a customer solutions company, Cargill has established a product portfolio over the years that can supply, where required, lecithin originated from conventional (non-GM) sources using an Identity-Preservation supply chain program. With dedicated production lines, product segregation and documentation systems, Cargill's externally audited processes can be considered an industry benchmark system for producing conventional (non-GM) lecithin products. Lecithin produced through Cargill's Identity-Preserved programs is in line with the EU regulatory requirements for exemption from mandatory labelling.
Cargill lecithins produced in the US and Europe are Kosher and Halal certified. All regional, national and international certifications are issued by well-known official certification bodies and available upon request.
Depth of Expertise
Manufacturing lecithin in all its varied forms requires a high level of production expertise. Whether applied to de-oiling technologies, fractionation with alcohol or just "simple" modifications with enzymes or chemicals, more than 70 years of experience guarantees consistent quality and performance to our customers.
Cargill has in-depth expertise in many end use applications for lecithins and works in close contact with its customers to deliver the specific functionality and performance required in various consumer products.
A major area of recent development is the use of different raw materials as carriers for lecithin to suit different manufacturing requirements. Wheat flour, calcium sulphate, lactose and palm oil all provide different types of technical benefit to manufacturers; while enzymes and other hydrocolloids such as xanthan gum, carrageenan, galactomannans and alginates can each contribute special functionalities and interesting synergistic effects when they are employed in blends as lecithin carriers.
Functionality
Phospholipids are the active components of lecithins. The basic structure of phospholipids is shown below with the differentiation between polar and non-polar molecular regions, the classical structure of surface active substances.

Phospholipids may differ substantially in type of polar headgroup as well as the length and saturation level of the fatty acid chains linked to the C1- and C2-positions.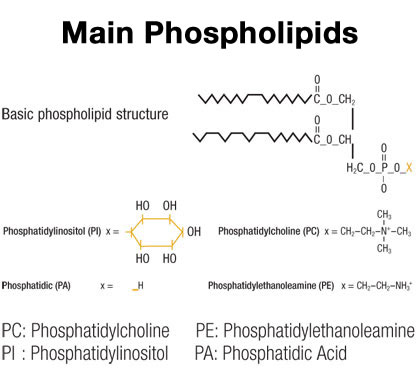 With different phospholipids showing individual functionalities, it is evident that through distinct control/modification of the phospholipid pattern, a wide variety of products can be derived. All these products can basically be called "lecithin"; however, they may develop entirely different functionalities in their individual application.
Manufacturing Process
Lecithin production follows several steps. Crude lecithin can be obtained from both plant and animal raw materials (predominantly eggs). In addition to soybeans, other possible plant raw materials include oilseeds such as rapeseed, sunflower seed and corn. Today, crude plant lecithins are produced solely as a by-product of vegetable oils.
The quality and origin of the oilseeds have a considerable influence on the composition and quality of the crude lecithin. Because it is subject to natural fluctuations in its structure and composition, crude lecithin is not yet suitable for use in high-quality end products.
Quality lecithins are produced through various processes such as standardization, filtration, deodorization, enzymatic or chemical modification, de-oiling and fractionation. The process technologies involved are as varied as are the end uses of lecithin. The aim is to give lecithin additional technical or physiological properties to suit specific application requirements.
For example, enzymatic hydrolysis leads to a higher polarity of the phospholipid molecules, which results in superior emulsification properties in some systems. Fractionation with alcohol, on the other hand, can produce Phosphatidylcholine (PC) enriched products. Not only does increased PC content allow more functionality, it also offers improved health benefits. For many years, PC-enriched products have been very important for the dietetic and pharmaceutical sectors.
Partners in Success
In the Cargill lecithin business we take the time to understand your specific needs in order to provide solutions, not just products. Worldwide customers recognize this and benefit from our:
Depth of knowledge in lecithin raw materials and product processing
Advanced testing and production facilities
Unrivalled applications expertise
Identity preserved product portfolio
Regulatory and food law assistance
Conventional (non-GM) lecithin
Helping your business succeed by differentiating you from your competitors is our primary goal.
Production Sites
Today, Cargill's manufacturing plants in the Netherlands, Germany and the USA are among the most advanced lecithin production facilities in the world. Using highly sophisticated manufacturing processes, the company is able to ensure a fast and flexible response to customers' requirements.
Decatur (USA) - AIB, NGM certification by CERT ID
Hamburg (Germany) - ISO 9001: 2000, GMP+, NGM certification by CERT ID
Zaandam (The Netherlands) - ISO 9001: 2000, GMP+, BRC, HACCP, NGM, certification by CERT ID
Regulatory Status
Lecithin is typically categorized as a food emulsifier. It is a complex mixture of a wide variety of components: phospholipids, glycolipids, carbohydrates and, in some cases, triglycerides. Phospholipids (polar lipids containing phosphorus) are the "active ingredients" of all lecithins, both from a technological and a physiological perspective.
This mixture is authorized in Europe as the food additive 'lecithin' under the code number E322 and in the USA in accordance with the Code of Federal Regulations and the Food Chemical Codex. It also is used as a dietary supplement.
Cargill's global team of regulatory and food law experts will be glad to provide assistance on regulatory, nutrition-related claims and food law-related issues.
Locations - Lecithin
Asia Pacific
Australia
Cargill Specialty Asia
Cargill Australia
2 Smith Street
Summer Hill
Sydney
New South Wales 2130, Australia
Telephone: +61-2-8752-0902
China
Cargill Texturizing Solutions
2F, No.18 Building,
Universal Software Park,
879 Zhong Jiang Road,
Shanghai 200333
P.R.China
Telephone: + 86 21 52820099
Fax: +86 21 52825709
Indonesia
Please contact Cargill Malaysia
Telephone: + 603 2246 3111
Fax: + 603 2246 3018
Japan
Cargill Specialty Asia
Cargill Japan Ltd.
Kokusai Building, 3-1-1 Marunouchi
Chiyoda-ku
Tokyo, 100-0005 Japan
Telephone: +81 3 5224 5699
Fax: +81 3 5224 5700
Korea
Please contact Japan, Cargill Japan Ltd
Telephone: +81 3 5224 5699
Fax: +81 3 5224 5700
Malaysia
Cargill Malaysia Sdn Bhd
Level 47, Menara TM
Off Jalan Pantai Baru
59200 Kuala Lumpur, Malaysia
Telephone: + 603 2246 3111
Fax: + 603 2246 3018
New Zealand
Please contact Japan, Cargill Japan Ltd
Telephone: +81 3 3288 9753
Fax: +81 3 3288 7545
Philippines
Cargill Texturizing Solutions Philippines, Inc.
29/F Citibank Tower
8741 Paseo de Roxas
Makati City, Philippines
Telephone: +632 840 5418
Fax: +632 813 1822
Singapore
Please contact Malaysia
Telephone: + 603 2246 3111
Fax: + 603 2246 3018
Thailand
Cargill Siam Limited
18th Floor, Sindhorn Building Tower 3,
130-132 Wittayu Road, Lumpini,
Pathumwan, Bangkok 10330.
Telephone: +66 2 263 2929
Fax: +66 2 689 6019
Some Cargill products are only approved for use in certain geographies, end uses, and/or at certain usage levels. It is the customer's responsibility to determine, for a particular geography, that (i) the Cargill product, its use and usage levels, (ii) the customer's product and its use, and (iii) any claims made about the customer's product, all comply with applicable laws and regulations.