Seaweed Powder
Simplicity inspired by the seas

Seaweed has a long history of being used as food, in various parts of the world. In recent years, consumers' favorable perception of seaweed has been reinforced. It's being hailed as a highly nutritious food, thanks to the many healthy nutrients it contains.
WavePure® is a seaweed powder range based on native seaweed obtained without any chemical modification. It's a unique ingredient with texturizing properties while maintaining stability in the gelled dairy dessert and imparting a neutral taste. Since it can be labeled with a reference to the familiar seaweed source, WavePure® is fully in line with growing consumer demand for label-friendly options. Cargill is working hard to ensure that WavePure® will soon also be able to benefit from the Red Seaweed Promise™ advantage.

WavePure® Benefits
Label-friendly: Nature-derived and familiar ingredient
Nutritional Boost: Low calorie content, rich in fiber and other naturally healthy elements (i.e. proteins, vitamins, & antioxidants)
No Chemical Modification: whole, not-transformed seaweed; all the natural components of the seaweed are kept intact
Get in touch with our technical teams today!

WavePure® in Action!
Cargill's first series under this innovative range is WavePure® ADG which is recognized as a traditional food ingredient in the EU. It includes WavePure® ADG 8250, which is based on a blend of Gracilaria seaweeds, and which contributes to the mouthfeel and maintains stability in gelled dairy desserts, with limited impact on sensorial profile.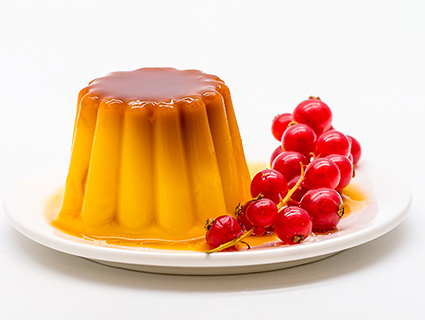 In the spotlight: WavePure® ADG – First out of water
The gelled dairy dessert
More information
Labeling
Cargill suggests the following labeling options for WavePure® ADG:
GRACILARIA SEAWEED POWDER
RED GRACILARIA SEAWEED POWDER
WHOLE GRACILARIA SEAWEED POWDER
The labeling, substantiation and decision making of all claims is the customers' responsibility. We recommend you consult regulatory and legal advisors familiar with applicable laws, rules and regulations prior to making labeling claims decisions for your products.
Production
WavePure® ADG Production
Regulatory status
WavePure® ADG is made from Gracilariopsis longissima which is a red alga widely distributed in seaside areas of many countries. Gracilariopsis longissima is considered not novel.

Some Cargill products are only approved for use in certain geographies, end uses, and/or at certain usage levels. It is the customer's responsibility to determine, for a particular geography, that (i) the Cargill product, its use and usage levels, (ii) the customer's product and its use, and (iii) any claims made about the customer's product, all comply with applicable laws and regulations.