Cargill helps pet food companies create nutritious products with our broad portfolio of ingredient solutions and deep animal nutrition expertise.
Today's animal lovers want the best for their pets – the finest quality, nutrition and food safety. They view their four-legged companions as members of the family, so it's no surprise they expect more from their pet food.
By partnering with Cargill, we can help you create on trend, nutritious pet foods and treats made with quality, including label-friendly options – all reliably sourced. Our broad ingredient portfolio, combined with our network of technical specialists, ensures that we have the solutions and expertise you need – whether you're looking to enhance sales with premium pet treats or need high-quality ingredients for healthy pet food formulations.


Capabilities
The people, ideas and imagination to help you succeed
With decades of experience in animal nutrition, we understand what today's pet owners want for their companion animals. Using that insight, we can support your formulation and product development process, partnering with you to develop products that deliver the nutritional, label expectations and sensory expectations of today's discerning pets and owners.
Superior research, development and technical expertise
Cargill's R&D capabilities and facilities are global, with more than 500 animal nutrition research professionals working in 15 state-of-the-art innovation and application centers around the world. We have technical expertise in formulation, manufacturing, pet nutrition and more, and are ready to help you address emerging trends.
Formulation Support
For pet owners, the health and wellness of their four-legged friends is paramount. Our deep understanding of animal nutrition and ingredient chemistry ensures we can advise on ingredient selection and dosage for just the right formulation. Our passionate team is dedicated to creating the future of food – for both people and the pets they love.
Rapid delivery of concepts, prototypes and formulations
Our pilot facilities and capabilities enable us to test formulations and jointly develop new products with our customers, which result in shortened development time. These state-of-the art facilities include an integrated pilot lab for small-batch production and testing, as well as experts in key disciplines such as sensory science and data analysis.
An Unmatched Portfolio
When it comes to animal nutrition solutions, Cargill's portfolio is unparalleled. By leveraging the food industry's largest ingredient portfolio, we can address a broad set of customer needs – from nutritional benefits to options regarding label-friendly ingredient sourcing – all with the convenience of one stop. Our product line-up includes a wide range of animal and plant proteins, fibers, texturizers, oils and much more, ensuring we have the tools needed to deliver the nutritional, textural and shelf life benefits that lead to healthy pets, satisfied pet owners and successful pet food manufacturers.
Supply Chain Reliability
Assured quality and a reliable supply
Ingredient sourcing matters to today's pet owner. At Cargill, we are committed to food safety and ingredient quality, and are ready to partner with you to provide the high-quality ingredients needed to help your business thrive.
Our global supply chain ensures we can reliably and efficiently provide those quality ingredients, helping you scale production to meet growing consumer demand for pet products with strong health and wellness attributes.

Pet Food Ingredient Solutions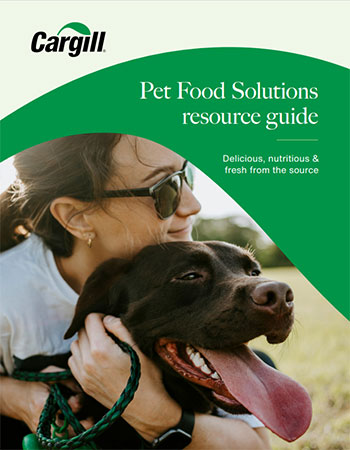 Cargill's technical expertise and portfolio of ingredient solutions help deliver nutritional, texture and shelf life benefits that help pet food manufacturers thrive.
Download
Some Cargill products are only approved for use in certain geographies, end uses, and/or at certain usage levels. It is the customer's responsibility to determine, for a particular geography, that (i) the Cargill product, its use and usage levels, (ii) the customer's product and its use, and (iii) any claims made about the customer's product, all comply with applicable laws and regulations.