Custom Texturizing Systems
Our Texturizing Systems deliver customized formulation solutions for food and beverage manufacturers in a broad range of application categories from dairy, bakery and fruit prep to beverages, confectionery and convenience foods.
Simplify your business processes. Cargill's Custom Texturizing Systems are a worry-free, tailor-made, optimized product formulation solution for food and beverage manufacturers, backed by technical industry experts. Cargill's custom ingredient solutions solve formulation challenges and/or replace ingredients to produce a label-friendly product. These high-quality innovative solutions help manage risk and control costs.
In this section
Our Custom Texturizing Systems offer processing efficiencies and cost optimization advantages in new or reformulated food and beverage products.
Custom Texturizing Systems can include:
| | | | |
| --- | --- | --- | --- |
| Alginates | Citrus Pulp Fiber | Hydrocolloids | Starch |
| Buffering Salts | Emulsifiers | Minerals | Sweeteners |
| Citric Acid | Fiber | Protein | Vitamins |
Custom Texturizing Solutions Ebrochure
This brochure highlights our customized formulation solutions for food and beverage manufacturers.
Download
Custom Texturizing Solutions Dairy Infographic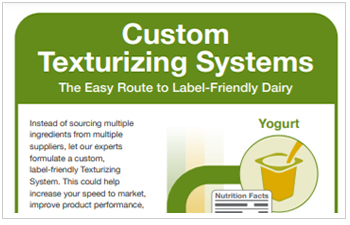 Instead of sourcing multiple ingredients from multiple suppliers, let our experts formulate a custom, label-friendly Texturizing System for you.
Download
Sweetness & Texture Innovation in Dairy
Today's consumers expect fewer ingredients on the package statement, yet desire more nutritional value in the food they eat. The challenge for dairy product developers is to meet those seemingly conflicting requirements – all without sacrificing great taste or deviating from expected texture norms.
Download
Some Cargill products are only approved for use in certain geographies, end uses, and/or at certain usage levels. It is the customer's responsibility to determine, for a particular geography, that (i) the Cargill product, its use and usage levels, (ii) the customer's product and its use, and (iii) any claims made about the customer's product, all comply with applicable laws and regulations.