New Gerkens® Duchess
cocoa powder
The chocolate experience consumers prefer
Discover why consumers prefer baked goods made with Gerkens® new cocoa powder in a blind taste test.*
Our new cocoa powder, Gerkens® Duchess is specifically designed for baked goods. Nicknamed 'Boss of the Bakery', it delivers a complete sensorial experience to consumers of baked goods. It offers a true chocolaty smell and taste in application, as well as an appetizing red-brown color. This makes end-products containing Gerkens® Duchess stand out from the competition.
For food manufacturers in the bakery category, Gerkens® Duchess provides:
• An outstanding genuine chocolaty smell and taste confirmed by consumers.
• An appealing red-brown color that reflects the sensory profile of the powder.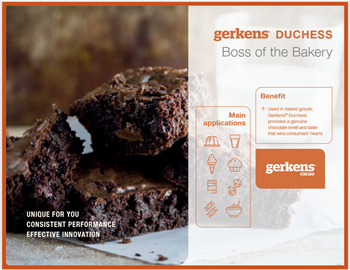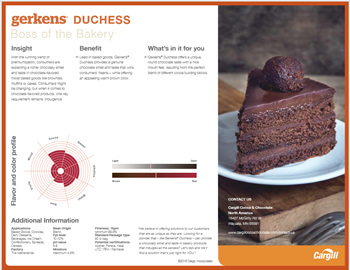 The results were outstanding!
In blind tests, baked goods made with Gerkens® Duchess were significantly preferred by consumers, especially on taste and smell, in direct comparison with goods baked with some of the best-selling cocoa powders in the bakery industry.
*Based on an independent consumer research study conducted in the Netherlands in 2018.