Many of salt's 14,000 uses are found where you'd least expect salt. Salt sets the dye in fabric and is used to produce glass, polyester, plastics and leather as well as in the chemical industry. Salt assists in cleaning gas and oil wells and is an essential component in the manufacture of paper, tires, brass, bleach and case-hardened steel. Salt is part of the caustic soda and chloralkali processes. Industrial salts are often purchased in bulk and in various levels of purity depending on the application. See a range of FAQs about the use of ice melters and water conditioning salts.
Industrial salt and water softening products
Cargill Salt Store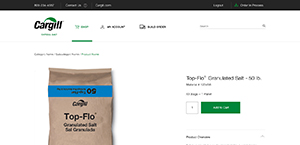 cargillsaltstore.com is an online tool for our customers to place orders, check order history, seek product documentation and much more.
Salt Contact Information
1-888-385-SALT (7258)
Mailing Address
Cargill Salt
PO Box 5621
Minneapolis, MN 55440-5621
Facilities map (PDF)