Ghanaian cocoa farmers receive first certification premiums through the Cargill Cocoa Promise
3,900 cocoa farmers benefit from first ever premiums payment
Cargill supports farmers and ensures long term sustainable cocoa supply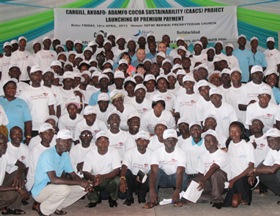 Tema, Ghana — 30 April 2013 – Cargill's cocoa and chocolate business has made its first premium payments in Ghana for the production of certified sustainable cocoa beans.
In total 3,900 Ghanaian farmers received the payments for the first three months production of sustainable cocoa beans following their participation in Cargill's farmer training programme. The payments were made at a recent ceremony in Sefwi Bekwai, in the Western region of Ghana, attended by the Managing Director of Cargill Ghana and partners including the Deputy CEO of the Ghana Cocoa Board; the licensed cocoa buying company Akuafo Adamfo; and the programme manager of the non-governmental organisation (NGO) Solidaridad.
"This payment, is the direct result of a successful public private partnership working towards sustainable cocoa in Ghana", explains Kojo Amoo-Gottfried, Managing Director of Cargill Ghana. Working with the Ghana Cocoa Board, Akuafo Adamfo and Solidaridad has produced genuine positive results for all participants, particularly the cocoa farmers, who will be receiving further payments as the harvest period progresses."
These premium payments are a result of Cargill's Cocoa Promise, the company's commitment to make a difference around sustainability in three key areas: training cocoa farmers; supporting cocoa farming communities; and investing in the long-term sustainable production of cocoa.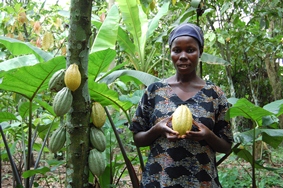 Cargill is on track to reach its target of training 15,000 farmers in the coming three years. 2,500 tonnes of UTZ Certified cocoa from this first harvest cycle have been processed at Cargill's state-of-the-art plant in Tema, Ghana, ensuring a large part of the value chain remains within the country. UTZ Certified cocoa is part of Cargill's efforts towards developing a sustainable supply chain and can be traced from the certified farmer to final product as it becomes Gerkens® Ghana cocoa powders.
Launched in 2012, the first phase of Cargill's farmer training in Ghana has provided tuition in good agricultural practices such as pruning, plantation renewal and cocoa fermentation methods, and good environmental and social practices, with the aim of increasing productivity and yields.
Moving into its second phase, farms will be thoroughly mapped to determine precise yields. Soil will also be tested for acidity, alkalinity and nutrients to ensure that optimum growing conditions are achieved. In addition the training will also address broader social aspects, such as children's education and HIV awareness.
David Kobina Aidoo, the Akuafo Adamfo district cocoa chief farmer based in Bekwia, said: "By using what I've learned through the farmer field school training programme I have a healthier farm with higher yields. By becoming certified I've received this premium payment for my crop, with other payments to come as the harvest period progresses, which is good for me and my family."
- ends -
Cargill
Cargill is an international producer and marketer of food, agricultural, financial and industrial products and services. Founded in 1865, our privately held company employs 142,000 people in 65 countries. We help customers succeed through collaboration and innovation, and are committed to sharing our global knowledge and experience to help meet economic, environmental and social challenges.
Cargill's Cocoa Promise
Cargill's Cocoa Promise is a commitment by the company made in 2012 to continue to partner with local governments, non-governmental organizations (NGOs), customers and farmer organisations – to make a difference to the lives of farmers and their communities, and to create value for our customers and our business by securing better quality cocoa. Cargill will continue to invest and provide financing, training and support to maintain and strengthen a sustainable cocoa supply chain in Côte d'Ivoire, Ghana, Cameroon, Vietnam, Indonesia and Brazil.
About Cargill Cocoa & Chocolate:
Cargill Cocoa & Chocolate offers the food industry a wide range of both standard and customised cocoa and chocolate ingredients to be used in delicious bakery, confectionery, and dairy applications all over the world. Our product range includes high quality Gerkens® cocoa powders, chocolate including Wilbur®, Peter's® and Veliche®, coatings, fillings, cocoa liquors and cocoa butters. With years of experience in technical food expertise Cargill supports its customers in new recipes and new product development.
Our facilities in Belgium, Brazil, Canada, Côte d'Ivoire, France, Germany, Ghana, the Netherlands, UK and the USA are fully dedicated to produce in accordance with the highest food safety standards.
To secure a good quality and sustainable supply of cocoa beans we have our own cocoa bean sourcing operations for buying, handling and/or exporting of cocoa beans in Brazil, Cameroon, Côte d'Ivoire, Indonesia and Vietnam. Presence in all the leading producing countries allows Cargill to oversee the supply chain from beans at origin to cocoa and chocolate products on our customers' doorstep. In addition, extensive market research and analysis proves to be a source of valuable information to our customers.
For more information visit: for EMEA www.cargillcocoachocolate.com and for North America www.cargill.com/food/cocoachocolate

# # #