Cargill's West Kalimantan palm plantation receives international certification for sustainable biofuels
Singapore, September 5, 2013 – Cargill today announced that its palm oil plantation in West Kalimantan, Indonesia, PT Harapan Sawit Lestari (HSL), has received international recognition for its sustainable palm oil practices. HSL was awarded the certification for sustainable palm oil supply for biofuels according to the International Sustainability and Carbon Certification (ISCC) standards in the European Union (EU). This certification covers HSL's entire operations, including smallholder plantations managed by Cargill under the KKPA (Kredit Koperasi Primer Anggota) scheme, mill, and warehousing operations.
ISCC is a certification scheme that promotes responsible farming by allowing sustainable products to be differentiated from non-sustainable ones, including greenhouse gas emissions at different stages of the value chain. It is approved by the EU to cover the EU Renewable Energy Directive (RED), which means that Cargill is able to provide palm oil intended for energy applications to customers who are working towards compliance with the RED.
"We have always believed that responsible and sustainable production of palm oil is the way forward for this industry and we have been working hard to make our operations in Indonesia increasingly sustainable. The ISCC-EU certification covers the entire supply chain at all of HSL's locations which produce about 130,000 metric tons of sustainable palm oil annually," said John Hartmann, Chief Operating Officer, Cargill Tropical Palm Holdings Pte Ltd. "This represents a major milestone in our sustainable palm oil strategy and we are proud to continue our efforts to promote the palm oil sustainability agenda across the relevant sectors related to the palm oil industry."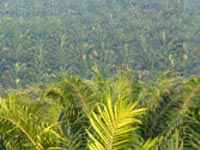 Cargill helps local farmers adopt sustainable agricultural practices, improve land use, increase the quality and quantity of their crops, and promote safe and efficient working practices.
As part of its corporate responsibility initiative, Cargill helps local farmers adopt sustainable agricultural practices, improve land use, increase the quality and quantity of their crops, and promote safe and efficient working practices. In rural areas where education and literacy levels are typically lower than urban cities, such initiatives can help increase the quality of life and incomes of the local community.
"We will continue to work with our small holder farmers, stakeholders and the local government to improve the living standards and livelihood of the local communities through multi-year corporate responsibility programs," said Ong Kee Chau, President Director of PT Harapan Sawit Lestari. "The ISCC-EU certification puts us and our host location, Ketapang district in West Kalimantan Indonesia, on the biofuels map. As originators of ISCC-EU certified palm oil, we are now able to help meet growing demand for sustainable energy applications through the use of biofuels. This globally-recognized stamp of approval serves as a credible endorsement of our sustainable practices to the international market."
Cargill's other palm oil plantation in Indonesia, PT Hindoli in South Sumatra, saw one of its first smallholders' cooperatives, KUD Mukti Jaya, received ISCC-EU certification in June 2012. This latest smallholder ISCC-EU certification comes on the heels of PT Hindoli's own certification upgrade from ISCC-Germany to ISCC-EU, further demonstrating Cargill's commitment to producing palm oil in an environmentally sustainable and socially responsible manner.
HSL was awarded with the ISCC-EU certification after an independent audit by SGS Germany GmbH.
# # #
About Cargill
Cargill is an international producer and marketer of food, agricultural, financial and industrial products and services. Founded in 1865, the privately held company employs 140,000 people in 65 countries. Cargill helps customers succeed through collaboration and innovation, and is committed to applying its global knowledge and experience to help meet economic, environmental and social challenges wherever it does business. For more information, visit Cargill.com and its news center.
About Cargill in Indonesia
Cargill began doing business in Indonesia in 1974 by establishing a feed mill in Bogor, West Java. Today, Cargill - which is headquartered in Jakarta – has over 8,000 employees and offices, manufacturing plants and facilities throughout the country. Business activities comprise animal nutrition, cocoa, grain and oilseeds, palm oil, and sugar. Cargill is a responsible corporate citizen of Indonesia, and its local programs foster responsible and sustainable development, help protect the environment and nourish the people and possibilities that reside in local communities. For more information visit www.cargill.co.id
About PT Harapan Sawit Lestari
In 2005, Cargill Tropical Palm expanded its palm plantation activities into West Kalimantan, with operations today spanning across more than 32,000 ha of oil palm plantation in PT Harapan Sawit Lestari and PT Indo Sawit Kekal. Cargill's PT Harapan Sawit Lestari's operations produce fresh oil palm fruit bunches processed at two company-owned mills into high quality crude palm oil and palm kernel. Cargill works closely with 4,300 smallholders in the management of more than 8,500 ha of plasma oil palm plantation in West Kalimantan.
About SGS
SGS is the world's leading inspection, verification, testing and certification company. Recognized as the global benchmark for quality and integrity, SGS employs 70,000 people and operate a network of more than 1,350 offices and laboratories around the world. SGS is constantly looking beyond customers' and society's expectations in order to deliver market leading services wherever they are needed. As the leader in providing specialized business solutions that improve quality, safety and productivity and reduce risk, SGS helps customers navigate an increasingly regulated world. The independent services add significant value to customers' operations and ensure business sustainability. For more information, visit http://www.sgs.com